How to Use Real Time Analytics to Increase Blog Traffic and Income
Folks land on your site every day, either by searching for keywords or by being referred (like via social media). Many times, you don't even really have posts about those keyword phrases they're looking for – or you post isn't titled anything like it should be, but somehow they still end up on your blog. Yay!
However, if they are looking for something and you don't have it, they're going to click the "back" button in about 5 seconds if you don't give them a reason to stay.
So, let's figure out how to keep them on your website for as long as possible! This will increase your pageviews and your income … I'd say those are both good things. ;) While some things are more important than blog traffic, your blog needs a solid foundation (of pageviews) before you can begin to make the big bucks.
Step 1: Improve your sidebar.
Step 2: Dive into Google Analytics.
Step 3: Update your posts to increase your income.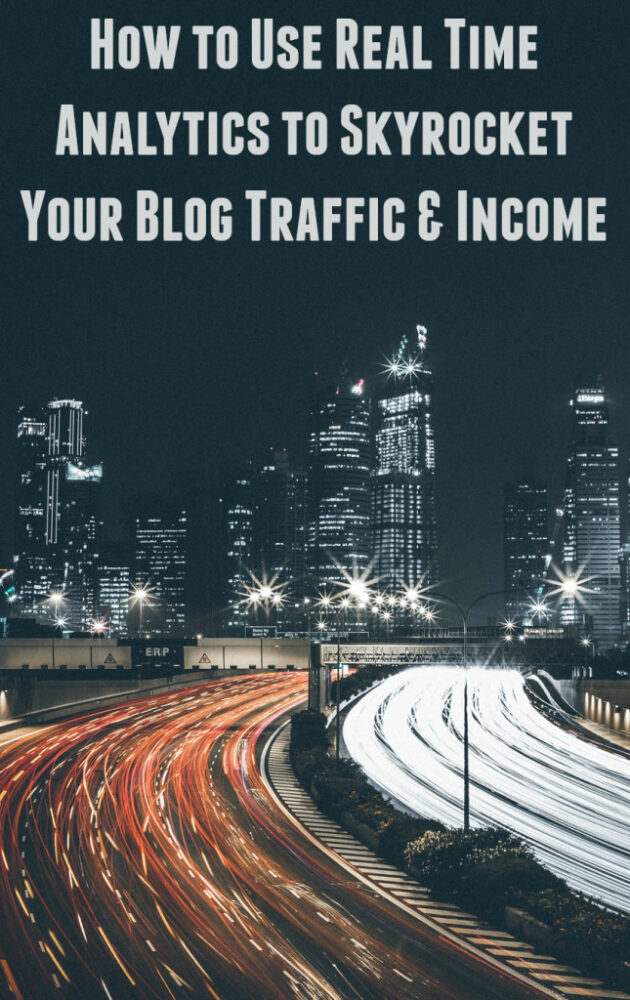 How to Use Real Time Analytics to Increase Blog Traffic and Income
Log into your Google Analytics.
Click on "real time" in the sidebar of Google Analytics. Click "overview".
On the main part of the page, you'll see how many people are on your site, where they came from, your top active pages, and more.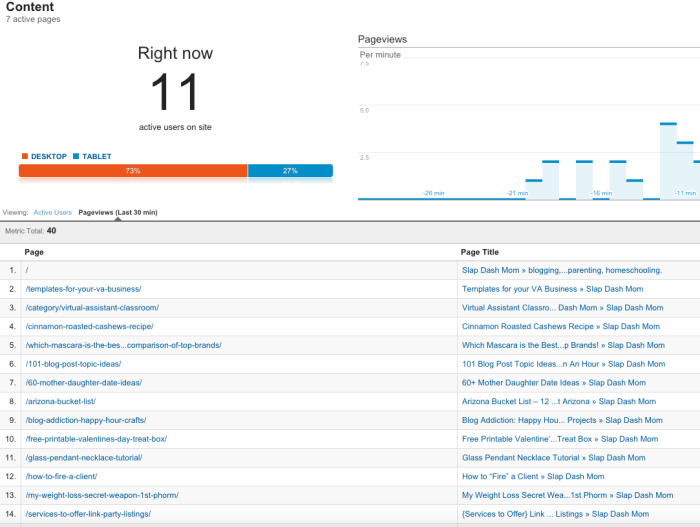 Now, click on "content" (on the left hand side). You'll see which posts and pages your visitors are on right now, but click "last 30 minutes" so you get more data than just what's going on right this second.
This. Is. Gold.
First of all, this tells me who is sending me traffic. If it's another blogger, I'm going to go to their referring post and tweet it out so they will get more traffic as well. I like to thank other bloggers as much as possible!
Secondly, this tells me what my readers are interested in. Obviously you know this from your monthly stats but this is like diving way deeper. How long they stay on a post also tells me if they're scanning it, reading it, or just clicking on and then right back off. I know I need to improve my post if they're clicking on it and then right back off.
Last but not least, this gives me the opportunity to go into these posts and update them. How will I update them? By linking to relevant content from my blog, and by adding affiliate links for products and services my readers will be interested in. Adding affiliate links to well-performing posts is going to skyrocket your INCOME.
If you can see the keywords your readers used to land on your page, you'll want to keep those keywords in mind when choosing affiliate links to include in these posts. I can see that people are viewing my Virtual Assistant Classroom, which makes me happy! I know to keep adding posts so they never run out of content to read.
Like this tip?
Get dozens more – they're actually called challenges! – by downloading Skyrocket Your Blog Pageviews Using Google Analytics (aff).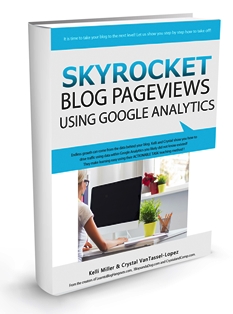 Looking to take your blog to the next level? Looking to increase your pageviews, decrease your bounce rate, and SKYROCKET your revenue? Then, this book is perfect for you. This ultimate guide contains over 30 bite-sized tasks using the data within your Google Analytics dashboard to grow your blog. This book shows the exact methods that Kelli & Crystal have used to grow their blogs by millions of pageviews!
The price goes up on the Skyrocket Your Pageviews Ebook in just a few weeks, so be sure to snag it at the price it is now.