5 Gmail Hacks that Save My Sanity
This post may contain affiliate links. Please read my Disclaimer and Privacy policy for more information.
My inbox is a mess. I have an assistant who helps keep things under control to a certain extent, but I literally get 1,000 emails every 24 hours. Containing them, keeping up with them, controlling them seemed damn near impossible. I found a few Gmail hacks almost by accident, and knew I needed to find more. I set out on my journey… and here we are.
I was drowning in emails, missing deadlines, and frustrated.

There are many approaches to tackling your inbox, and honestly even with the Gmail Hacks I'm about to show you, your workflow will probably look much different than mine. Unless you look like a paper flinging squirrel-octopus type creature, then maybe we do look the same.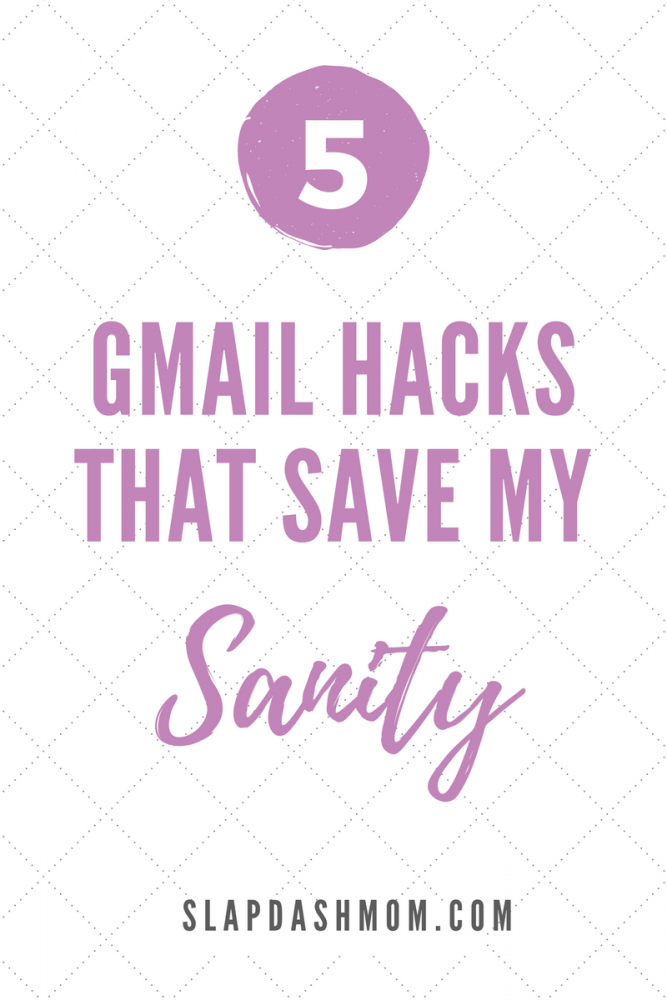 5 Gmail Hacks that Save My Sanity
I spend several hours a day working on my business. Whether I'm blogging, doing virtual assistant tasks, or training new VAs, I'm pretty darn busy! I've tried many productivity tools, but at the end of the day they all seem to just add to my stress!
I needed something simple to help me cut down on my email mess, so I started searching for Gmail tools and extensions that could do just that. Here are my top 5… the ones I use every single day, the ones that have saved me hours! And they're all FREE.
Gmail Hack #1: Multiple Inboxes
The term multiple inboxes sounds counter-productive, no? But really, it's more like a sorting tool than anything. To enable multiple inboxes, click on the gear icon in Gmail. Then, click settings. You'll see this screen, so just click the radio button that says "Enable". Then, click "Multiple Inboxes" up at the top (by Labs). Set your inboxes up from there.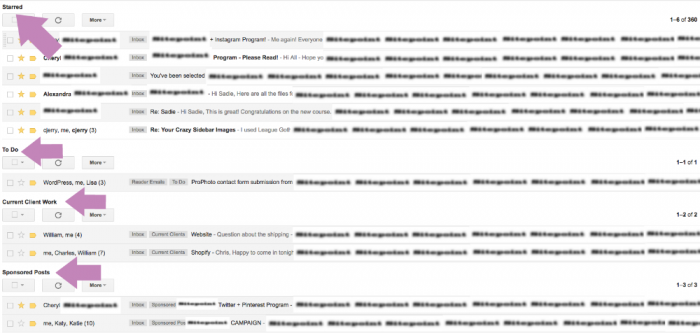 You get to choose which sections you want, and then you always have the option of going back to the "full" view as well (which I don't think you'll ever want to do, but it's there). My top view is my STARRED emails because those are most important. I always want them front and center, at the very top of my inbox, so I don't ignore them. Other than that, it doesn't really matter which order things go in.
Another nice thing about this is that you can change the inboxes. So for example, I was heading to a blog conference a few months ago so I had the blog conference name as one of my inboxes. All emails relating to the conference automatically dumped there, so I didn't miss anything and didn't have to go searching!
VA Tip: Have at least one inbox set up for clients so you never miss an email from them.
Speaking of sorting, check out this awesome post on how to use Gmail filters. It's got loads of info that will help you tackle the inbox mountain.
Gmail Hack #2: Canned Responses
I'm going to show you how I use canned responses, but please keep in mind that no matter who you're writing to, you should personalize every response. Canned responses can save you time if you get the same damn questions over and over every day, but you'll still need to add an intro to make it perfect.
Inside Gmail, click the gear icon, then click on Settings.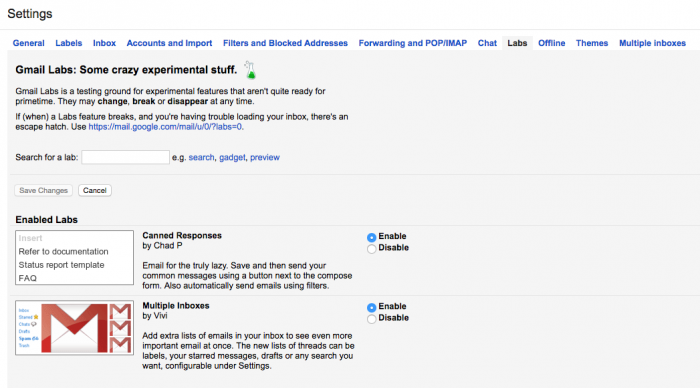 Click Labs. You'll see Canned Responses here. Click enable. Save changes.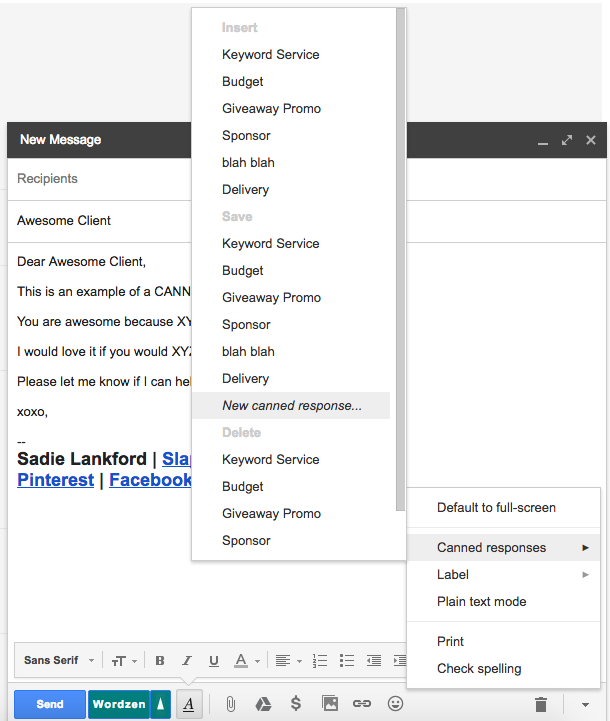 Compose a response to one of the emails you get over and over again. Click the arrow at the very bottom of the email (right hand side), Canned Responses, and then you'll see headings (Save, Insert). Choose Save and New, then name your response. Click OK and it's ready to be used.
Next time you get an email that can use the response you typed up, click the arrow again, and instead of saving this time you're going to click Insert and choose the name of the response you want to use. Then, customize the email to make it perfect before hitting send.
You can automate canned responses based on keywords, sender, etc but I don't recommend it. Automating email is great but you don't want it to be 100% automated or your clients will find someone else to work with.
Amy Lynn Andrews has a great tutorial on how to use canned responses, so check it out if you need a walk through.
Gmail Hack #3: Sortd
I wasn't so sure about Sortd at first, but after I used it for a few weeks I realized it's really valuable!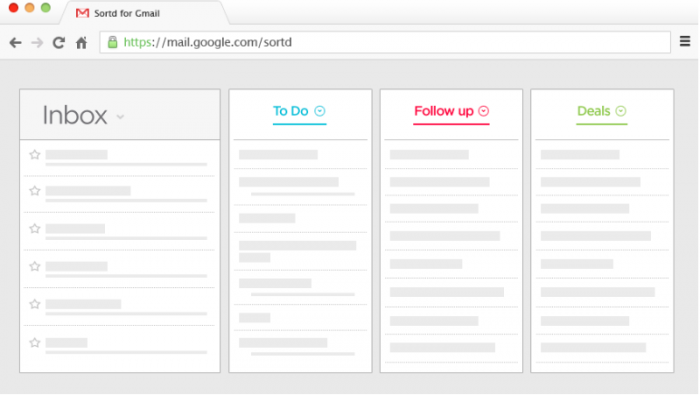 I don't know if I use Sortd the way it's designed to be used, but it's kind of like my super duper important to do list. If something literally is due ASAP and cannot be slacked on, it gets added to one of my Sortd columns. Bills are in a Sortd column. The so-so important stuff just gets starred and I deal with it in the multiple inboxes view that I mentioned above.
Gmail Hack #4: Copy and Paste Images
I had no idea that you could copy and paste images into email messages until I did it on accident by hitting CTRL+V. I guess the last thing on my clipboard was an image and BAM… there it was. In my inbox. In alllll its glory.
I thought it was a fluke, or maybe the image would become a broken image once sent, but nope! You can copy and paste images into Gmail.
Pssst… this is not something you want to do with professional emails. I would send attachments if I were you! It's just another shortcut I use when I can.
Gmail Hack #5: Keyboard Shortcuts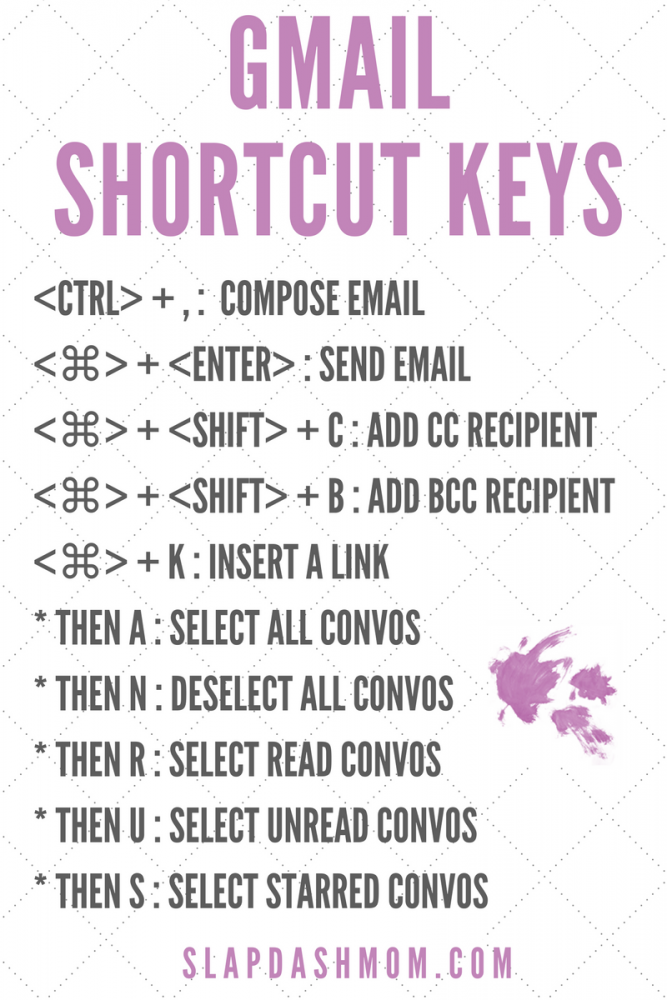 I'm not huge on keyboard shortcuts, to be honest, but I started using them a few weeks ago and I'm impressed with how many clicks they save me. CTRL+ENTER to send an email, N or P for next/previous.
Marking an email as unread is as easy as SHIFT+U. That's much easier than clicking the drop-down and choosing "mark as unread". It doesn't seem like a lot, because it literally only saves you two clicks, right? But think about two clicks times 500 emails. Bam.
Simply type ? in your Gmail inbox and a list of shortcuts will pop up! There are a ton to choose from, and some you have to specifically enable, but the ones in the image above are the ones I use the most.
Are you drowning in email? I hope these Gmail Hacks help!