Bullet Journaling for Teens
Bullet Journaling for Teens
Let me preface by saying that I call this bullet journaling, but bullet journaling by definition is very simplistic (aka boring). Our bullet journal experience is a bit more colorful than what the originator intended it to be, I think. However, like I said in my other bullet journal post… bullet journaling is about making it yours. So if you like a plain bujo, that's fine! If you want to washi tape the heck out of your bujo, that's fine, too.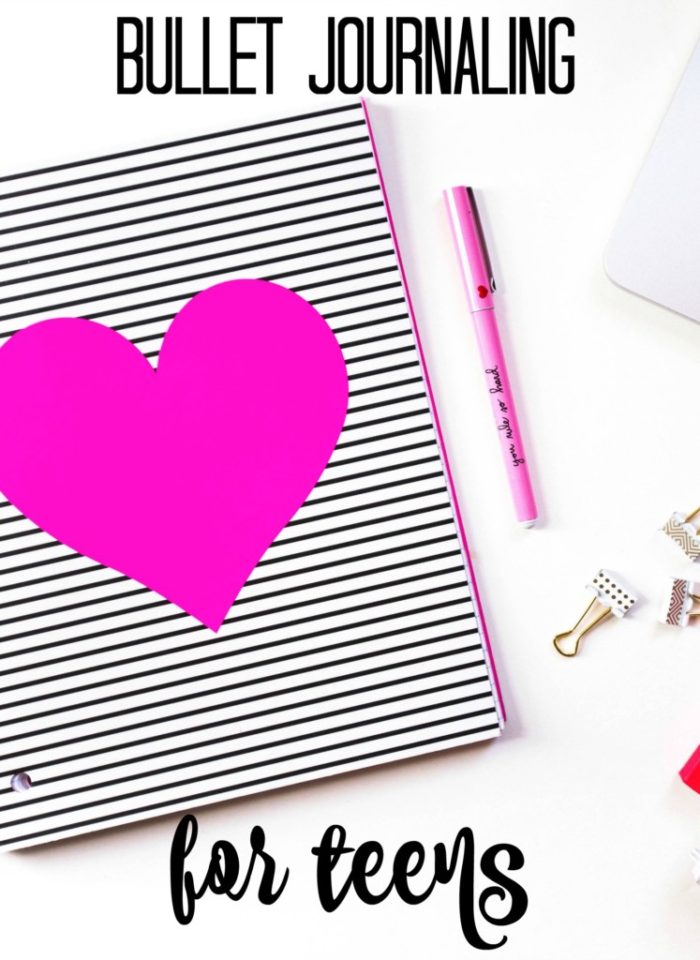 Why?
Journaling is known to help relieve anxiety and stress, and can also help teens stay on track when they have a lot going on. Juggling school work, chores, sports, and a social life can be exhausting. With some planners, teens might feel "boxed in" with no room to let their creative juices flow.
Jenelle loves to draw, but doesn't like to write. Having a bullet journal allows her to express herself (and plan her day) without forcing her to write everything out. If she wants to draw her "to do" list, she totally can.
There are tons of resources for the more organized teen (like these monthly layout ideas), or they can just fly by the seat of their pants.
Supplies
1. The journal. You can start your bullet journal with any type of notebook, but we love the ones with the "graph" design (like this one). You want your bullet journal to be sturdy, with good quality paper so your pens and markers don't bleed through.
2. The writing materials. I splurge on writing materials, because Jenelle and I love pens. These are the pens we use.
3. The extras. I never liked washi tape until I started bullet journaling, but now I love it. Jenelle doesn't use a whole lot of it on hers (though she does like this vintage washi tape), but she does like stickers and stamps. The extras are just that: extras. You can start with a basic journal and pen.
Mind Maps + Brain Dumps
I use my bullet journals for mind mapping and brain dumps, in addition to all kinds of other fun stuff. Though I'm an old lady now *cough*, I still remember being a teen and feeling overwhelmed at juggling everything.
Being able to just dump everything from your brain onto a few pieces of paper and look at it later is a huge stress reliever. If your teen has anxiety, ADD, or even if they're just absent-minded, mind mapping can help with that as well.
I've talked about how mind mapping helps my ADD, and I 100% believe it does. I'm betting your teen will love mind mapping if they haven't tried it before!
Note Taking
In high school, note taking becomes more and more important. Even if you breezed through middle school, something is bound to trip you up during your high school career. Learning to take notes is a critical skill your teen will need to master before college, so why not start now?
One thing I would like to point out (it was mentioned by a few younger folks) is that you take a LOT of notes in high school, so your bullet journal probably wouldn't be the best place to hold them all… but note taking for test purposes or to learn a language, or something else like that might work.
I would recommend using a completely separate bullet journal for school and home, mostly because I love passing the bullet journal back and forth with Jenelle and I wouldn't want that one to get lost at school.
Homework Tracker
Keep track of the homework due in each class by creating class and date headings in your journal.
Organization + Time Management
Even if your teen isn't naturally organized (Lord knows mine isn't), a bullet journal can help them get started with tracking their own appointments, upcoming events, etc. Try this time management layout.
High school is scary! Nell won't have her schedule memorized for a few weeks, so having it in the front page of her bullet journal keeps it easily accessible. She can also draw a little map since the high school she is attending is huuuuge. We got lost like 3 times on orientation day.
Note: I still put everything in my phone as a back-up, and honestly most teens probably have everything in their phones, too, but it's a good habit to get started.
Goal Setting
Teens need goals to stay out of trouble. I'm a firm believer that a busy teen is a safe teen. If they're bored, they're more likely to get into mischief! Jenelle plans on cramming her schedule full with extra math classes, cheerleading, and maybe even a part-time job.
If that doesn't work out for her, we will set some goals together. Having a section in your bullet journal for goal setting is one way to try and help them stay on track throughout high school.
Habit Trackers
Just like with my bullet journal, I've taught Jenelle about habit trackers for hers. She forgets to drink water, so one of her main habit trackers is a hydration log. She draws one drop of water for every glass she drinks. As she goes into high school, tracking her sleep habits is probably a good idea as well.
Quote all the things!
I don't know about your teens, but mine absolutely loves quotes. She has them hanging all over her walls – from movies, from songs, from friends … she just loves them. She's also super into song lyrics right now.
Fun Challenges
Join fun challenges by searching Instagram hashtags related to bullet journaling.
Find more fun challenges here, here, here, and here.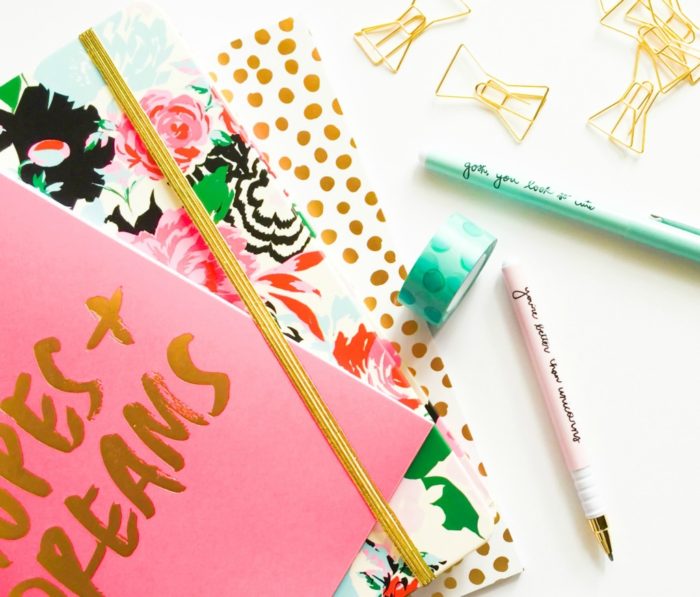 Mother Daughter Project
Your teen can use their bullet journal for school, for personal use, or for both. Nell and I use hers for a mother daughter project as well. There's a section in the back of her bullet journal where we write notes to each other. I'll leave her an inspirational quote, or a joke, or whatever… and she will write back.
If she had an exceptionally rough day, she can write about it and let me know whether it's okay to read it or not – so like a journal, but also like talking to someone because I can write back. Because of how shut off I was to my Mom when I was a teen, I really try to keep the lines of communication open with Jenelle without being too pushy about it. I let her lead.
This also encourages her to write, which I mentioned she hates doing… but she doesn't even realize she's doing it when it comes to bullet journaling with me! Shhh. Please don't tell my secret.
We love to use her (our?) bullet journal to make book lists. Some call these "collections". If either of us hears about a good book, we can write it in that section and I'll order the book for us to read the next time I log into Amazon.
Another thing I love about my teen's bullet journal is that I can sneak in self-care for her (ideas found here). If I know she's having a rough week, I can add a few inspirational quotes or suggest learning some yoga moves.
In the future, I plan on starting a fitness log we can both participate in. The girls enjoy walking with me at night so when it cools down, that's definitely something we will have to add to her bujo.
Have you tried bullet journaling? Do you think your teen would like it?
PIN IT: