How to Celebrate Art in Your Home and Foster a Love of Art in Your Kids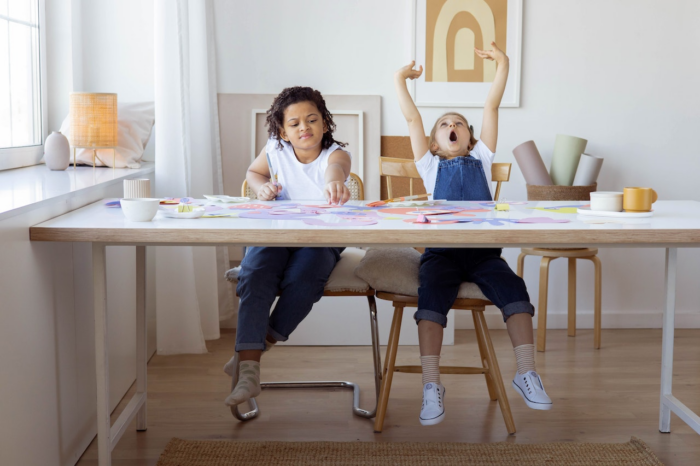 Image source: https://www.pexels.com/photo/two-kids-doing-some-artworks-6941080/
Did you know that art plays an essential role in the development of children? It's true – art offers numerous mental, emotional, and physical benefits. Research also shows that exposure to art in school can boost academic success, leading to higher GPAs and math and reading scores.
So, as a parent, how can you encourage your kids to love and create art? Easy – lead by example! Take them to museums and galleries, listen to music together, talk about the paintings, graffiti, or sculptures you both find interesting, and give them time, space, and materials to create their own art. In other words, create an environment where art is valued and celebrated.
Not sure where to begin? Not to worry! In this blog post, we'll share some expert tips on how to celebrate art in your home and nurture an artistic spirit in your little ones.
Display Artwork in Your Home
The best and easiest way to encourage your children to like art is to display it in your home. Hang paintings, photographs, and drawings – including your kids' drawings – on the walls to make art an integral part of your living space.
Framing and displaying your children's artwork can boost their confidence, so it's a particularly great way to encourage their creativity. But aside from showcasing your little one's creations, consider displaying original artwork, such as beautiful landscapes, interesting abstract art, etc., to expose your kids to as many different art forms as possible.
At Singulart, you can find a diverse selection of original artwork that is sure to capture your kiddo's imagination as well as add an extra touch of creativity to your living space.
Visit Art Museums and Galleries
Another great way to foster a love of art in children is to take them to art museums and galleries on a regular basis. Make it a fun monthly trip, and your children are sure to grow up loving art!
Museums and galleries can provide memorable and immersive learning experiences for your children and can spark their imagination and creativity. Seeing different types, styles, and mediums of art can open their eyes to different ideas and even help develop their critical thinking skills. Many museums also offer programs specifically designed for children (interactive exhibits, hands-on play, etc.), so take advantage of those opportunities whenever possible.
Encourage Art Projects
Create a mini art studio in your home where your little ones can create without fear of getting things messy or ruined. This could even be a kid-friendly outdoor art space. Provide them with basic art supplies (and perhaps not-so-basic if your budget allows), such as crayons, markers, colored pencils, and lots of paper.
Encourage your kids to experiment with different mediums and techniques, but don't overwhelm them with choices if they're very young.
Talk about Art
Engaging in art discussions at home is another excellent way to encourage your children to think about art. Talk about their favorite music and encourage them to articulate why they like it. Ask them to express their opinions about certain paintings or drawings and listen closely to what they say. This is the perfect opportunity to help them expand their artistic vocabulary.
When you're working on art projects together, ask them questions that will make them think about art and trigger their creativity. For example, you can ask your little one what art supplies they think you two will need for a specific art project. Or, ask them what they think the project would look like if you used watercolors instead of pencils.
Attend Art Workshops Together
If your kids are really into art (or are showing signs they might be with extra nudging), consider enrolling them in art workshops or classes. Workshops for children (and parents or grandparents) provide a fantastic environment for art exploration with guidance from experienced artists.
Here, children can learn and gain confidence in their abilities while connecting with other budding artists. Win-win!