Drama-Free Vet Visits – Helping Your Anxious Dog Keep Calm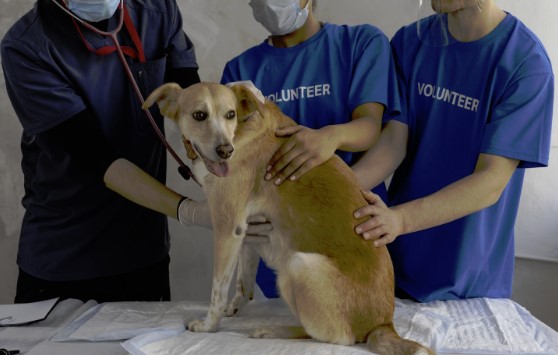 Anxiety can scupper a visit to the vets, and so it's necessary to be proactive about making your dog feel happy and comfortable during what can be a stressful experience for even the most level-headed of hounds.
With that in mind, here are some tips on what you can do to iron out the usual kinks that come with attending a vet appointment with your anxious dog in tow.
Tips to Make Vet Visits Easier on Your Anxious Dog
First off, it's important to stay calm yourself, as dogs pick up on our emotions very quickly, and this could worsen their anxiety.
Secondly, prepare in advance by taking your pet for short car rides or walks around the block every day leading up to their visit. This will get them used to being outside of home, and also give them some exercise before going into an unfamiliar environment.
Thirdly, don't forget treats. Bringing along something tasty that only comes out when visiting the vet helps create positive associations with going there, and it also makes waiting much more bearable. You could select specially formulated treats that are not only delicious, but also proven to help reduce feelings of anxiety, such as Honest Paws flavorful CBD chews.
Finally, ensure you have enough time set aside before arriving at check-in. Rushing or being late can add to the tension and make your dog more nervous.
Understand the Signs of Stress in Dogs
It's important to be aware of the signs that your pup is feeling anxious or stressed when visiting the vet. Some common tell-tale indicators include panting, pacing, trembling, hiding behind you and refusing to move from their spot on the floor.
Other behaviors, such as excessive licking or chewing at themselves, may also indicate a heightened level of stress. These reflect the side-effects of stress that humans suffer.
The good news is that with patience and understanding, you can help your pet feel more relaxed during visits, but it's important to remember not all dogs will enjoy these trips no matter what you do. Therefore, being able to recognize when they are getting too overwhelmed is essential in helping them stay calm while at the vet's office.
Try keeping an eye out for any changes in behavior so you can act quickly if necessary. This will ensure everyone has a much better experience overall.
5 Techniques for Keeping Your Dog Calm at the Veterinarian's Office
We've talked about what you can do in the run-up to a vet visit to reduce anxiety in your pup, but here are five simple techniques you can use to avoid meltdowns when you're actually on the premises:
Distract with toys or treats – Having something of interest in the waiting room or examination area will take their mind off what is happening around them
Provide comfort items from home – Bringing along an item of clothing with your scent on it helps reduce anxiety by providing familiarity
Use positive reinforcement – rewarding good behavior during appointments reinforces desired actions and keeps anxious animals focused on earning rewards, rather than being scared
Create a calming atmosphere- Low lighting, soothing music or white noise, and using petting as distraction all create more relaxed environments, which often translates into less stress during medical examinations and procedures
Talk to your vet – Let them know you are concerned about your pet's anxiety so they can take steps to make the visit as stress-free as possible, and give you advice on how best to handle it from home
Final Thoughts
Every dog is different, and needs unique care and attention to thrive, especially when visiting the vet. As the owner, you need to support your pet no matter what, so take this advice onboard.