How to Create a Bullet Journal When You Aren't Artistic
Can't draw a straight line to save my life, and rulers are a pain in the ass, so learning how to create a bullet journal could've been pretty tough for me but I didn't let those obstacles get in my way.
Because I'm terrible at drawing and not the greatest at lettering, I've utilized a lot of stickers, washi tape, and free printables from other blogs to make my bullet journal pretty (and purposeful).
Must Haves for Your Bullet Journal
There are some things I'm not dead set on (like if you use a journal that's different than the one I love, no biggie), but other things I feel you MUST have to make your bullet journal experience a positive one. Especially when you aren't artistically inclined.
Essentials Grid-Lined Notebook – This is the one I use!
Leuchtturm1917 – What most bullet journalers recommend, but is twice the price of the one I use.
Adorable Sticker Set (cheap!)
Washi Tape – I've purchased washi tape from Michael's when it's 50% off but I've found it's usually more affordable on Amazon. Look around to find the best prices.
Stickers – If you know me you know I love stickers!
Staedtler Triplus Fineliner Pens – This is one of those NOT up for debate items! They're amazing. And trust me when I say I've tried all the others! None of them compared.

Free Bullet Journal Printables
You can grab my free bullet journal printables without opting in to my email list, but most of the time you'll have to sign up for a list to get the printables. I still think it's worth it, because many times the lists provide useful bullet journaling tips as well. If they don't, it's easy to unsubscribe!
Wundertastisch – Offers free bullet journal printables every month! I know this month she has like 17 pages and they're all FREE.
Twenty-Something Meltdown – Five free bullet journal printables: doodles, letters, headings, etc. Asks you to "favorite" her Etsy shop, but doesn't make you opt-in to any lists. Yay!
Life is Messy and Brilliant – Printables for spreads like what I'm reading, what I'm watching, blog stat tracker, and more. No opt-in required.
Free printables: Bullet Journal for Weight Loss
Adorable Coffee Planner Printables from DIY Candy
Bullet Journal Layout Ideas
Brain Dump – my favorite way to use my bullet journal
Daily "to do" list
Weekly goal tracker (same for monthly, yearly)
Daily FOCUS – one or two main things to focus on
Quotes – I love quotes!!
Memories – funny things kids say
Meditation log
Gratitude log
Random Acts of Kindness ideas
Finance tracking – paying down debt, keeping bills, etc
Spending log
Weight loss + Fitness
Mood tracker
Anxiety + Depression log
Sleep tracker
Water intake tracker
Menu planning
Period tracker
Home Organization
Homework assignments and notes
Meeting notes
Blog post ideas
Blog stats (social media numbers, pageviews, etc)
Dream board
Keep track of niche websites and domains (is that just me?)
Party planner
Wedding planner
Vacation planner
Travel – places you want to go, places you've been
Bullet journaling for teens
Bullet Journal Accounts to Follow on Instagram
When I'm looking for inspiration, I turn to Instagram and Pinterest. Sometimes I get intimidated because everyone seems SO great at bullet journaling and I'm over here looking like a third grader filled mine out. But you know what? At the end of the day as long as your bullet journal serves its purpose, be content with it! Try not to compare yourself to others.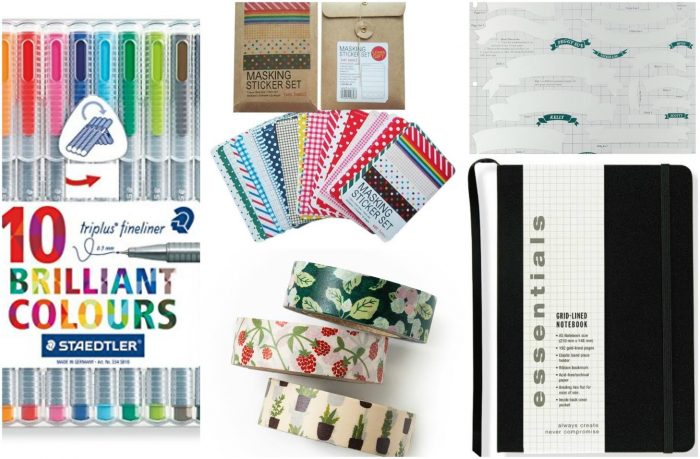 ENTER THE GIVEAWAY! ENDS 1/11/17!