7 Must Have Accessories For Running (or Walking)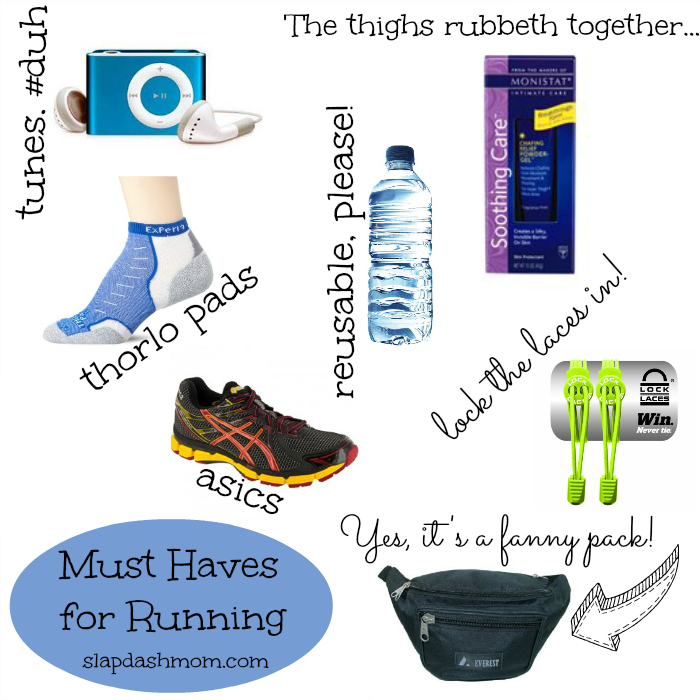 Though I completed a half-marathon last year, I have never been too serious about running and walking. I've had tons of excuses – some are legit, like my knee issues – but others were just me being lazy. So, this week I decided to kick my own ass into high gear. As a result, I've lost 4 pounds in 4 days and am still going strong. Find out what has helped me accomplish this!
One thing I didn't mention on my list is my Fit Bit. It is my #1 must have item and is the only reason I have the motivation to walk and jog AT ALL. I didn't put it on the list because I know the price ($60 – worth every penny) scares some people. However, if I told you that it breaks down to just 17 cents a day over the course of a year, it may sound a little more doable. I know we all have different budgets, restrictions, and lifestyles, but I promise you the Fit Bit has changed my life and it can change yours, too! Nobody is paying me to say this… in fact, I passed on an opportunity to review a Fit Bit for free because I wanted you guys to know 100%, without a doubt, that the ONLY reason I'm saying these things about the Fit Bit is because I love it that much.
You can purchase a Fit Bit Zip for $60, or a Fit Bit One for $99. I cannot recommend the Fit Bit Flex, because based on what I've read it's not a device I'd want to use.
7 Must Have Accessories For Running (or Walking)
7. Water — This one is a given, but there are some great reusable water bottles out there. My favorite are the glass ones, but I wouldn't take those on a run. You can purchase a Bobble at Target or on Amazon for about $12.
6. Music — Get the blood flowing, get the body pumping… kick up the jams! I love songs by artists like Carrie Underwood, Bob Marley, Fall Out Boy, and lots more!
5. Asics — My running shoe of choice? Asics! They're amazing and I love them. Check out this post on how to choose the perfect running shoes for yourself. Remember, it's not about how they look. It's about how they feel on your feet and how they can help you run that extra mile! I ended up with an ugly pair (pictured above), but they rock! Tip: Get fitted at a local running store (like True Runner), then come home and purchase the shoes you liked on Amazon for way less!
4. Socks with thorlo pads — I wish I had discovered these before I did my half-marathon (and about died). They have padding in the right places and are thin in the right places, too. They are expensive, but they're worth it. CoolMax Micro Minis are my favorites.
3. Lace Locks — I used to have to stop and tie my shoes a dozen times a day. With lace locks, that's no longer an issue. I freaking LOVE these things. I paid $12 for mine at the running store but found these awesome green lace locks on Amazon for $8.
2. Chaffing Powder Gel — Your thighs rubbing together might not be an issue you have on a daily basis, but when you walk or run for several miles at a time, it's bound to happen. I pack this with me (and yes, have hopped into the bushes to reapply it after a few miles), and it literally has saved my workout I don't know how many times! Find Monistat chaffing powder gel at Walgreen's, Walmart, etc in the feminine care aisle.
1. Fanny Pack — At first, I was embarrassed to be wearing a fanny pack. Flash backs of my mom at amusement parks back in the day came flooding in. However, I have tried back packs, I've tried running clothes with pockets, and none of them hold everything. I have a huge phone (Samsung Note), a set of keys, and plastic bags for when I bring the dog with me on my walks. I needed something to hold all of my gear without it bouncing around on my back. This fanny pack is amazing and now I wear it everywhere! You don't need anything fancy. Amazon has a fanny pack for $7.99.
What are your must-haves for running or walking?