25 Fall Drinks and Smoothies
Fall is approaching quickly, whether we like it or not! Well, who doesn't like fall?! The sights of beautiful colors, the sounds of crunching leaves, and best of all… the smells of yummy Fall Drinks! Don't forget your Vitamix to make the awesome smoothies.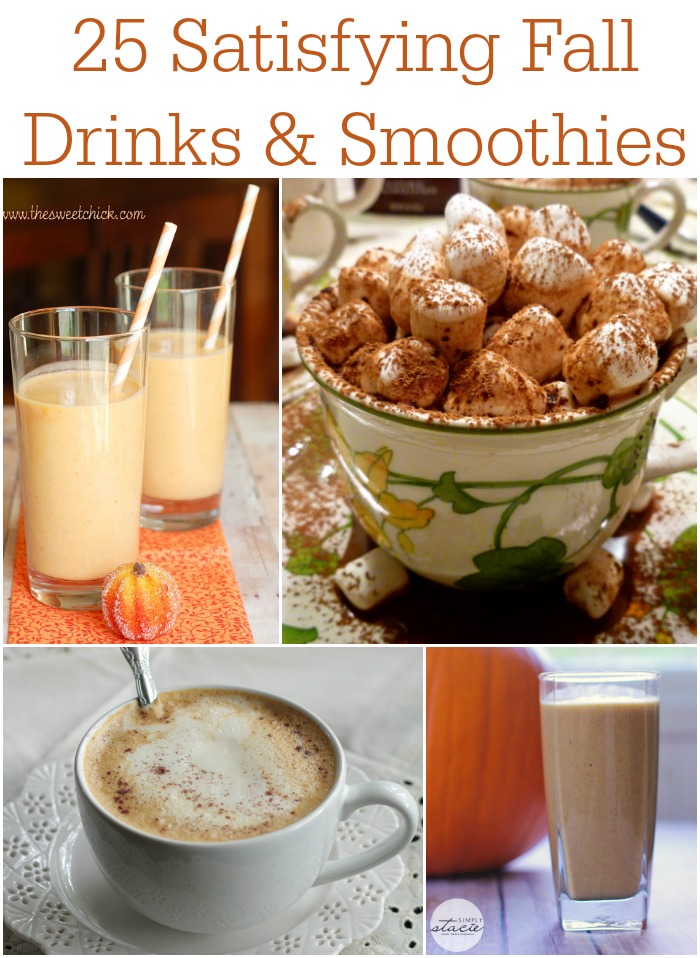 25 Fall Drinks and Smoothies
1. Fancy Hot Chocolate
2. Pumpkin Pie Almond Smoothie
3. The Real Deal: Pumpkin Spice Latte
4. Pumpkin Banana Apple Yogurt Smoothie
5. Sweet Potato Pear Smoothie
6. Hot Caramel Apple Cider
7. Warm Ginger Pear Smoothie
8. Caramel Apple Milkshake
9. Spiced Banana Almond Smoothie
10. Homemade Apple Soda
11. Butternut Squash Breakfast Smoothie
12. Salted Caramel Apple Cider
13. Pumpkin Mexican Hot Chocolate
14. Blueberry Smoothies
15. Autumn Spiced Cold Brewed Iced Coffee
16. Nutella Cappuccino
17. Vampire Punch
18. Cranberry Cider
19. Ginger Lemonade
20. Horchata
21. Fall Greens Smoothie
22. Salted Caramel Mocha
23. Chocolate Chai Milkshake
24. Apple Date Cinnamon Smoothie
25. Apple Cider
Can't get enough? Check out my other post: 131 Smoothie Recipes!