Easy Weight Watchers Friendly Pumpkin Recipes
Are you struggling to mix it up with your Weight Watchers journey? Craving something sweet? You'll fall in love with these Weight Watchers pumpkin recipes. I love the Weight Watchers PointsPlus system because it's easy to follow. I tried the SmartPoints thing but it just wasn't quite as convenient because there aren't as many already-calculated recipes out there yet.
Easy Weight Watchers Pumpkin Recipes
If I'm being completely honest – which I always am haha – I hate pumpkin. I think it's gross. I'll eat pumpkin seeds like a boss, but pumpkin? No thank you. With that being said, some of the most requested Weight Watchers recipes are pumpkin so I figure some of you must like it! I'm going to be brave and try #17, because I love French Toast.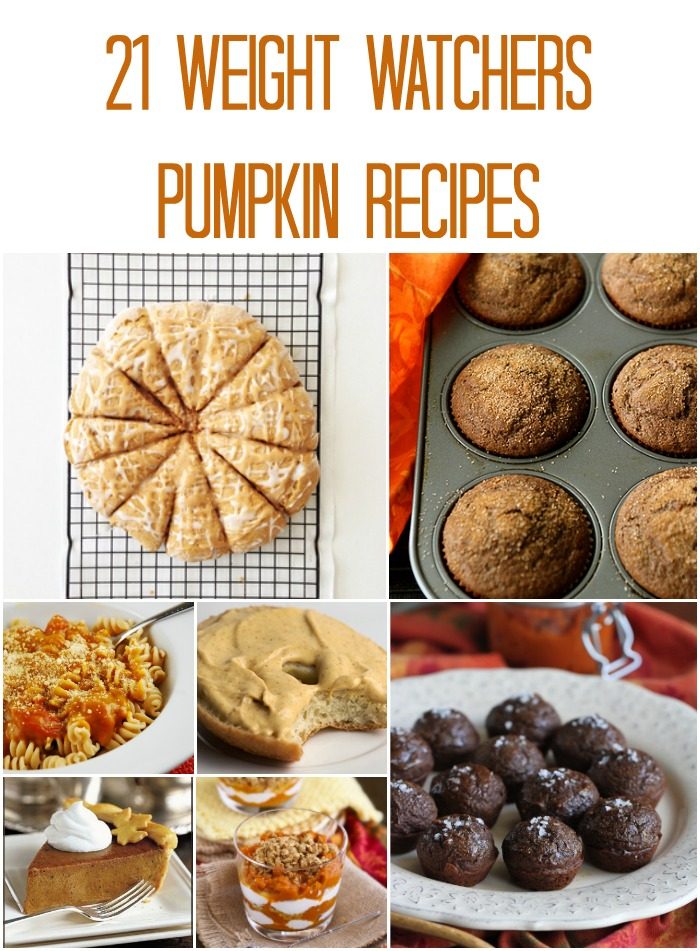 1. Pumpkin Pie Oatmeal (4 PointsPlus)
2. Pumpkin Cream Cheese (3 PointsPlus)
3. Pumpkin Spice Latte Muffins (4 PointsPlus)
4. Vegetarian Pumpkin Chili (6 PointsPlus)
5. Crock Pot Pumpkin Crumb Cake (6 PointsPlus)
6. Pumpkin Chocolate Chip Bars (4 PointsPlus)
7. Cheesy Baked Pumpkin Pasta (8 PointsPlus)
8. Pumpkin Tortellini Skillet (9 PointsPlus)
9. Pumpkin Protein Pancakes (2 PointsPlus)
10. Pumpkin Pasta Sauce (2 PointsPlus)
11. Skinny Starbuck's Pumpkin Scones (4 PointsPlus)
12. Mini Pumpkin Cocoa Maple Bites (1 PointsPlus)
13. Pumpkin Cauliflower Mash (2 PointsPlus)
14. Pumpkin Pie Tarts (1 Point)
15. Pumpkin Pie Dip (3 PointsPlus)
16. Slow Cooker Pumpkin Pie Pudding (5 PointsPlus)
17. Pumpkin French Toast (6 PointsPlus)
18. Pumpkin Cream Cheese Swirl Bars (2 PointsPlus when cut into 12 pieces)
19. Pumpkin Pie Eggrolls (4 PointsPlus)
20. Pumpkin Yogurt Parfait (7 PointsPlus)
21. Low Calorie Pumpkin Pie (4 PointsPlus)
Love Weight Watchers? Download my FREE Cookbook!