Weight Watchers Inspired Stuffed Potato Skins Recipe – 1 Pt.
I am a potato lover. I love using potatoes in my soups, stews, casseroles, under taco meat for taco salads and of course…potato skins.
When I first joined Weight Watchers, I worried that I would not be able to eat potatoes anymore. I quickly learned that nothing could be further from the truth.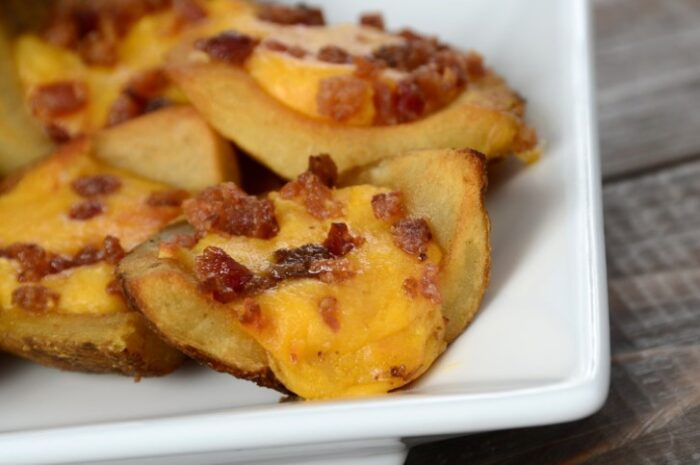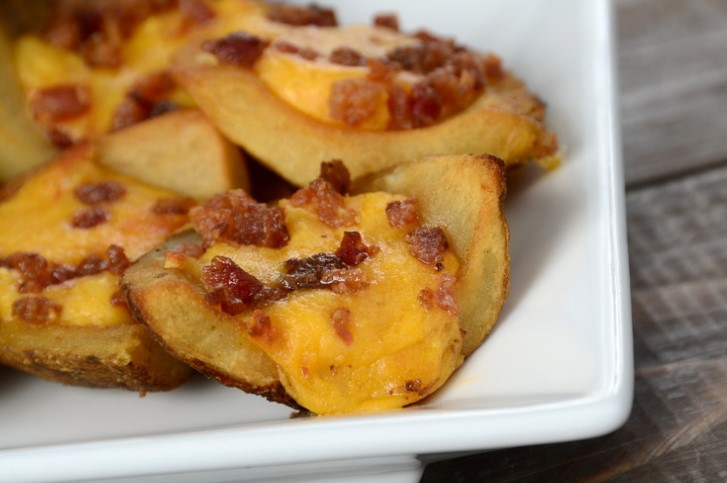 First, on Weight Watchers, I can eat anything you like. I just have to be sure to add those points into my daily allotment. Second, I learned that there are Weight Watchers versions of almost every food or recipe known to man and that potato recipes were no exception.
Which brings me to one of my very favorite potato dishes…you guessed it, potato skins.
I used to eat skins as an appetizer before a some other heavy, cheeseburger or pasta meal. Now, I make the Weight Watchers version of potato skins and eat them as my main course – skipping the cheeseburger and pasta all together :)
At just 1 point per wedge, my potato skins are a delicious and low point meal.
Now, in case you haven't made potato wedges before, don't worry because they are very easy to make. You will need a few baking potatoes, low fat cheese, low fat ranch dressing, bacon and some salt and pepper and you are ready to go. You must try them with my delicious ranch dressing recipe too.
HELPFUL HINTS:
These potato skins are delicious with my light ranch dressing recipe and I highly recommend you try it as it's good with just about EVERYTHING.
I much prefer fresh shredded cheese. It just tastes so much better. If you can find a block of low fat cheddar cheese, I would recommend you get that – it melts so much better and is just so tasty. Of course, if you buy pre shredded, that works fine too.
Most people think of potato skins as an appetizer recipe. However, these wedges are just 1 point per wedge and can be quite filling. I recommend making them as a dinner meal – with the potato, cheese and bacon, they really are a full meal!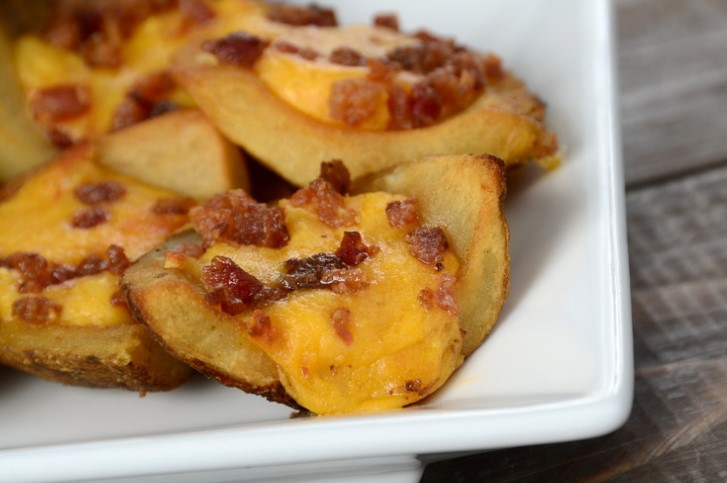 Ingredients
Cooking Spray

4

8 ounce

Baking Potatoes

3

Slices

Pre Cooked Bacon

1

Cup

Shredded Reduced-Fat Cheddar Cheese

1/2

tsp

Black Pepper

1/4

tsp

Salt

1/3

Cup

Light Ranch Dressing
Instructions
Pierce the whole potato with a fork and bake at 425° for 1 hour (do not foil wrap)

Heat the bacon slices and cook according to package directions until crisp. Next, crumble the bacon

Once potatoes are cooked and cooled just a bit, cut them lengthwise into 4 wedges. (So each potato is now in 4 pieces)

Coat both sides of potato skins with cooking spray, salt and pepper. Arrange potatoes on a foil lined baking sheet and bake at 425° for 12 minutes – or until lightly browned.

Remove the potatoes from oven.

Now sprinkle potatoes with the cheese and bacon and put back in the oven another 3-4 minutes, until the cheese is nicely melted.

Each wedge with 1 tsp of light ranch is just 1 point!
Share on Facebook
Nutritional information is provided as a reference, using an online calculator. We recommend verifying the information independently.