We Tried Corked Aromatherapy Diffusers for Our Anxiety and This is What Happened
We tried Corked® aromatherapy diffusers for our anxiety and this is what happened! :) My 16 year old daughter, Jenelle, has pretty bad anxiety at times. I've always had bad anxiety myself, so I completely understand. I'm a huge fan of trying natural remedies, like bullet journaling, exercising, and now, aromatherapy pens. So far, we've had amazing results with all three.
I was sent products to try, with no expectation of giving a review. However, Jenelle and I love Corked® SO much that I ordered more of my own – plus some for her for Christmas – and now I'm writing a review! I also am going to order one to give away so be sure to check the bottom of this post to enter!!
What is Corked®?
Corked® takes diffusing essential oils to a whole new level. Think of a diffuser, but portable enough to put in your pocket or your purse and use anywhere! Corked® is a portable aromatherapy device that diffuses unique blends of vitamins and essential oils for a new approach to aromatherapy.

How much do aromatherapy pens cost?
Corked® diffusers cost about $25 each, though you can get a better deal if you purchase a set of them like I did. I think I paid about $55 for 4. They offer free shipping on orders over $40, too!
How long do portable diffusers last?
Corked® Oil Diffusers will typically last anywhere from 250-300 breaths. Each diffuser lasts Nell about six weeks, with daily use. They are disposable, though I'd love to see a refill option.
What's in a Corked® portable diffuser?
I chatted with a Corked rep before making my purchase. I didn't have a ton of questions but it was nice to know they're there if you do. I was curious about the ingredients used before I let my teenager use them. Corked® will tell you about the essential oils they use, and you can find a list of all of their ingredients here.
The Corked® portable aromatherapy delivery system is not an e-cigarette, as it does not contain tobacco, nicotine, or artificial chemicals. In addition, the base used for their essential oil blends is an organic, soy-based vegetable glycerin.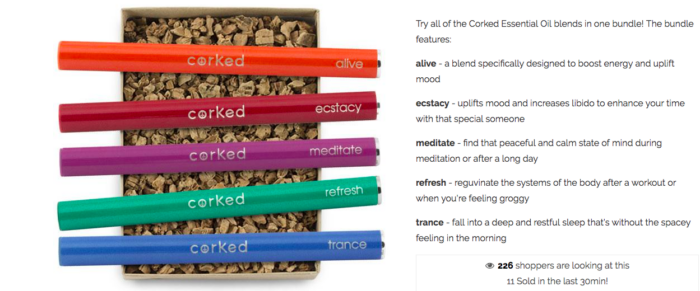 But do Corked® diffusers really work?
In our experience, the Corked® portable aromatherapy diffusers GREATLY reduced our anxiety and stress levels. I love peppermint, eucalyptus, orange, and lavender, so others were great. Check out the reviews before buying, and you'll see that everyone is VERY happy with the product. They have a money-back guarantee if you don't! Jenelle uses her diffuser pen before school every morning, and says it has helped tremendously. She hasn't missed any school lately, whereas she was missing at least once a week. It's not a miracle cure by any means, but just knowing she has the aromatherapy pen option has helped her feel more secure.
You can "Mix Your Mood" and choose your own essential oil blends (and avoid whatever it is that smells like clove, if you have it as much as I do).
Some of the reviews that really had me convinced to buy Corked®:
One reviewer described the aromatherapy pens as a "natural way to feel release from everyday stress", and I think that's spot on! It's not medication, you're not going to feel weird when diffusing essential oils. It's just the perfect, natural way to take the edge off.
"Awesome! Meditate Helps With My Anxiety, And The Trance One Helps Me Relax Before Bed."
"The ecstacy and meditate blends are my favorite! I bring one with me when I go to social events and it helped me a lot with my social anxiety."
"It's a wonderful little diffuser that does exactly what I need. I wound up going with a "Mix Your Mood" and chose Ylang Ylang, Orange, Copaiba, and Geranium. It "tastes" wonderful! It arrived quickly, especially considering that shipping was FREE. I will definitely be ordering more soon!"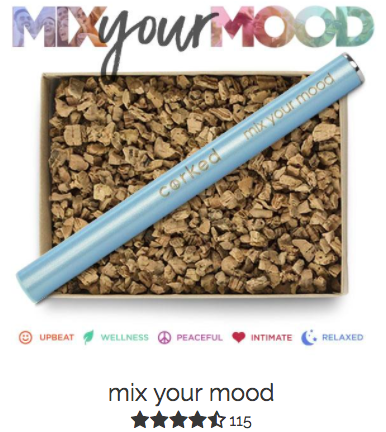 Get your own!
Shop using this link and code 15offBundle to save $15 off any bundle!
I'm also doing a GIVEAWAY for one Corked® oil diffuser (your choice of blend). This giveaway is not endorsed or sponsored by Corked®. Enter below!
*These statements have not been evaluated by the Food and Drug Administration. This product is not intended to diagnose, treat, cure, or prevent any disease. Possible skin sensitivity. Keep out of reach of children. If you are pregnant, nursing, or under a doctor's care, consult your physician. Avoid contact with eyes, inner ears, and sensitive areas.