Top 21 Free Chrome Extensions for Virtual Assistants
No matter how long you've been a Virtual Assistant, there are new extensions and programs popping up all the time to make your life easier! It's tough to figure out what's actually going to make your life easier, and what's just going to be a space-taker-upper on your phone or computer. So, I've done some legwork for you.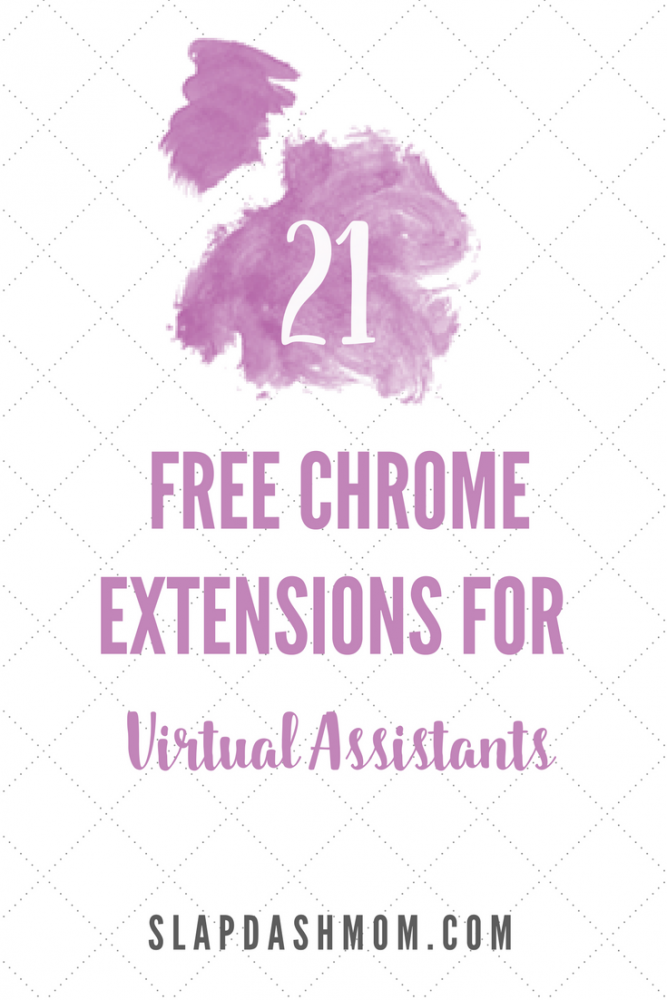 These Chrome extensions are my favorites. I'd love to hear yours (leave a comment below!).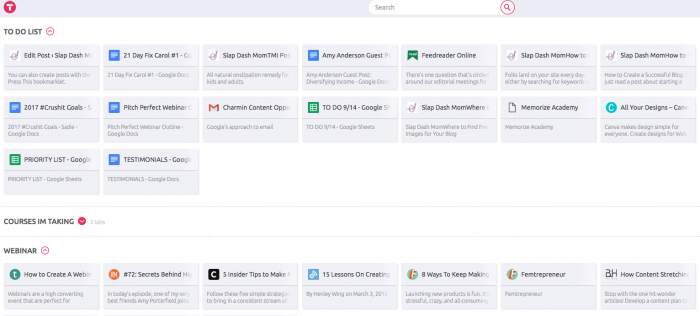 Toby
Toby is #1 on the list because it's one I cannot live without. It has literally changed my business and productivity in the best way possible. Toby is a tab manager that gives you control over the 137 tabs you open on a regular basis. You can organize your favorite sites into visual lists for easier reference. Add new sites with drag and drop or by a single click without having to navigate away from the page.
If you only add one extension to your repertoire, this one must be it.
Save Time in Gmail
These extensions will help you save time and energy while using Gmail. Time is money, yo.
DropBox for Gmail
Dropbox for Gmail is a Chrome extension that adds a Dropbox button to Gmail! Use it while composing emails. This makes it super easy to deliver files, articles, and more to clients without having to leave your email tab. Insanity!
Bonus: It also saves space in your inbox.
KeyRocket for Gmail
KeyRocket for Gmail helps you learn those Gmail shortcuts I taught you guys about last week. It's tough to remember which keys do what, but KeyRocket will get you on track in no time.
Hiver
Hiver is another free Chrome extension that will help take your business to the next level. If you're working with a team – even a small one – Hiver allows you to share projects and emails with your team members via labels. If you create a certain label and allow access, they can see the messages and work together on knocking the tasks out. It's free for up to 3 users. The price goes up for more users, but it's affordable: as little as $6/month per user.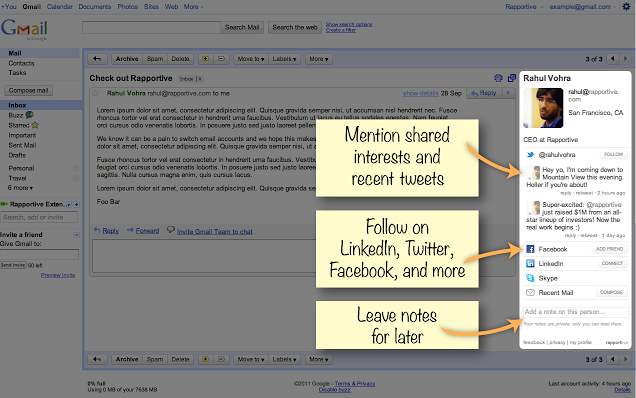 Rapportive
Rapportive is awesome for people like me. While composing messages inside Gmail, you'll see your recipient's LinkedIn information on the sidebar. Why is this helpful? Because if you forget who someone is, where you know them from, or why they're important to you, LinkedIn can clue you in! You'll instantly know what they do for work, which connections you have in common, and more.
Powerbot
I like Powerbot because it is a two-for-one kinda deal… or even a three-for-one if you download the paid version that integrates Google Calendar.
Powerbot brings the power of Evernote right to your Gmail inbox. Clip messages to OneNote, Evernote, or DropBox, and add a reminder or select tags without leaving Gmail. You can insert a note or notebook link into messages and replies, and even view Evernote notes that are relevant to your conversations. It works with an unlimited number of Gmail accounts.
The first 30 days are free, so check it out. If you love it, it's worth the $1.99 a month. If you don't use it all the time and absolutely love it, uninstall it!
Inbox Pause
Inbox Pause does exactly what it says: it pauses your inbox. Your emails are temporarily held until you decide you're ready for them. This gets rid of the constant distraction of incoming messages while still allowing access to the rest of your inbox.
Boomerang
I haven't personally used Boomerang for Gmail yet but it always makes the top 10 lists when entrepreneurs talk about the best extensions for Chrome.
Boomerang allows you to schedule messages to be sent out at a later date. So if you have some time now but won't necessarily have it later, write a message out and then mark when it should be sent. Schedule reminders right inside Gmail – no need to leave your inbox.
Oh, and Boomerang also helps you postpone incoming emails! The incoming mail disappears from your inbox into a folder and then you can set them to come back at a specific time. This keeps your inbox clean without losing track of the important stuff.
Evernote Web Clipper
Evernote Web Clipper lets you save as much or as little information as you need from a web page. Instead of struggling to remember why you bookmarked a page, this extension gives you the option to save just an article or image, and even lets you highlight text.
Extensions to Use for Client Work
No matter which services you offer, you'll find at least one of these extensions useful!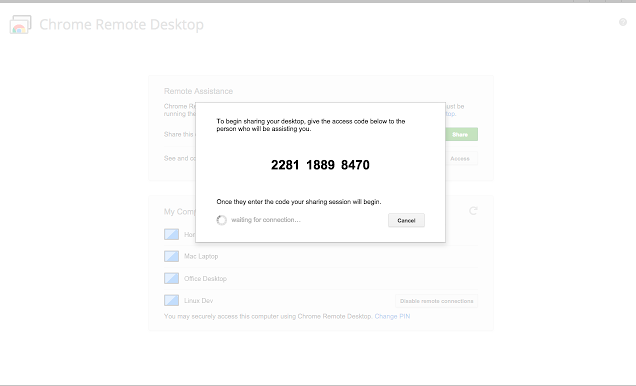 Chrome Remote Desktop
Use Chrome Remote Desktop if you're offering any type of tech support. This also works for any time it's easier to show a client or team member how to do something on their computer rather than explaining it or taking the time to shoot a screencast.
Tailwind
I work with several bloggers and help them set up social media strategies. Once they have their strategy figured out, they might hire another VA to actually execute it. This is where scheduling tools like Tailwind come in. The Tailwind extension works solely with Pinterest. It lets you schedule your pin based on when your target audience is most likely to be interacting. This cuts down on the time you have to spend on this social network while still getting kick ass results for your clients.
Buffer
I use Buffer to schedule posts in groups, but there are many ways to use this tool. Buffer lets you share content from all over the web to your favorite social media platforms like Facebook, Twitter, Linkedin, and more. Say you find a gold mine of information that would fit perfectly with your client's niche. Instead of sharing all fifteen links at once, Buffer lets you schedule your posts and spread them out. Buffer has a free option as well as a premium option. If it helps save you time, it's worth the investment. I pay $10/month.
Whatfont
Whatfont works in two key ways:
One – I've often come across a font on a random website that I would just love to have but had no way to find out what it was, other than scouring through code. This extension lets you find out exactly what font is being used on any web page you happen to find.
Two – I find Whatfont helpful for clients that want their images to match what they already have on their site, but don't know which fonts are in use.
Eyedropper
Similar to Whatfont, Eyedropper is a great tool to have when you come across a color you just love and want to use. This tool lets you pick up color from any webpage and also keeps a history of your recently grabbed colors. Again, this is helpful while working for clients because you won't have to bother them to ask for their hex codes and other branding information.
Ritetag
Not sure which hashtags to use? Ritetag ensures you're using the best hashtag to reach your audience (or your client's audience!). It's straightforward and simple, using a color coded ranking system.
Additional features include being able to mouseover any hashtag in the bar to see a quick evaluation. Click to see full stats. You can even compare hashtags to see which ones will better serve your purpose.
Love these tips? You'll LOVE my Resource Library!
Extensions for Improving Your Writing
If you offer content creation for clients like I do, it's important that your writing is top notch. Use these extensions to help you out.
Grammarly
Grammarly is basically spellcheck on steroids. It alerts you to misspellings, but it goes way beyond that. "They're going to go sit at their table over there." Grammarly would be able to detect if those words were being misused, even if they're spelled correctly. Amazing, right?
If you have a tough time remembering how to use words like their, there, they're, your, you're, etc this is a great app for you. Trust me when I say it's better to be safe than sorry! If you send an article to me with grammatical errors, I probably won't be hiring you again any time soon. Why? Because it takes me extra time to proofread, so if I know I can count on your articles to be polished and ready to go, you're gonna be at the top of my list!
Read&Write for Chrome
Read & Write for Chrome helps boost your writing confidence. You can use their tools to see the meaning of words explained with both text and picture dictionaries, get suggestions for the current or next word as you type, and even turn words into text as you speak.
This extension has a premium version that's $100 a year. Not something I'd splurge on without taking it for a decent test run first, but worth it if you find it's helping your workflow. Time is money.
NOTE: I've found that writing tools don't help me as much because they distract me! If you try them out and they distract you, get rid of them. These are free Chrome extensions so it's not like you're investing a ton of money. Use what works and forget the rest.
Chrome Extensions to Save You Time
You've gotta be productive if you wanna make money. Use these extensions to do just that.
Block Site
Those funny cat videos are great and all, but not so much when you're trying to work. Block Site can restrict your access to specific sites or it can block sites containing specific keywords (ehem, Facebook). You can decide which days/times you will be working and set the extension to keep you on track during that time period.
TL;DR
I use "TL;DR" far too often but seriously, any extension that can save me a few minutes of reading is an extension I'm going to try out. The idea behind the TLDR extension is that when you visit a website, TLDR gives you a quick summary of the article so you don't have to waste too much time on it if it's not what you were looking for.
Email this Page
At first I wasn't sure about adding this one because it doesn't take that long to copy and paste part of an article (or even an entire article) and email it to someone. However, Email this Page makes it even easier than copying and pasting. Find a page you want to share with a friend, team mate, or client? Simply click and send. BAM. Done.
Giphy
Last but certainly not least, Giphy totally made the list. I don't know what it is about GIFs that make them so addictive but this extension is so much fun! Okay, so this is more of along the lines of a time suck than a time saver but it's sometimes the best way to interact on social media. Sometimes the only appropriate response is a GIF of a cat dancing in a bikini.
What's your favorite free extension for your Virtual Assistant business?