This post may contain affiliate links. Please read my Disclaimer and Privacy policy for more information.
Our Sushi Birthday Party was a huge hit!! I'm so excited to share the photos (and sushi candy recipes!!) with you.
Because Gracelynn loves sushi, we knew we had to have this type of party! However, finding stuff for a sushi birthday party proved to be very difficult. As a result, we kind of mixed the Japanese, Chinese, and overall Asian theme to create the perfect birthday party for her. Because the Chinese New Year is fairly popular, I was able to get some cups, plates, etc to match the theme… but yes, I realize that Chinese and Japanese are completely different. She's 9. It wasn't a big deal to us. :) With that being said, if you want an authentic Chinese, or Japenese, birthday party, do a little research because ours definitely was not.
Anyway, onto the fun!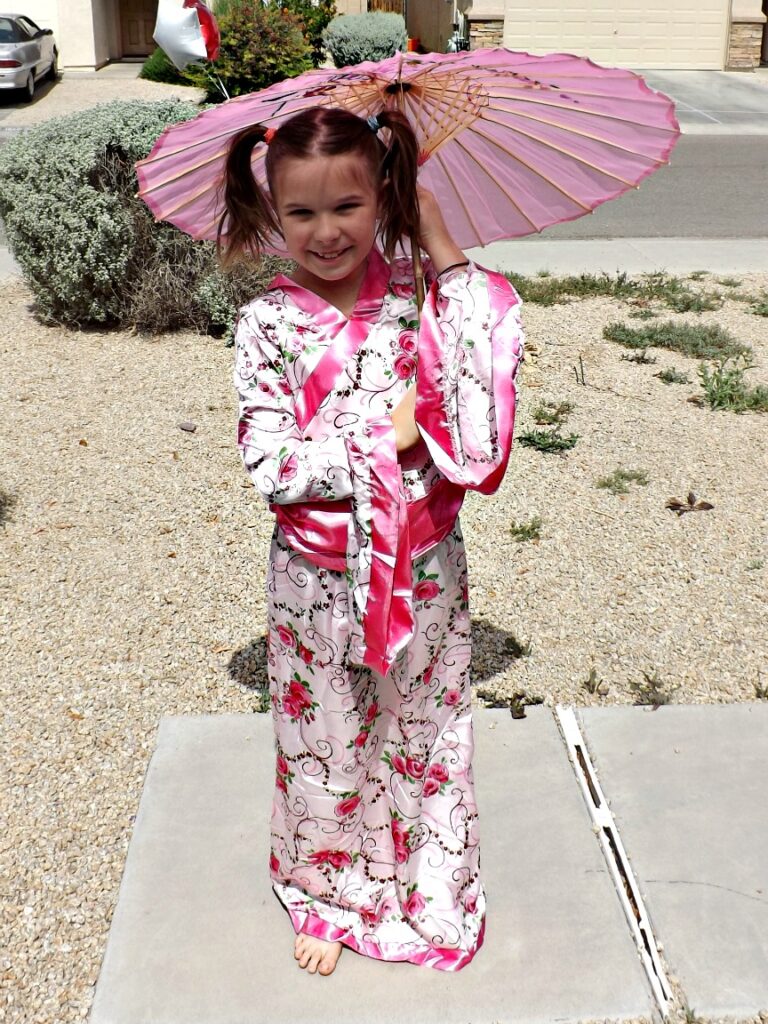 I ordered this Asian Princess Costume for Gracelynn to wear for her party. She said it fit well (I ordered her a large, she wears a 10/12), but it was about 85 degrees today so after an hour, she wanted to change into regular clothes. It'll still make a good Halloween costume in October!
Her hair was simple, but because we put it up like 5 hours before the party, it fell down before it started. I put it in pigtail buns, and I put Saff's hair in a high side braid.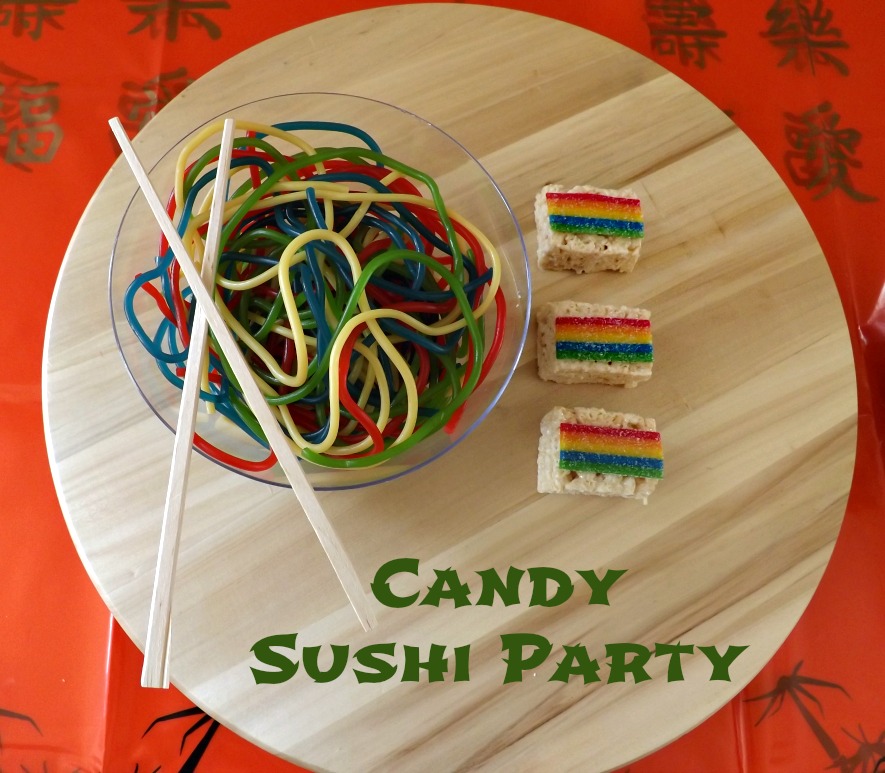 Our candy sushi party was SUPER sugary. You could definitely do a fruit/veggie sushi party, or at least do a little less sugar than we did. :)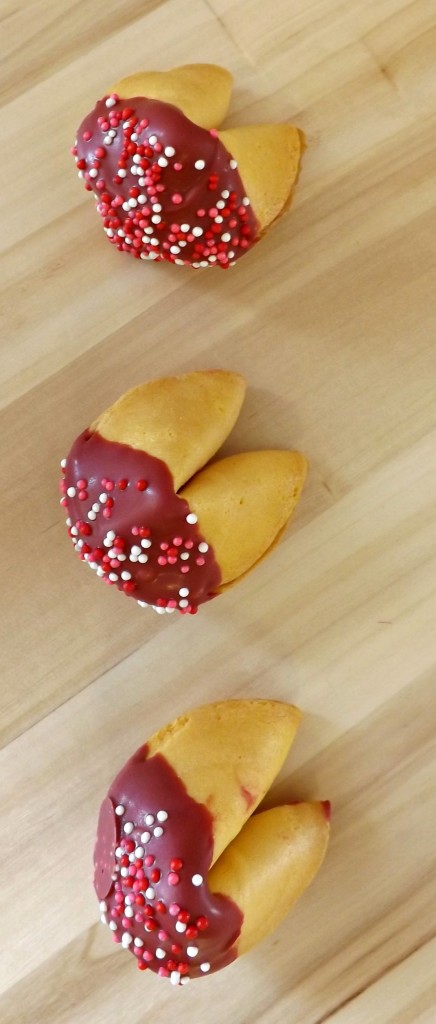 I bought the fortune cookies at the grocery store, then dipped them in red velvet chocolate. You could dip them in regular chocolate, or white chocolate, or any combination of chocolates. Add sprinkles to make them even more festive!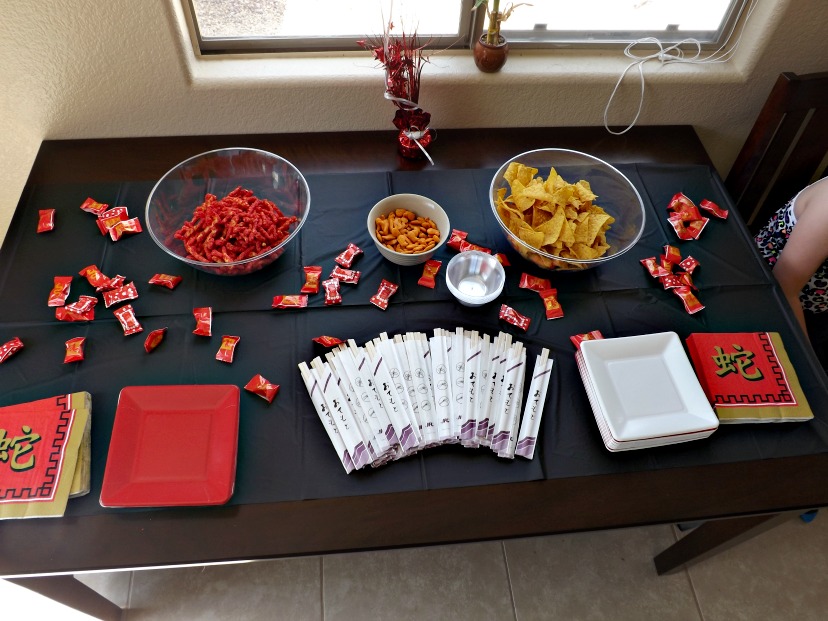 One table had some chips, goldfish crackers, etc along with plates, Napkins, Chinese Buttermints, and lots of chop sticks (we used them for food, and for games).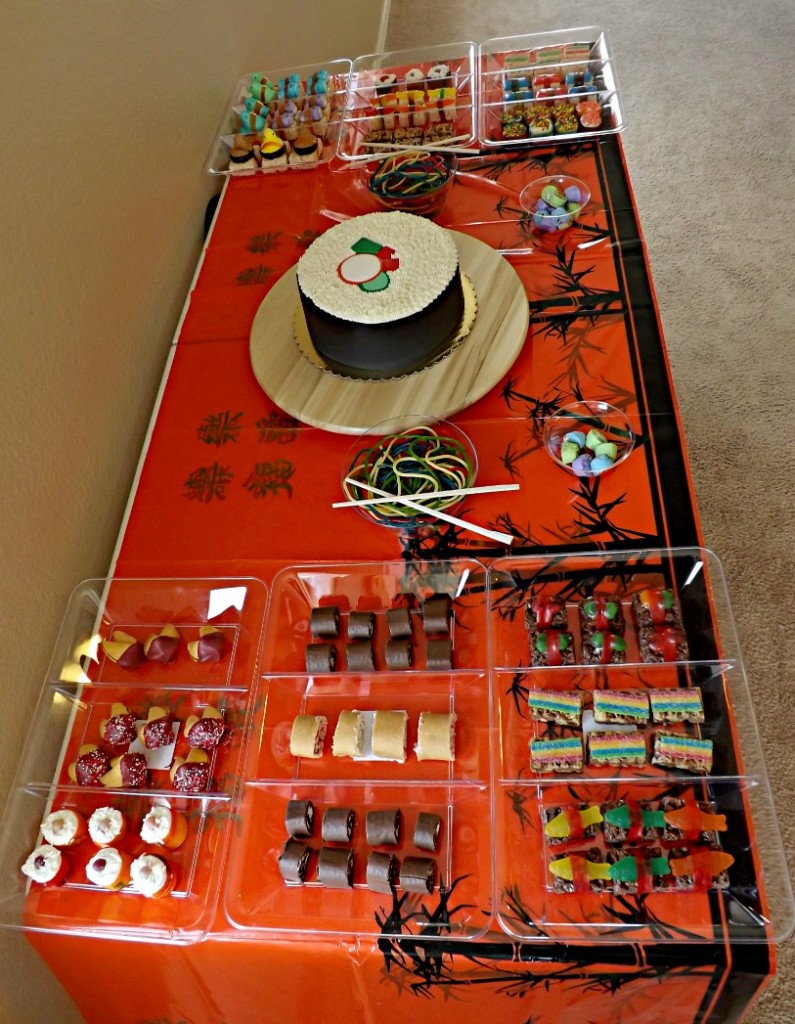 The next table had the candy sushi, and sushi cake!! Plus, the fun Rip Whips noodles. The noodles were a huge hit!!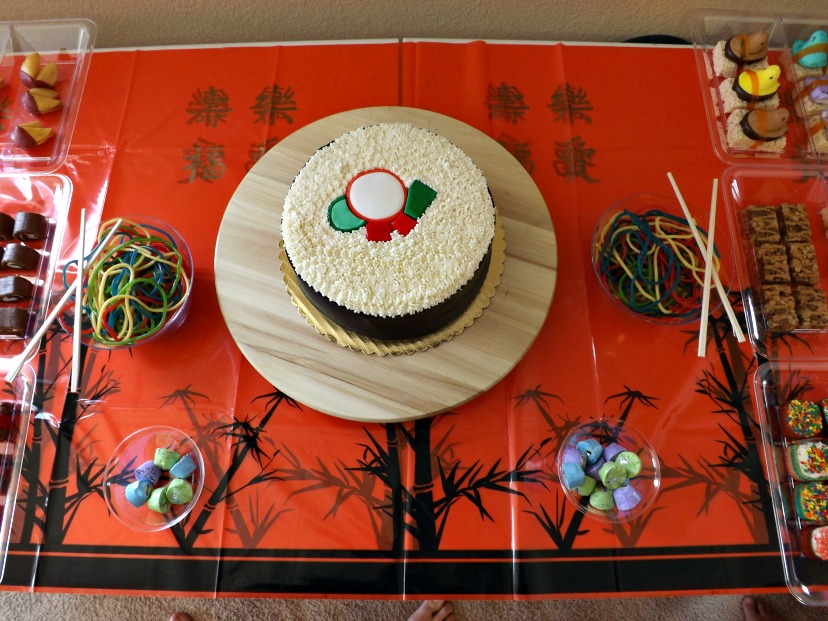 The cake was created by Rachel's Bake Shop in Queen Creek, AZ. They do amazing work and I recommend them 100%! I do work there, so I might be a bit biased, but I absolutely love this sushi cake and it got lots of compliments! :)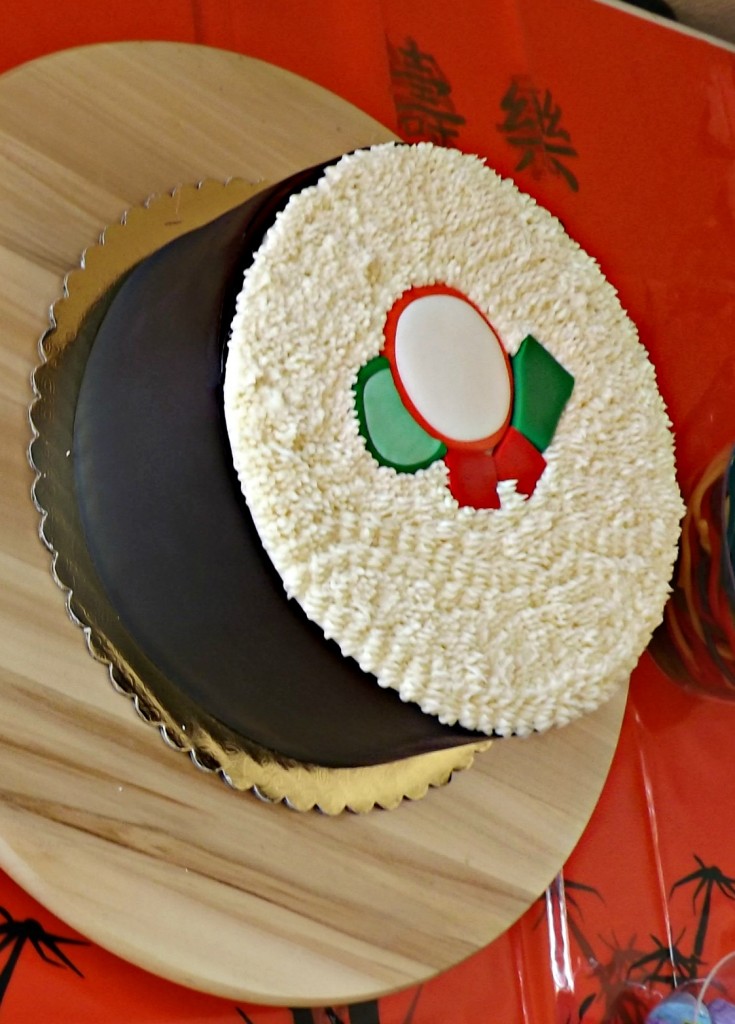 Half of the 8″ cake served like 20 kids, so we will have leftover cake for at least the next week or two. I gave the kids Take Out Boxes, and a few of them took some cake home, but I'm sure the girls won't mind polishing it off since I rarely give them sugar!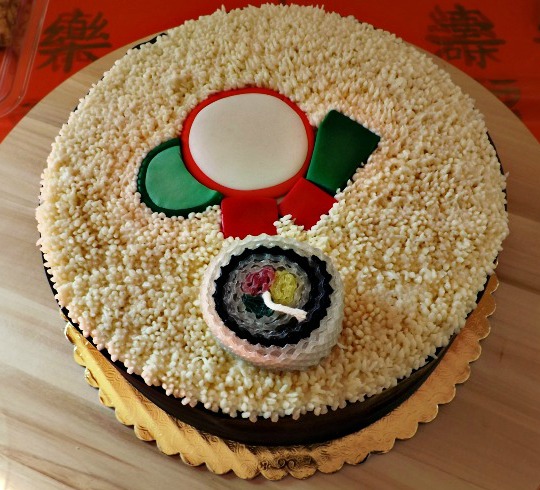 Last photo of the cake, I promise. I wanted to share this one because it has a candle on it.. not just any candle, though. An amazing, beautiful, unique sushi candle from an Etsy seller in Hawaii! It's not actually a birthday candle, but it burned for like 15 seconds and did the job I wanted it to.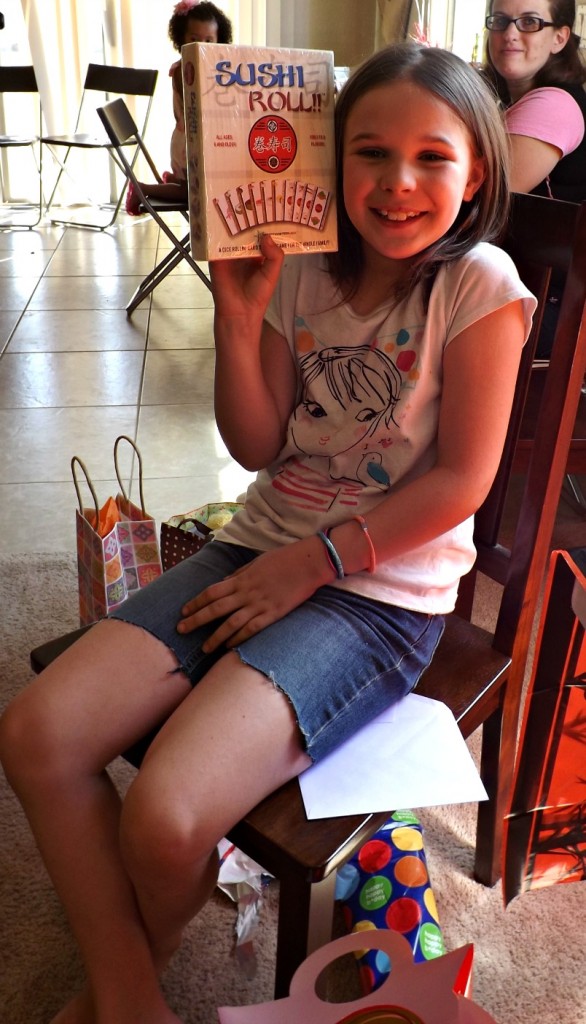 One of Gracelynn's favorite gifts was a sushi roll game.
We took the kids to the park (it's like a block from our house), and let them play for a while after all that candy and cake was eaten! When we got back, we played a game where the kids had to get the Tic Tacs out of a bowl with chop sticks. After the game was over, all of the kids kept asking to play again! So we played it four times, and then it was time to leave! The kids headed over to the party favor table…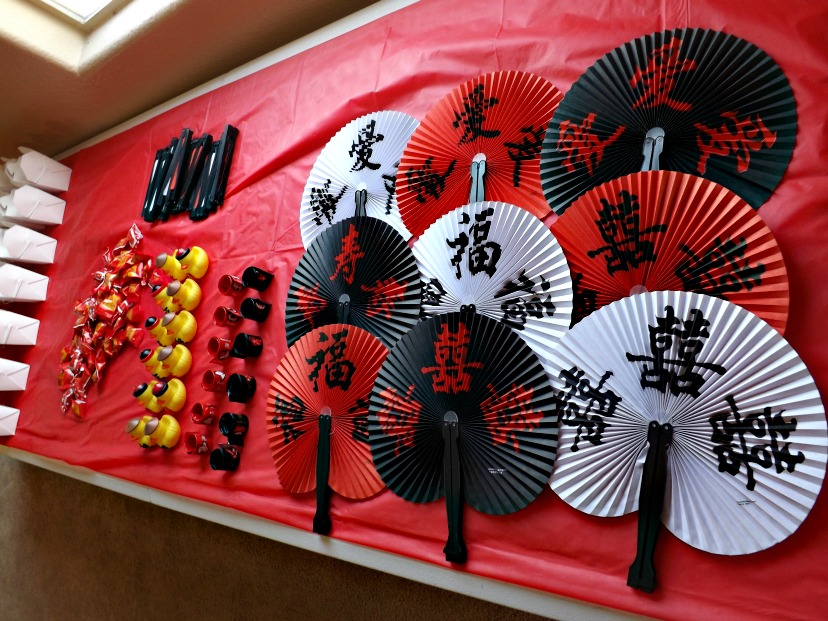 The party favors included Paper Fans, Ducks with Chinese Writing, Slap Bracelets with Chinese Writing and a few other little things.
Overall, the Sushi Birthday Party was a blast, and I'd totally do it again! Don't forget to check out my SUSHI PARTY Pinterest board for even more ideas!