Sugar Skull Makeup Ideas and Tutorials
Sugar Skull Makeup Ideas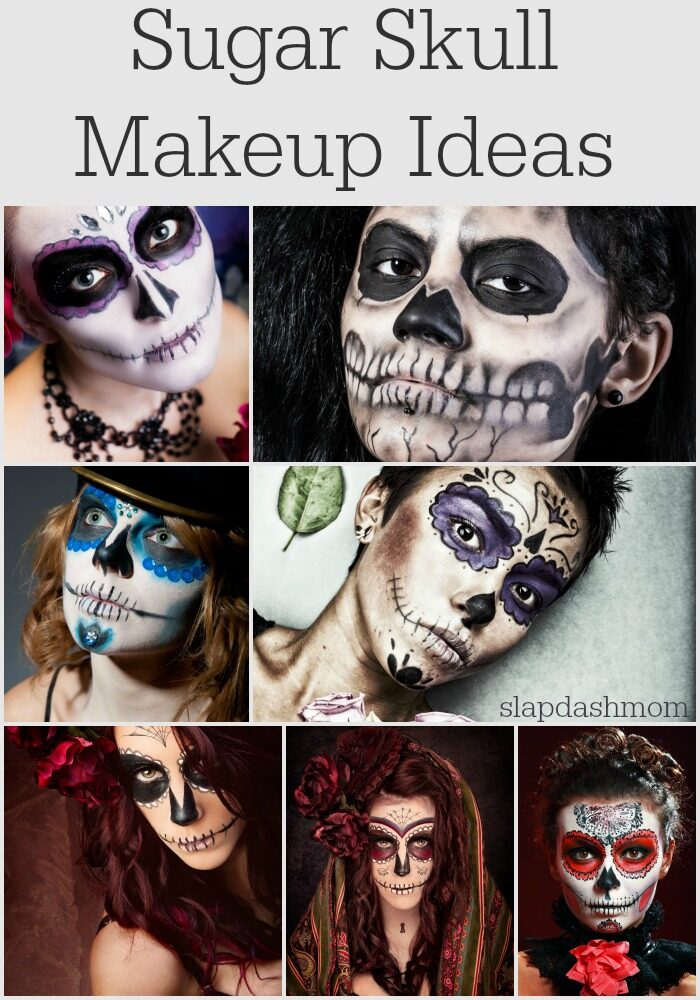 Sugar skull makeup is always fun to do, and each time you try it you'll come up with your own unique version. I have another post on sugar skulls so be sure to check it out, too!
A note about purchasing makeup: Supplies are easily found on Amazon, and with free two-day shipping on most items, you can't beat the prices! You can also buy supplies year round at Walgreen's, Walmart, etc – sometimes even with coupons.
My Sugar Skull Makeup Tips
The amount of makeup you use depends on, well, you. You can get fancy and start with a nice primer, follow it up with a very light HD liquid foundation, contour contour contour, and go from there. That's the type of stuff you'd do if you were in a contest of some sort, wanted the makeup to last all day, or you're doing a professional photo shoot of some sort. If you're just doing a simple Halloween costume, or maybe playing dress-up with the kids for fun, simple is fine!
For eyeshadow: I really like Maybelline Color Tattoo, and use it regularly – not just while doing sugar skull makeup. However, e.l.f. brand costs much less and still gets the job done (just rubs off faster).
For mascara: I did a real-life comparison of some popular mascara brands for you here.
For falsies: I don't use falsies, but if you're doing a photo shoot you definitely want them!
For eye liner and lip slashes: Liquid liner works amazingly for most parts of the makeup, but you might need to use a gel liner for "teeth" around your lips.
For white cream makeup: I prefer the Manic Panic, but you can use the cheap white Halloween makeup, too. It just needs to dry first or it will smear.
Sugar Skull Makeup Ideas and Tutorials
I love the rhinestones on this sugar skull.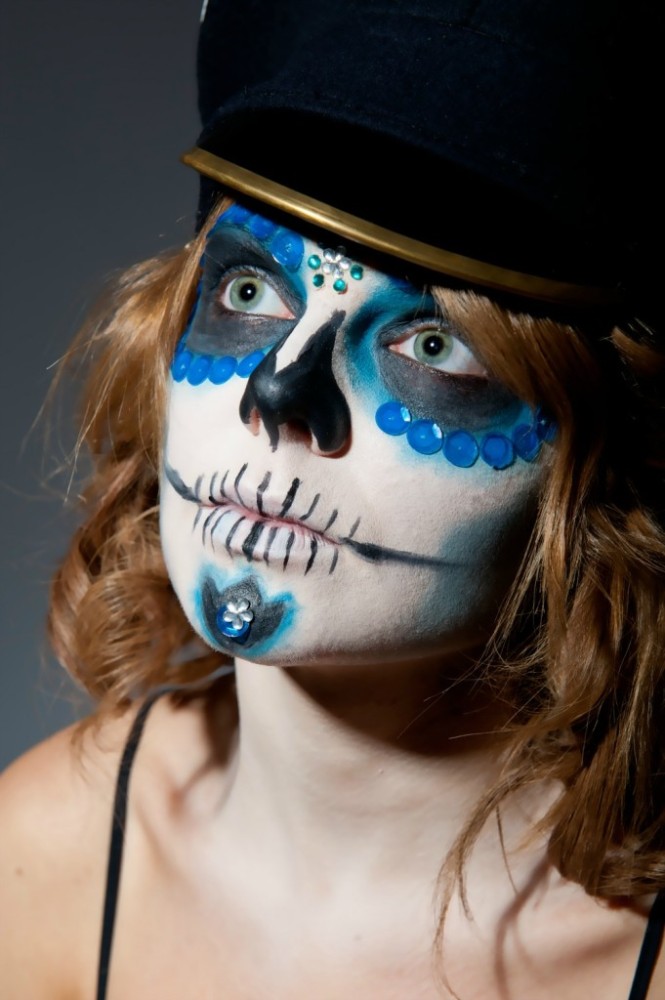 This easy sugar skull tutorial does a great job at showing how to do the entire face, start to finish. I especially like how she shows you to "connect the dots" on the eyes. That's how I do mine!
Supplies Needed:
– Blue and black cream eyeshadow
– White face makeup
– Eyeliner
– Rhinestones
This next sugar skull looks like she was just dug up from a grave. I think this photo is pretty heavily edited, so you won't get the exact look but the brown powder eye shadow will help.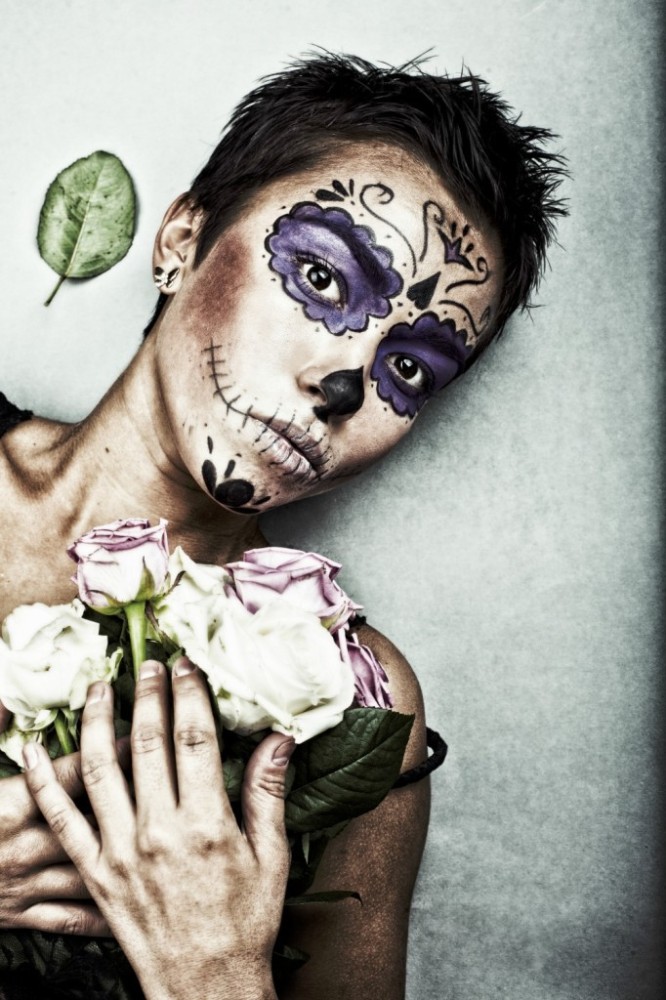 Supplies needed:
– Purple cream eyeshadow
– Very light foundation
– brown eyeshadow
– Eyeliner
This look is purple, too, which happens to be my favorite color. :) The rhinestones at the bottom really make it pop!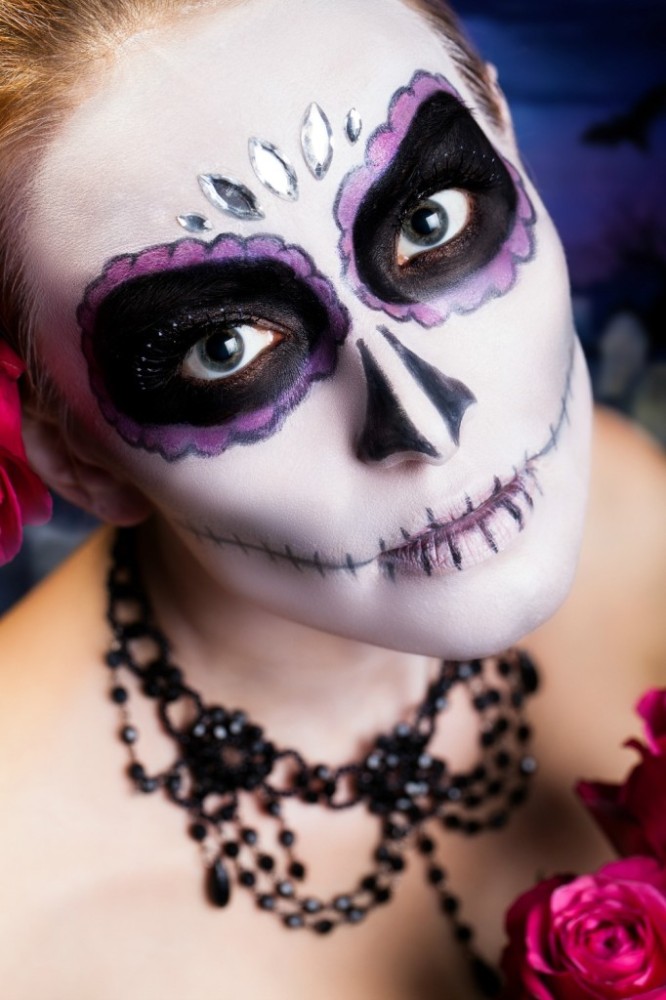 Supplies needed:
– Purple cream eyeshadow
– Eyeliner
– Rhinestones
– White face makeup
I like this one because it's not so white. It's more of a flesh color, which makes it look less costume-ish.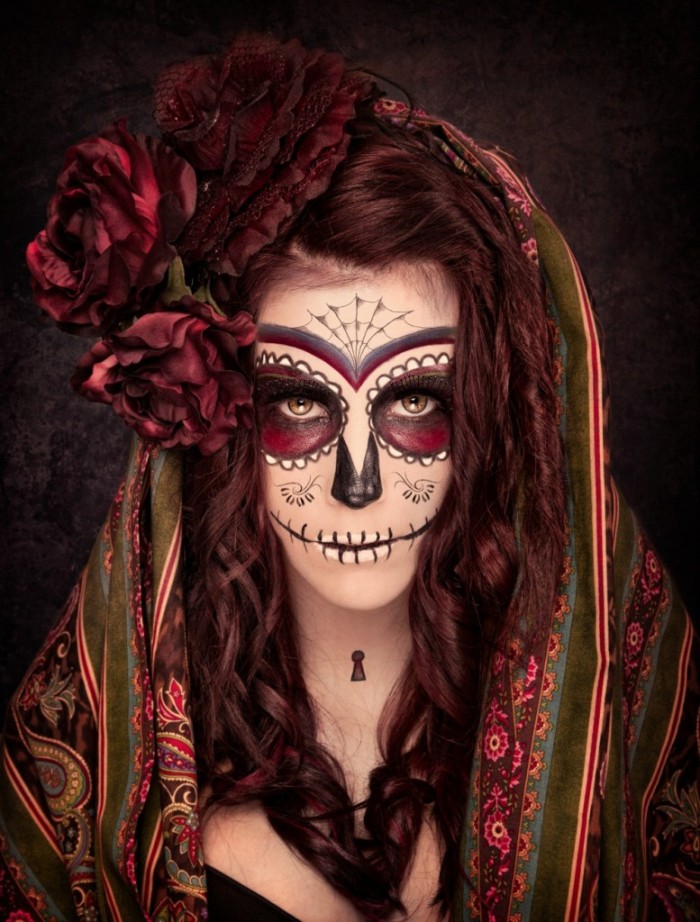 Supplies needed:
– red cream eye shadow
– Eyeliner
More sugar skull inspiration without tutorials: