OrangeTheory Fitness: 2 Month Update + Interview with Sunny!
It's that time again! We already talked about what OrangeTheory Fitness is. Now let's talk about what it's done for me this month! I teamed up with OTF to bring you this series showcasing my results and what I love (or don't love) about the experience. Though we are working together, everything I share is 110% honest, as usual. You're welcome. ;)
Scroll down to see what I kicked ass at this month and what I could improve on, OH and to see my weight loss numbers!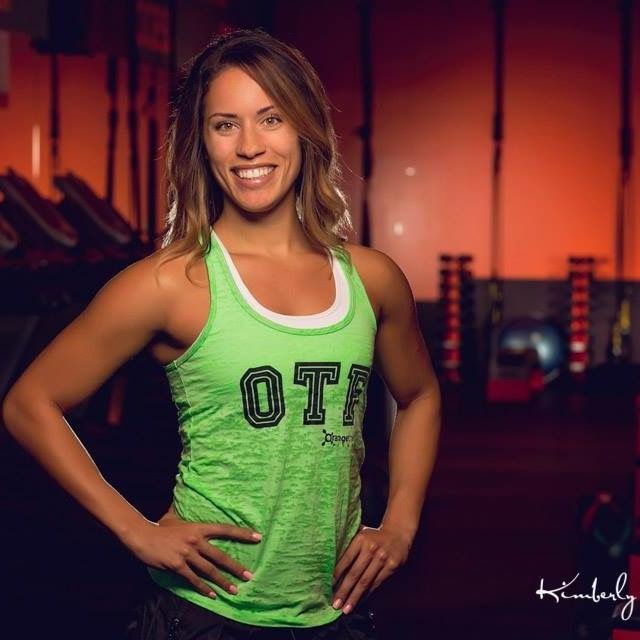 I interviewed Sunny, one of the OTF trainers/coaches and also the manager of a few locations. She is super encouraging, always kind, and is 100% #bodygoals for many women!
How'd you discover OTF? What made you fall in love?
I used to be a personal trainer at Lifetime Fitness in Gilbert and had several members and friends in my ear about trying OTF. I pushed it off way too long and then finally decided to get my butt into the Orange zone. I fell in love when I realized it combined weights, cardio and rowing all in one hour. The efficiency of the program was my initial draw in.
How is OTF different than other gyms?
OTF is different in the sense that we get it done in 1 hour! We're a family here and love to join our members in their fitness journey. We stay connected with our members both in and out of the studio. We are a group personal training studio where each and every class is led by one of the best trainers in the industry. OTF takes the guess work out of the equation. Your heart rate dictates the intensity of your workout so our program is for all levels of fitness ability (beginner, intermediate and advanced). You simply show up with your game face on and your OTF front desk staff and trainer will take care of the rest!
What's your favorite thing about being a coach/trainer at OTF?
Being able to witness so many humans success with his or her fitness experience. I love proving to people that they are capable of whatever they put their mind to! Its an absolute inspiration to watch the transformations many of our clients experience. In just one hour I have a shot at inspiring up to 26 humans all at the same time to become a better version of themselves, doesn't get any better! Not to mention, our Orange crew feels like a family.
What kind of experience and education do OTF coaches/trainers need before getting hired?
We require our trainers to have their Personal Training certification from any organization. Once they are hired we put our trainers through a strict OTF on-boarding training process. Each trainer has a different background and brings something new to the table which leads to a diverse team. There is no cookie-cutter requirement, but trust that we have a professional training staff ready to help as many humans as we can.
What advice would you give to someone who wants to become a trainer?
Take classes for 30+ days to make sure this is an environment you can see yourself being successful in. I would recommend that they asked themselves their WHY in hopes of it matching up with our vision, mission and values here at OTF. We can teach the OTF model to anyone, but we cannot teach the WHY!
What's a regular meal plan for the day look like for you?
Meal 1 – 4 full eggs and an Ezekial English muffin with 1 Tbsp of Almond butter
Meal 2 – Isalean Meal Replacement Bar or Lenny & Larry Protein Cookie
Meal 3 – 5 oz of chicken breast on top of a salad with tons of green veggies and salsa for my dressing
Meal 4 – IsaPro – Protein Shake
Meal 5 – Same as lunch!
…And I try to drink 100+ oz of H20 daily.
Fridays I have my treat meal – A burger with an egg on top, fries and sometimes a milk shake!
Do you do workouts outside of OTF? What do they look like?
Yes, I take 4 OTF classes/week and lift heavy (Olympic lifts) outside of OT 1-2 xs/week. Usually do heavier super sets! I also like to add in a spin class here and there. Occasionally I do Hot Yoga.
What's one piece of advice you'd give someone who hasn't started working out yet?
Start today! Trust you can do it! Hardest part is making the decision to START!
What's one piece of advice you'd give someone who isn't seeing results as fast as they'd like?
Don't expect results sooner than 30 days into a consistent regimen. Be patient! Check your diet, talk to a professional. Usually food is the issue, not the work out program. 80% of any change to happen to a body, good or bad, comes from Food! Get your forks right people.
What's one change someone can make RIGHT NOW to better their health?
Match your body weight in ounces of water every single day and get up and MOVE at least 20 minutes every single day.
2 Month Fitness Update
If you read my 1 month update, you know I was down 17 pounds. Quite honestly, I didn't know if I'd lose any weight in month 2 because that's usually how my body works. However, I made some adjustments and am happy with my progress.
What I'm doing well:
I sat down with one of the OTF trainers, Kyle, and talked with him about nutrition. He suggested the Zone Diet, so I started it at the beginning of the second week of month 2. The Zone Diet is great because you don't feel super limited, and you eat a LOT of food. So much food, in fact, that I'm never able to eat it all (and that's saying a lot because I can put some food away). I went from weighing myself once in the month (like I did last month) to weighing myself once a day, which was a tough transition.
I'm doing better than I thought I would, though. I'm using it literally just as a tool to measure my weight each day. No longer do those numbers define my self worth; it's a methodical approach and it's just one number in the grand scheme of things. I won't lie and say that when the scale shows a +3 increase that I'm happy. My heart sinks and I think back to what I ate yesterday, or more likely what I didn't drink since I suck at water intake.
I went to Sprouts and bought a bunch of their "just chicken" packages, which is just shredded rotisserie chicken. It's silly to spend more on pre-made food like that when I have an awesome wife that cooks for me, but for now it works so I'm going to do it for another few weeks until I figure something else out. I eat a LOT of chicken.
Another thing I improved on besides nutrition is fitness. I jogged 1/2 of a mile today. That doesn't seem like a lot, because really it isn't, but my foot and knee are still giving me problems so being able to get on the treadmill at all is a huge accomplishment. Barely, but I did it. I got 30 splat points in class today which is the most I've ever gotten. I also finally got over the 400 calorie mark, which has been a goal of mine for a while.
What I could improve on:
Consistency is something I've been decent with over the course of the two months as a whole, but we went to the beach and missed 3 days and then this week I missed 3 days. My goal is to go to OrangeTheory Fitness every single day, except for rest days. I don't say "oh Sunday is a rest day", I just go by how my body is feeling and I take a rest day when I need one (usually every 9th day seems to be a rest day for me). Listening to my body is something I've improved at, and I'm thankful for that!
I have good days at OTF and bad days at OTF but each day is a day where I'm getting off the couch, out of bed, and making strides towards being a better human. Those are all wins for me. As someone who battles major anxiety and depression, sometimes getting out of bed is a huge win.
Another thing I could improve on is, you guessed it, water intake. I have been using 0 calorie flavoring packets to get my water in, but it's still not enough. I literally need to double what I'm drinking.
2 Month Weight Loss
I know weight loss isn't the #1 thing to worry about anymore, which is a huge relief. I'm just having fun getting fit. But I also know you guys want to know how much I've lost! Next month I will post pictures. I haven't really taken any so I'll need to dig for some "before" shots.
Weight Loss Month 1: 17 Pounds!
Weight Loss Month 2: 13 Pounds!
I didn't lose ANY weight the first week of month 2! In fact, I gained two pounds. When I met with Kyle and he had me weigh myself daily, it kept me in check… big time. Losing 13 pounds in month 2 is pretty awesome! I am going for at least 10 pounds in month 3 but would be super happy to do 15. I've also lost so much weight my bras are too big and some of my leggings are baggy in the stomach and thigh area. Even if I don't see it when I look in the mirror, my clothes are telling me so!
My Challenge to YOU!
The challenge this month is simple:
1. Visit! If you have an OrangeTheory Fitness in your area, try a free class! If you're local, PM me on Facebook and I'll go to a class with you.
2. Drink water! At least half your bodyweight in ounces and work up to Sunny's suggestion above.
3. Move! At least 20 minutes a day. Whether it's a brisk walk (don't be lazy, y'all!) or cycling or a workout DVD, just move and move with purpose.
Leave a comment letting me know about your biggest fitness struggle!