What is Orangetheory Fitness?
What is Orangetheory Fitness?
Orangetheory Fitness (OTF) is a gym, unlike any other gym I've been to. They only offer group training classes. By "only", I mean these classes are all you need. The Orangetheory gym isn't huge, but it doesn't feel cramped either. There's plenty of room for everyone. I love that they keep it simple. We'll talk more about the workouts in a bit.
The first question people ask me when I talk about OTF is "what is the orange theory?". The physiology behind the OTF workout involves heart-rate-monitored training designed to keep your heart rate in a target zone (the orange zone!) that stimulates metabolism and increases energy. The result is the Orange Effect: more energy, toning, and calorie burn for up to 36 hours after your workout ends.

What Does an Orangetheory Workout Look Like?
Walk into any class ready to sweat. Whether it's a Power day or an Endurance Day, you're going to get your ass kicked. Everyone will split into two groups. One group starts on the treadmill and the other group starts their workout on the rower. It's much easier for me to start on the rower because that means I'm going to go to the weight room first, and finish with cardio. When I start with cardio and end with weights, I'm gassed out and can't do the weights as well.
You'll spend 28-ish minutes on the treadmill (or bike, or strider), and 28-ish in the weight room. On the treadmill, you'll be starting at a "base pace", with intervals of "push pace" and "ALL OUT pace" worked in. You'll increase your incline (or gears), pace, and heart rate! In the weight room, you'll use dumbbells, TRX straps, and of course, bodyweight. We do lots of squats!
Backed by the science of excess post-exercise oxygen consumption, Orangetheory is a 60-minute workout broken into intervals of cardiovascular and strength training. You'll burn 400+ calories per session, using a mix of the treadmill, rowing machines, TRX suspension training, and free weights. The exercises you're supposed to do are up on a big TV screen, and the Coach also shows you how to do each move before you start.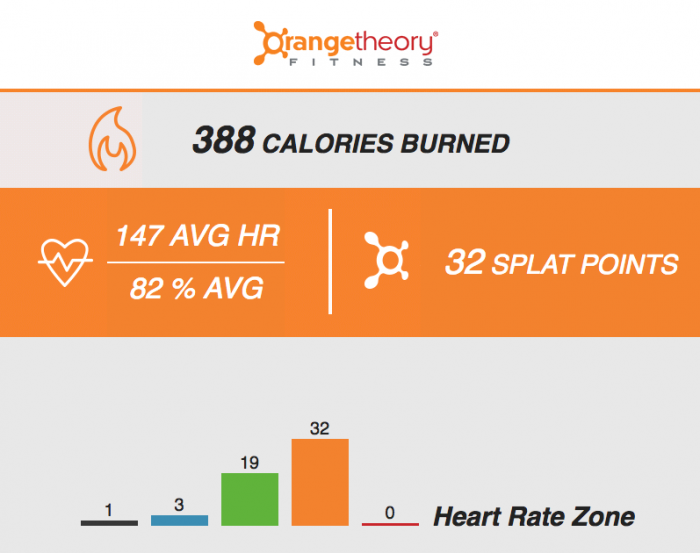 The goal is to earn at least 12 "splat points" per session. You earn a splat point for every minute you spend in the orange or red zones. The orange zone starts at 84% of your max heart rate. I only earned 4 splat points during my first class, but have earned up to 25 in other classes. For me, it really depends on the trainer, the music, and the type of workout it is that day. If the music sucks or the trainer isn't yelling at us to "GO GO GO", I'm not going to earn as many splat points. I know that's my issue; I've gotta work on it. The goal is to push yourself… to compete against yourself. If you earned 4 splat points this time, earn 8 next time. You get a performance summary almost instantly after class ends.
Bonus: Classes are small! The largest class I've been to had less than 20 participants. I've only been going for a few weeks and have already made a few friends!
How Much Does it Cost?
I know you guys want to know how much this costs. We're all on a budget – or at least most of us! – and the bottom line is important. Costs may vary by location, but at Orangetheory Queen Creek you'll pay $59-ish for one class a week, all the way up to $159 a month for unlimited classes. I started with the 3 day a week plan but am going to switch to unlimited soon. For comparison's sake, Rachel is paying $250 for her personal trainer and is now switching to Orangetheory instead because she loved her workout THAT much.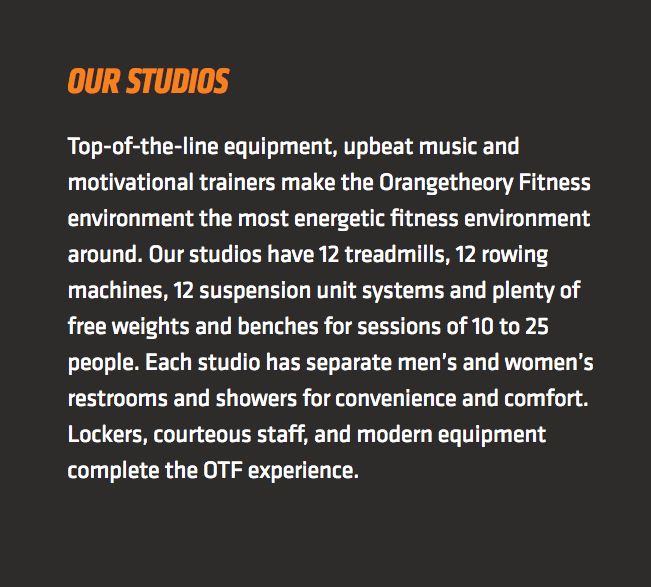 Why is Orangetheory the Best?
OTF offers total-body conditioning. You're provided a heart-rate monitor, OTBeat, to monitor your heart rate as you train. While you participate in your free classes, you'll use a loaner. When you sign up as a member, you'll pay less than $100 for one to keep.
You get the energy of group fitness classes, with the special attention of personal training. Each coach is more than happy to help you with form or let you know about alternative moves if you're unable to do certain ones. For example, I can't do jump squats yet, so the trainer helped me figure out how to keep my heart rate up while everyone else was doing jump squats.
Oddly enough, one of my favorite parts about OTF is that I can schedule all of my classes (and cancel, if need be) on their free app. When Sapphire was in the hospital and I knew I had to cancel my class, I just logged on and cancelled. I didn't have to call them (hello, anxiety). That made me super happy! Also, I can see who is going to be coaching which class beforehand.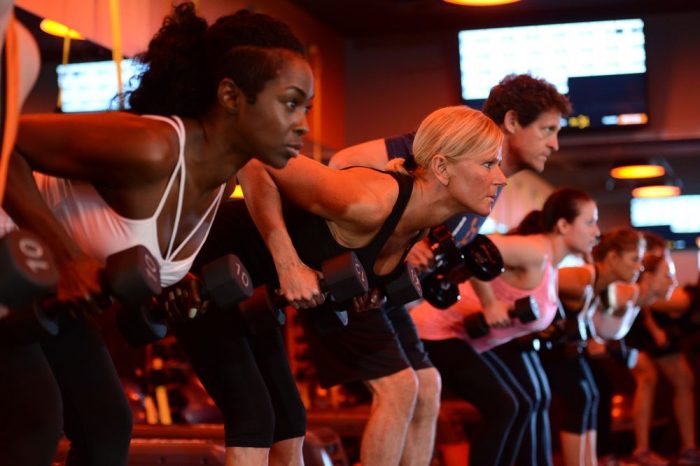 Any Drawbacks?
There are drawbacks to everything. I try to weigh the pros and cons with everything, but to be completely honest there's nothing I dislike about OTF. While it's true that I love some classes more than others, each class has served its purpose and I've left Orangetheory feeling great. Rin and Kenpo are my favorite trainers so far because Rin is just plain amazing for so many reasons, and Kenpo plays THE BEST MUSIC EVER. I've never regretted a workout!
Let's talk about your fitness goals! Leave a comment!
My goal is to jog a 5K without having to stop. That's it. I'm not focusing on weight loss (though I know I need to lose a lot of weight, it's just not something I can have in my brain right now without it turning into an obsession), just improving strength and endurance. Right now, I can't even jog on the treadmill because of my foot and knees. I'm hoping as I improve my endurance on the strider I will lose weight and be able to tackle the treadmill.