Mother Daughter Winter Bucket List
This post may contain affiliate links. Please read my Disclaimer and Privacy policy for more information.
We don't really experience winter here in Arizona like most of the country does, but it still gets pretty darn cold – especially compared to our 120 degree summers! Some of these ideas might not work in your neck of the woods, but I'm betting many will!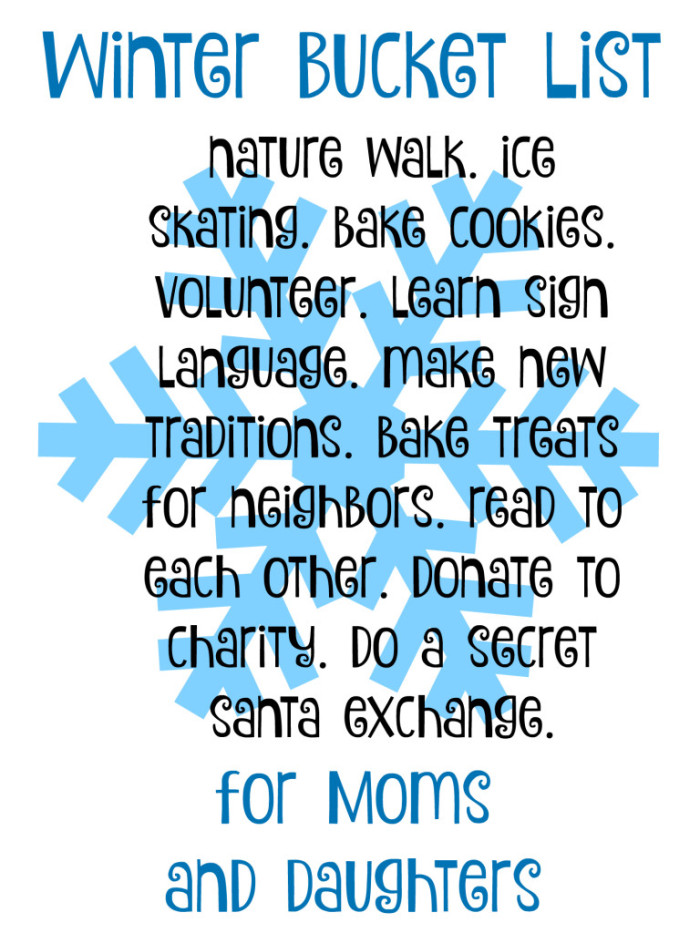 Mother Daughter Winter Bucket List
1. Take a nature walk! Don't forget to bring a camera. I <3 my Sony A6000.
2. Make ornaments and put them on the tree. If you love glitter as much as we do, make glitter ornaments.
3. Watch a movie – at home or at the theatre. We love going to the movies, but it gets expensive.
4. Go ice skating. They set up an ice rink and fake snow here in Arizona.
5. Have a picnic inside.
6. Bake cookies.
7. Play board games.
8. Make Lego and Princess crayons.
9. Donate toys to charity – clothes, too.
10. Read to each other! We like taking turns – each of us reads a paragraph (or page).
11. Make homemade dog treats.
12. Find a local shelter to volunteer at. Really, this should be done year-round!
13. Do a Secret Santa exchange, with a twist. Buy a gift, wrap it, and do a few rounds of "Hot Potato" to see who gets what.
14. Visit Goldfield Ghost Town (or another ghost town) and make a day of it.
15. Set goals for the new year. Write them in a journal, and put it away until summer – then check your progress.
16. Learn Sign Language – even if it's just a few basic signs (or a few more if you already know some).
17. Drive around and look at holiday lights! We have a huge "to do" here in our town, where an entire neighborhood puts on a nice little show. It's called Loop of Lights.
18. Make a new tradition. (Still trying to figure out what we'll do for this one.)
19. Have breakfast for dinner.
20. Bake treats for a neighbor.
What are you adding to your Winter Bucket List?