Goldfield Ghost Town – A Must See Arizona Attraction
We visited Goldfield Ghost Town in Apache Junction, AZ today. Rach was off work because it rained early this morning, but fortunately the rain stayed away (for the most part) the rest of the day. We spent about an hour at the Superstition Museum, which is a mile up the road – but I had a Groupon for ziplining at Goldfield, so we stopped there on our way home. Little did we know we would spend all day there! I had no idea there was so much to do and see.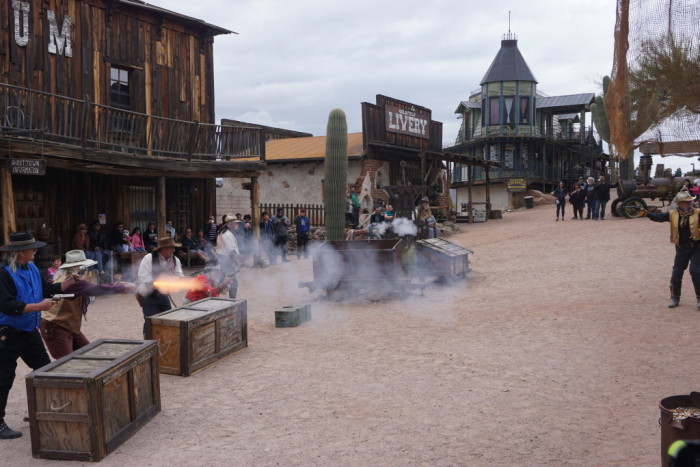 Besides having awesome views of the Superstition Mountains, Goldfield Ghost Town is rich with history and charm. We loved watching the gun fights (above, below). They have them on the hour (weekends only), so we stayed for three of them! They were different each time, and only lasted about 10 minutes so it's not like it was a history lessing dragging on and on.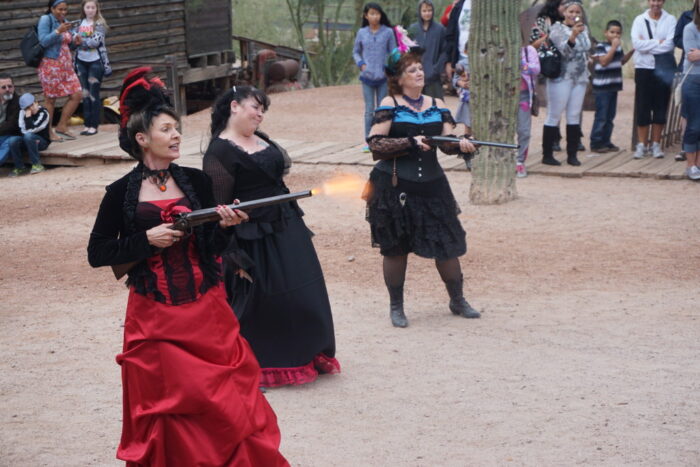 Each little shop was filled with its own unique items. One had tons of jewelry, turquoise, etc while another was a metal shop full of unique sculptures made with horse shoes. There was a box outside one of the stores that said "Lucky Horse Shoes 1 Buck", so we each took one and left a $5 bill in the jar. One of the cowboys standing nearby gave us a quick history lesson on how the horse gets their shoes, and how they're taken off.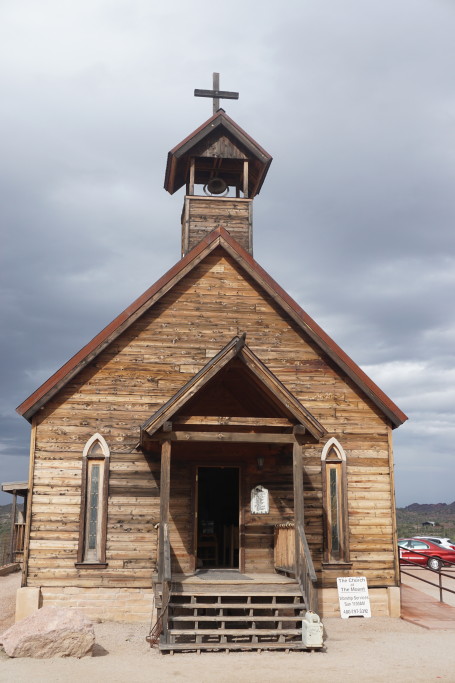 Situated atop a small hill between the Superstition Mountains and the Goldfield Mountains, the settlement of Goldfield got its start in 1892 when very rich, high grade gold ore was found in the area. A town soon sprang up and on October 7, 1893 it received its first official post office.
Like other gold camps, Goldfield's bustling days were quickly dashed when the vein of gold ore started to play out and the grade of the ore dropped even more. Just five years after it began, the town found itself quickly dying. The miners moved on, the post office was discontinued on November 2, 1898, and Goldfield became a ghost town.
However, some prospectors clung on to the area, sure to find the elusive Lost Dutchman Mine or perhaps, a brand new vein. Others tried to reopen the existing mines, but all attempts were unsuccessful until a man named George Young, who was the secretary of Arizona and the acting governor, arrived on the scene in the first decade of the 20th century. Young brought in new mining methods and equipment to recover the ore and the town began slowly come alive once more. Also built was a mill and a cyanide plant. A second post office was established on June 8, 1921 and the "new" town was called Youngsberg. However, the town's "rebirth" would last only about as long as it did the first – just five years. Finally, the gold was gone, the post office was discontinued on October 30, 1926, and the town died once again.
Today, Goldfield is filled with authentic looking buildings, includes underground mine tours, and the only narrow gauge railroad in operation in Arizona. Numerous shops and buildings include a brothel, bakery, leather works, a jail, livery, and more. The authentic looking street is filled with people in period costume, horses and wagons, and sometimes authentic gunfighter presentations. — Source: Legends of Arizona
Goldfield has ziplining ($12 each – check Groupon), an Apothecary (which was closed so we didn't get to visit, super bummed), a saloon, restaurants ($8 for a burger & fries), carriage rides ($30 1/2 hour), jeep tours, panning for gold, mine tours ($8 each for adults, less for kids), and more!
If you're planning a visit, make sure you bring some cash. While most of the shops do accept plastic, a few only accept cash (like the bakery – which you don't want to skip!) so it's better to be prepared. I recommend visiting on a weekend, just so you can see the gun fights… they're awesome! You can easily spend the entire day there without it costing you a dime (pack a lunch!), but the attractions and souvenirs we bought were well worth the money.
Check out other Legends of Arizona if you're interested! I think I need to make a Bucket List.