How to Use PLR on Your Blog
This post may contain affiliate links. Please read my Disclaimer and Privacy policy for more information.
What is PLR?
PLR stands for Private Label Rights. PLR has gotten a bad rap over the years because it used to be so spammy. Private label rights are a special type of right or license which you purchase where you are legally allowed to edit and publish the article as your own. Sometimes, they even offer resale rights so you can resell the PLR as your own.
Where Do I Find Good PLR?
There are a gazillion sources for PLR on the web. Unfortunately, most of them are crap. I'm not saying you can't get a little value out of a pack of "10,000 articles for $7". In fact, as you'll see below, you could use those PLR packs for brainstorming. To prevent you from wasting tons of time and money, I'm going to tell you where I get my PLR from. If you find a site for PLR and they offer a free PLR pack before purchasing, download it! This will give you an idea of what to expect from their paid packages.

My favorite sources for PLR:
— Piggy Makes Bank (get their free PLR)
— Private Label PLR (get their free PLR)
— Download my free PLR list (at the end of this post)!
Look for PLR content that meets the following criteria:
— recently developed
— written by a reputable author
— published in limited circulation.
Out-of-date PLR content is the worst—imagine buying a pack of PLR articles for your "make money online" blog only to find out that the articles were written in 2001 and contain references to then-current information!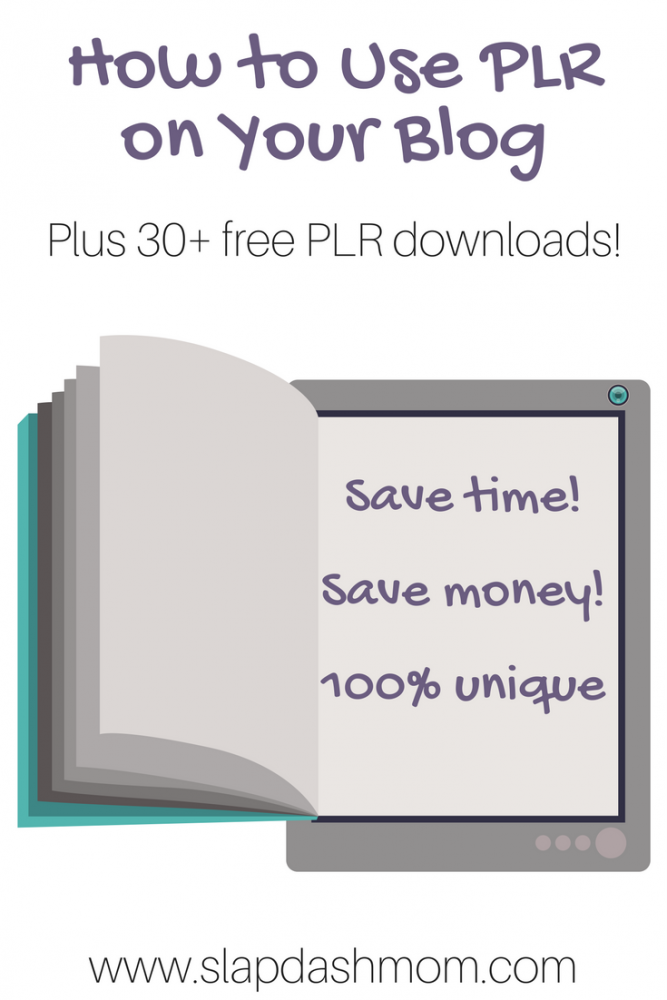 How to Use PLR on Your Blog
Take a look at my Migraines in Children post to see how PLR can be used. I combined about 5 PLR articles to create one post on my blog, then added a printable to make it more valuable. This has resulted in several email sign ups. When you use PLR, you want to change a lot of the content (if not all of it), and add something to make it more valuable (like an infographic, download, freebie, etc).
I like to use PLR as an outline for posts. Many times I'll look at the titles or headings and it will spark something, so I will end up writing three paragraphs instead of just that one sentence that the PLR provided.
Pssst… I offer a full walk-through tutorial on how to use PLR on your blog (and for clients) in my VIP membership section.
4 Easy Ways to Use PLR on Your Blog
Use it to brainstorm.
You can use PLR content as an idea generator for yourself or your virtual assistant.
Turn it into a series.
My favorite site, Piggy Makes Bank, has great PLR that you can tell is written by someone who understands blogging (and the English language). My biggest complaint with most PLR is that it's obvious it was written by someone whose native language is something other than English. That means I have to fix tons of grammar and spelling mistakes. That's what you get with the cheap PLR for pennies. Not worth it!
Turning PLR into a series is easy with Piggy Makes Bank!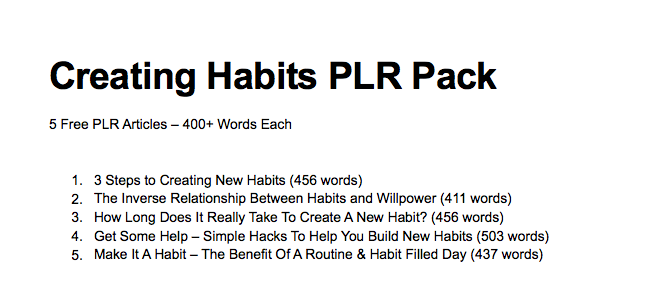 This is one (free) PLR pack I downloaded. I could explore the entire doc or I could just use the outline at the top to create my own series. If you're writing for your own blog, I'd recommend copying and pasting the articles into your editor and going through to change and add to them. If you're selling to a client, I'd recommend using this as a jumping off point or brainstorming starter instead. Don't copy the titles (or anything else) word for word when writing for a client especially.
It doesn't take long to change articles up so don't get overwhelmed! I start by taking out sentences I don't like, then adding a few of my own (with a little personality – something PLR generally lacks).
Turn it into a list.
I love using PLR to create lists. For example, you can turn each article title into a bullet point and then elaborate on it by writing a more in-depth paragraph under each subheading or bullet point.
Build your email list.
Turn the PLR into a subscriber freebie. You can purchase PLR on the same topic from one or more sites and use it to create an ebook/PDF that becomes a subscriber freebie, to grow your email list. Be careful buying the same topic from more than one site, though. Make sure it's not the same package on both sites. There are some PLR sites that simply resell PLR they buy (yes, that's allowed), which is why I suggest sticking to the recommended site list above.
Free PLR to Get You Started
If you aren't ready to make a commitment but want to give PLR a chance, download my sources for free PLR: 30+ PLR Pack Downloads. I will be sending out more via email, so be sure to sign up for my email list! I send out one email a week. :)
Related Posts
Now Hiring – Work from Home Job Listings for Freelancers