Ultimate Virtual Assistant Resource List
Are you ready to become the most amazing Virtual Assistant ever?
Ultimate Virtual Assistant Resource List
For two years, David and I have been adding resources to our VA/blogging group. This past week, I went through all of them so I could share with you! As we discover new resources for virtual assistants, I will add them to this post. Be sure to bookmark it and check back frequently! Leave your favorites in the comments and we will feature them.

Our #1 goal is to help you make more money, which is why we designed the Rocking VIP Lounge. Check it out and make some moolah!
Best Freebies
No strings attached to these freebies! Check the licensing agreements for each download but many have Extended Use Licenses for free as well.
Free fonts, graphics, and more each week (link never changes, so bookmark it!)
Weekly freebies for bloggers and VAs (link never changes, so bookmark it!)
FontBundle has some free fonts, too!
Free alternatives to Photoshop, Illustrator, Word, and Microsoft Office. You can also use Google Docs, Google Sheets, and Google Drive. They're all FREE.
Productivity Tools for Virtual Assistants
This tomato timer is perfect for pomodoro, short breaks, and long breaks – the choice is yours!
2-5-10 minute action plans for bloggers – You could create services around these ideas.
Find free time in your schedule using this calculator.
Time saving hacks for entrepreneurs – many are things you can offer as services!
PIN IT!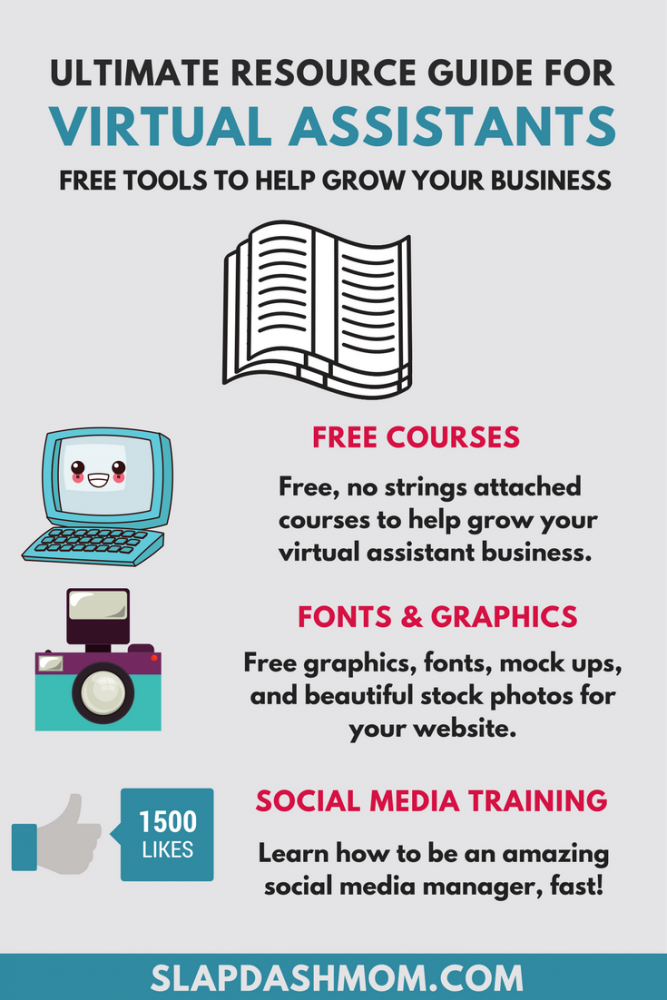 Finding Work as a Virtual Assistant
My best tip for finding work (other than joining the groups mentioned in my course) is to create a simple (simple!) website/blog that will serve as a portfolio. I created a tutorial to help you do just that: how to start a blog.
Sign up for the Gig List (free) to get freelance gigs sent to your inbox every week.
Scriptd is a community for freelancers. It comes highly recommended though I've never personally used it.
Social Media & Email Marketing
Freshly updated (2017) Facebook photos sizing guide: "so thorough, it's ridiculous" – David
Learn all about email marketing, from the Shopify blog
Help your client get caught up on emails using these techniques (or let them hire you to do it!)
Facebook's "banned" words list from Moolah
How to Build a Massive Instagram Following
Branding, Photography, & Design Resources
My #1 resource for branding and color inspiration is design-seeds. I could spend hours looking at all the pretty colors! The first step to a good design is a good color scheme. ColourLovers offers color palette inspiration as well. Also, you can try this free color wheel.
Find variations of every color using this color tool.
Beginners guide for choosing colors for your blog (resource to send to clients, maybe?)
50 Color Schemes from Canva
This Ultimate Guide to Font Pairing from Canva has helped me a ton.
I use this free online image editor to remove the background from photos and PNGs.
Grid calculators are super helpful for those of us who stuck at centering when more than one image is involved!
Learn how to tackle product photography (great service to offer!), from the Shopify blog.
If you aren't a photographer or don't have time to create your own photos, I suggest using stock photos from this free stock photos list. Another great resource I just found: Free Travel Stock Photos
Free clipart from Open Clipart
Content Creation & Brainstorming
My favorite thing to do as a virtual assistant? Content creation! The #1 thing that stops other VAs from loving content creation as much as I do? Lack of ideas! Don't let that stop you from creating content. There are way too many free brainstorming tools available to use.
Stuck? Try brainwriting and mindmapping rather than just brainstorming.
100 Best Websites for Writers – It's an older resource (2014), but still very relevant. I love it. One of my top bookmarks.
Read these tips on how to become an amazing copywriter, then read this review on Copywriting Academy. It's not like a regular review, it contains lots of helpful info.
Pinterest and Instagram Content Calendars – tells you when to publish content for best results
Learn SEO
RankXL – Ebooks and other free downloads.
5 Copywriting Techniques that Affect SEO
Here's a huge list of SEO resources, including some I'll be reviewing soon.
7 types of content that helps boost SEO
Everything Else
Free Pinterest Course, designed by yours truly. :)
Free courses on Shopify and Instagram
Free Courses from CreativeLive
2000+ free backgrounds for your PowerPoint presentations
Convert visitors into subscribers – a service to offer