How to Blog Once a Week And Still Make $1000+ a Month
How to Blog Once a Week And Still Make $1000+ a Month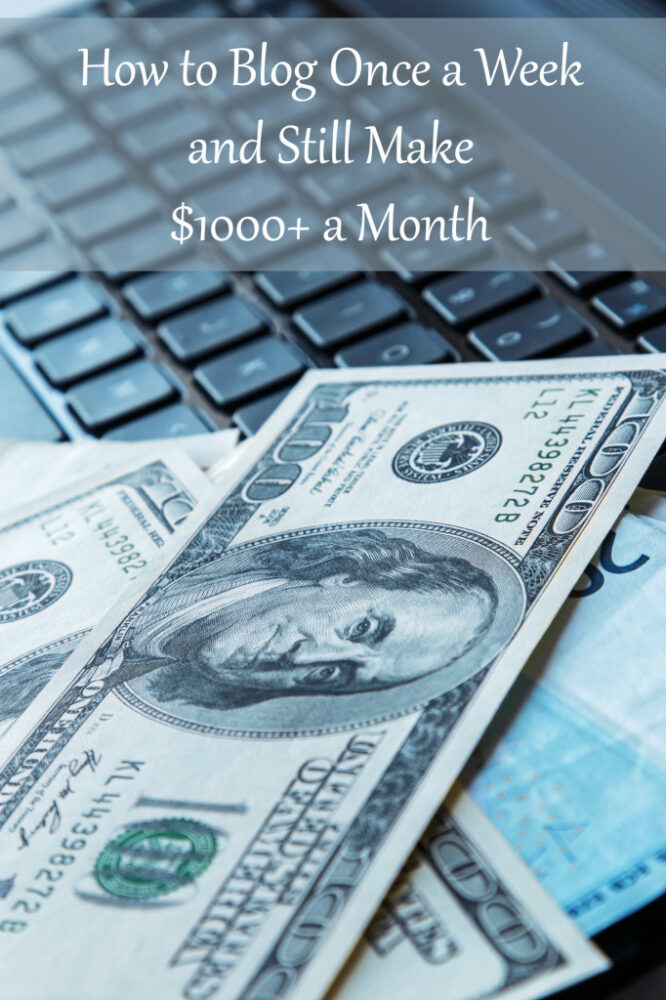 Let's chat first…
I'm going to be a little up front here: this won't work if you're a new blogger. You cannot start a blog on just a few hours of work each week. There's just no way, at least not that I've figured out…
This post is for those that already have a well-established blog or are working on it. If you aren't making any money with ads or sponsored posts at this point, $1,000 for the next month is slightly unrealistic. It's possible, but I don't think it's possible with just a few hours a week. So, keeping these things in mind, it is possible to blog just one day a week and still make $1,000 or more each month – but it is going to take some dedication.
In most instances, traffic = money. When you sign up for a sponsored post, you're not going to make $500 if your traffic is super low. You most likely won't get chosen for campaigns when your traffic is less than 10,000 pageviews each month. So, the first thing you need to do is build up your content and traffic. The more evergreen, high-quality content you have, the higher your traffic will be.
Does your traffic suck? Take a few moments to read this: Ways to Increase Blog Traffic.
Sites you need to be utilizing to save time and make money:
Linqia
Pix for VAs/DFC
PicMonkey
HootSuite
BoardBooster
Massive Sway
WOLF Best Buy
Influence Central
Amazon
Pssst…
While you're here, be sure to check out all of my PicMonkey tutorials, plus learn 17 Things You Didn't Know You Could do With PicMonkey!
Here's how it works…
Take just one day each week. You spend that whole day working on your blog. You write posts, you schedule social media stuff, and you hire a VA to fill in the blanks. If you have kids, you might need to send them to grandma's, hire a sitter, create some busy bags to keep them busy, or divide this one day into two evenings and have your husband/partner keep the kiddos occupied. The details don't really matter for this post. :) Instead of making excuses as to why this won't work, figure out how it will.
It takes me less than an hour to write any given post, with a few exceptions here and there. I'm going to use that as a base line, especially considering I can crank out 2-3 posts in an hour if I'm on a roll. If it takes you longer than an hour to do a post, your timing will vary but it doesn't change the fact that you CAN do this all in one day each week.
Work in blocks: Block 1 is 2 hours, Block 2 is 2 hours, and Block 3 is 2 hours. If you need a fourth block, add it in. 6-8 hours of work is what you're going for.
Tips
Set a schedule and stick with it.
Stay off of Facebook. Period. And Twitter, and other social networks.
Don't log into Pinterest until it's Pinterest time.
Don't check your email until after your blocks are complete. Reading and responding to emails is something you can do during the week, from your phone at the park or anywhere else, and isn't counted in the one day a week for blogging.
Block 1:
Write your blog posts for the week. Monday is a recipe, Wednesday is a craft, Friday is a roundup. Whether you publish one post a week or five, now's the time to write and schedule them all out. If you're doing sponsored posts, you need to make sure you're doing plenty of evergreen posts in between. Nobody wants to see all sponsored/review posts.
Don't have time to take tons of pictures? Use Pix for VAs and pay just $1 per stock photo. I don't suggest using stock photos for recipes, but for posts like this one, a stock photo is just fine. Nobody cares if it's my keyboard showing or someone else's, it's just for pretties. :)
If you usually only publish one evergreen post a week, it's important to recycle your old posts and bring them back up on social media during the week, basically as a filler and a way to continue receiving organic traffic. Also, if you are only publishing one post a week, you can literally write all four of your posts in block 1, and not have as long of a work day the remaining three weeks of the month.
Personally, I couldn't make $1,000 a month if I only published once a week. So, keep that in mind when creating your income strategy. In order to do one sponsored post a week (which is what I usually do), I have to write at least 4 other non-sponsored posts to even everything out. If your income goal is less, one sponsored post a month would be fine.
Block 2:
This block will be spent scheduling all the fun stuff: social media, linky parties, chore threads, etc. I pay someone $10 a week to promote my crafts and recipes, and to submit them to linky parties. Join Elite VAs to find an awesome VA to do similar work for your blog.
If you're already doing weekly chore threads, pick that day to do your blog stuff for the week. Don't pick something that will carry over throughout the week, or even through to the next day, because that will extend your 1-day work week. Pick a group that is small but loyal for best results. If you have a chore thread you must stick with for some reason, hire a VA to do it. It'll cost you a few bucks, but save you lots of time.
Schedule your blog posts to go live, and then schedule social media for each post. You'll need a Facebook update, G+, and Twitter. HootSuite* or any other scheduling program will save your life. Schedule something to go live on EACH social network for EACH day. Don't schedule the same post to be promoted throughout all social networks on Wednesday. Mix it up. Keep it interesting.
One tip for Facebook: Don't just post links. Start conversations!
I use BoardBooster* to take care of my Pinterest. It covers cleaning up the boards as well as increasing followers. You can schedule pins as well, which is pretty much the only way I'd be able to successfully make money while blogging only one day a week. Pinterest is responsible for a good 30% or more of my traffic. Without it, I wouldn't make as much on sponsored posts, which would bring my monthly income down greatly.
Block 3:
This last block is for everything else. Instagram is one of my stronger social media networks, so I make sure I spend time "heart"ing and following new users. Choose a few hashtags related to your niche, and follow new users that have those hashtags on their photos. This has increased my Instagram following by thousands, which makes my social media profiles stronger, which means I get paid more for sponsored posts. :)
How you can make $1,000+ each month:
EXAMPLE 1
1 post for Linqia – $500
1 post for Massive Sway – $200
1 post for Best Buy – $100
1 post for any other company – $200
Affiliates – Amazon, ShareASale, etc – $100
Ad networks – ADsense, Chitika, Blogher, etc – $100 (upwards of $500, $1000 if you have high traffic)
$1200 total
EXAMPLE 2
1 post for Linqia – $400
1 post for Influence Central – $150
1 post for another company – $100
Affiliates – $300
Ad networks – $300
$1250 total
EXAMPLE 3
Sell an ebook, 50 copies – $150
1 post for Massive Sway – $255
1 post for any other company – $200
Ad networks – $200
Affiliates – $200
$1005 total
Extra way to make some money: start a business without an idea.
There are many ways you can make $1,000 or more each month with blogging. It doesn't have to be by doing several sponsored posts. You can use ad networks (I don't, but they do make you a lot of money, especially when your traffic increases), sponsored posts, affiliate links, e-books, anything really. The key is finding several things to pair together to make that $1,000. Don't put all of your eggs in any one basket.
Find something – anything – to promote. Whether it's one thing or five things, keep them on constant rotation and mention them in your posts often. Make sure they are products/services that you stand behind 100%.
Create a passive income with an e-book or an e-course, or even meal plans. Shrinking on a Budget designed a menu plan that is $1 a month when they're running a promo, and they've made lots and lots of money in the process. Design it once, resell it thousands of times.
Be passionate.
At the end of the day, you'll make money blogging if you're passionate about it. While it'd be nice to just work one day each week, if you're passionate about something you're most likely going to want to put more time into it. I work on my blog daily, but I don't spend hours each day like I used to. Sometimes I'll spend an hour on Instagram, following and "heart"ing new users. Other days, I'll spend time on BoardBooster cleaning up my Pinterest boards and getting new followers.
Your passion will show through your sponsored posts. If you do well on one post, you'll get chosen for more in the future. Keep that in mind when crafting your posts! Don't be boring. Make them awesome. Every. Single. Time.
Some of my sponsored posts:
— McCormick Hotel
— Warrior Dash
— Bike & Kayak Tours
* = affiliate link