Free Stuff To Do In Phoenix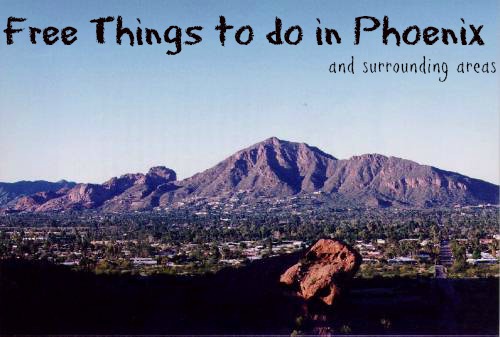 This list of free stuff to do in Phoenix is actually for the Greater Phoenix and surrounding areas. Some will be in Phoenix, while others are further out. This is a great list and covers Scottsdale, Tempe and Mesa as well.
Along with the list, be sure to check out TripAdvisor for their list of things to do in Phoenix, paired with visitors' ratings!
Keep up to date with all things Phoenix by checking out Phoenix New Times! Their Event Page is especially helpful and changes all the time. They offer information on everything from local news to latest release movies to local restaurant information. Phoenix New Times is a always a great resource for finding fun and free things to do in the greater Phoenix area.
Tempe Tourism is also a really great source of Free, Fun things to do so if you are in town to check out ASU, or for any other reason, be sure to check out their website for an exhaustive list of more free things to do.
So here we go…
Free Fun in Phoenix
Yearly Parade Schedule
Free Festivals and Concerts
Fishing at Kiwanis
Public Library Programs
Free Cerreta Factory Tour
Free Workshops at Home Depot
Free Craft Classes for Kids at Lakeshore Learning
Kids Eat Free in Greater Phoenix
Parks in Arizona
Free Museums
Visit Phoenix for Free
The weather in Arizona is amazing for at least a few months out of the year, which is why parks are so popular. The other months, you can spend your time frying eggs on the hood of your car.
Art in Phoenix
Open studio tours are a good way to experience art and artists. Every first Friday evening of each month you can take a free self-guided tour of downtown Phoenix galleries, studios and art spaces. It's called First Friday. First Friday is organized by Artlink, a nonprofit organization "…dedicated to bringing together artists, the public, and businesses for a greater understanding, appreciation, and promotion of the arts and the development of a strong and vital downtown Phoenix arts community." (Source)
Admission to the ASU Art Museum, including the Ceramics Research Center, is free. There is a donation box in the lobby for those that choose to contribute. The ASU Art Museum is a contemporary art museum with five galleries in a spacious and modern facility located within the Nelson Fine Arts Center. The ASU Art Museum features contemporary artists, both regional and international. Typically, exhibitions here often deal with current societal issues.
Go Hiking in Arizona
During the late 1800s, the federal government reserved Camelback Mountain for an Indian reservation. By the 1940s, however, almost the entire mountain fell into private hands and remained so for most of the next two decades. Efforts on the county, state and federal level to restrict development above the 1,600-feet level largely were unsuccessful, including failed efforts in 1963-64 in the state Legislature to arrange land exchanges.
In 1965, the Preservation of Camelback Mountain Foundation led by Barry Goldwater, spearheaded community efforts to save as much of the summit as possible. This effort ultimately succeeded and was capped of by a ceremony in 1968 marking a land exchange that President Lyndon Johnson and Secretary of the Interior Stewart Udall attended.
At more than 16,000 acres, South Mountain Park/Preserve is the largest municipal park in the country, according to the Trust for Public Land. It boasts 51 miles of primary trails for horseback riding, hiking and mountain biking for all ability levels. From the park's main entrance, you can drive up the Summit Road 5.5 miles to Dobbins Lookout and spectacular valley wide views or you can continue to the Gila Lookout for a view of the Gila River Valley. This scenic road is shared by bikers and hikers and there are many steep sections and blind curves, so maximum speed is 25 mph and just 15 mph on curves.
There are two main attractions at Piestewa Peak: the Summit Trail and the Circumference Trail. The Summit Trail is by far the more traveled. It is about 1.2 miles to the top. The trail itself is rocky, and has a stair effect. There are convenient stops along the way for those of us who either need to take a breath, or those of us who want to get a breathtaking view of the city. The city views are all wonderful, and you don't have to go up very high to see them. The Summit Trail provides a decent workout even for those experienced hikers. It is rated as a moderate hike.
Bird Watching
Rio Salado Habitat Restoration Area
While you can see birds all over, this place is the best place for viewing birds. There have been over 250 species observed here!
Free Skate Parks in and Around Phoenix
Desert West Skateboard Plaza
Hermoso Skate Park
The Wedge at Eldorado Park (Scottsdale)
Temp Sports Complex Skate Park (Tempe)
Overall, it seems there are a LOT of free outdoor things to do that you don't see other places like St. Louis – but the fun stuff like the Zoo, Science Center, etc. are all kind of pricey. After looking at memberships, it seems they'd be worth it because a single admission for a family of 5 is pretty high but the memberships are all less than $200. I'm constantly on the look out for fun things to do in Arizona so please let me know if you have any!
See also:
Free Things to do in St. Louis
Free Things to do in San Diego