I Tried Free Online Therapy for Anxiety – A Review of 7 Cups
This post may contain affiliate links. Please read my Disclaimer and Privacy policy for more information.
I've known about free online therapy for a while but every time I looked to get started, it wasn't actually free. A few weeks ago, I start working on a post about the best apps for anxiety, and I discovered 7 Cups.
Side note before we jump in: Anxiety is something I'm very familiar with. Not only do I write a lot about it here on my blog, I've dealt with anxiety since I was young. My favorite anxiety post is the one where I talked about alternatives to saying "calm down" to anxious teens.
7 Cups is self-described as a free, anonymous and confidential online text chat with trained listeners, online therapists & counselors. When you sign up for a free (anonymous) account, you can choose from several options.
If you're experiencing anxiety, depression, or even something else, just choose which one best suits your needs at the moment. Each time you log on, you can choose what's bothering you. As a listener, they've seen (heard) it all, so don't feel shy about opening up. There's no way for them to figure out who you are (create an anonymous email to sign up if you're worried), and they are there just to listen… not to judge.
The first thing I noticed about 7 Cups was just how welcoming the whole environment was. Whether you log on from your desktop or from the app on your phone, you'll be greeted with welcoming messages, and breathing exercises to help with anxiety.
While you're waiting for a listener, 7 Cups will walk you through some breathing exercises.
You're then given the option to chat with a listener, or a therapist. While not all listeners are created equal, they are there to help – and to listen. If you aren't connecting well with your listener, let them know you're going to try and connect with someone else. If you connect really well with your listener and they do an amazing job, be sure to leave positive feedback so they can continue moving on their growth path as well (more about growth paths in a moment).
After you connect with a listener, they'll ask about your situation and you can open up to them as little or as much as you'd like. I didn't have screenshots of this process, to protect the anonymity of the users of the site.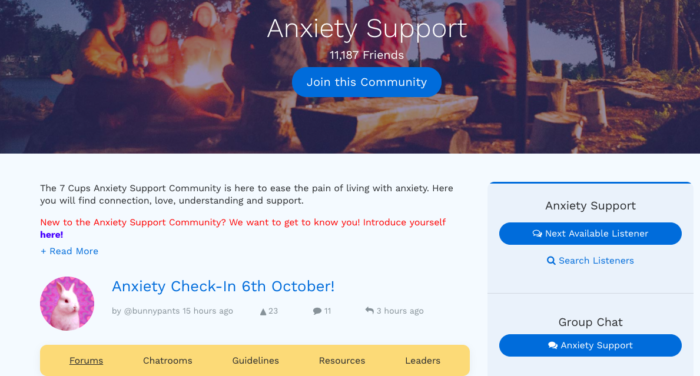 Forums are available if you don't feel the need to do a live chat. Forums are a great way to connect with others in the 7 Cups community. You can connect to the general forums or you can join sub forums by topic, such as anxiety or depression.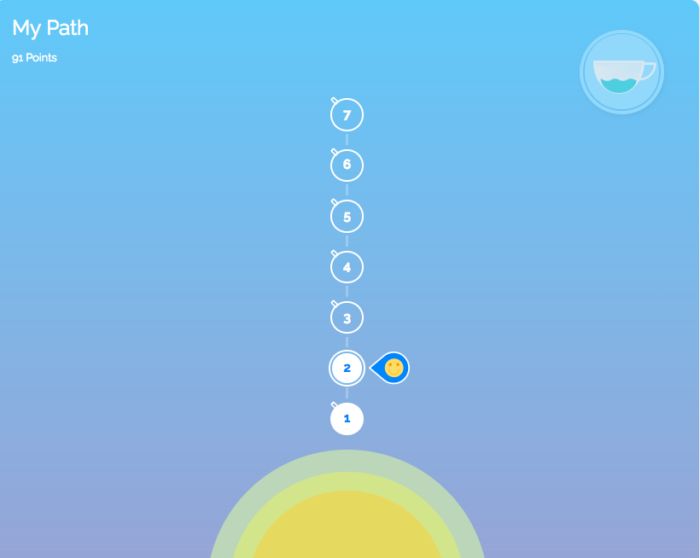 One of my favorite parts about 7 Cups is that it's not only free online therapy, it's also like a game. You earn badges just for participating and chatting with a listener, which pushes you up along your very own growth path. As you move up on your growth path, you will earn more badges and points. You can also earn badges for replying in the forums, and more. While I don't usually play online games, getting "rewards" for self-care is kinda nice!
How 7 Cups Works:
Why free online therapy?
Online counseling is fairly new, so it's not something I took lightly. I have severe anxiety and am Bipolar. Reaching out to chat with someone was kind of weird at first. Especially with anxiety, I like to clam up and just keep everything to myself. However, being able to "dump" all of your problems on someone else without having the guilt associated with dumping it on your family is priceless.
Plus, actual therapy is expensive! I figured I could try online counseling and see how it went. I haven't used 7 Cups as a member enough to say if it helps long term, but in the moment it definitely helps to talk to someone. I am signed up as a Listener and have gotten quite a bit of positive feedback from other members saying I've helped them, even though I wasn't always sure what the "right" thing to say was. Most listeners have experience with their own mental health issues, so they can relate to what you're going through at least on some level. Whether you want help with your immediate problem, or something more ongoing, I truly believe online therapy like 7 Cups can be helpful – and not just with the paid therapists, but with the free Listeners as well.
What about online therapy for teens? YES! 7 Cups is perfect for teens and adults. The free app offers free online therapy for both. While the trained therapists do cost money to access, there is a 3-Day free trial available. To be a listener or therapist for teens, you must go through an extensive background check (among other things). While it's not fool-proof, the amount of training required to help teens is more in-depth, so I can say with confidence that the teen Listeners are trained and will be helpful.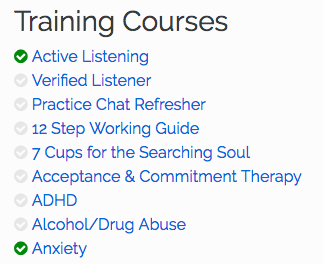 7 Cups Listener Training
I wanted to mention that 7 Cups Listeners are trained before they speak with you. Some listeners are "verified", meaning they've held more than 50 helpful chat sessions and completed some other required tasks. Others may be newer, but that doesn't mean they won't be great listeners. Everything is monitored really well, which gives me peace of mind as a member and as a Listener.
You can be a Listener and a member, which is awesome for people like me who absolutely LOVE to help others. Sometimes I feel like my own worth is tied to how much I can help other people, you know? Probably not the healthiest way to look at things, but I've always noticed I feel so much better when I'm helping.
As you work through your growth path as a listener, you can take more trainings and spend more time learning about what you want to help members with. Anxiety and depression are the ones I've mentioned the most, but there are dozens of trainings on other mental health related topics as well.
Best Online Therapy?
Is this the best online therapy? It's the best I've found. I've tried others and they weren't 100% free to chat, or they were full of spam bots. I have no affiliation with 7 Cups other than I am a member and Listener. They don't pay me to talk about them and don't even know about this review. I found the app really helpful and wanted to pass it along.
If you or someone you know needs somebody to talk to, please tell them about 7 Cups. You can send them to the 7 Cups site, or to this post, or send them a link to download the free app. It doesn't have to be pushy or awkward, just let them know 7 Cups has folks available to help when they need it.
Looking for more help for coping with anxiety? Check out my full list of Free Apps for Anxiety!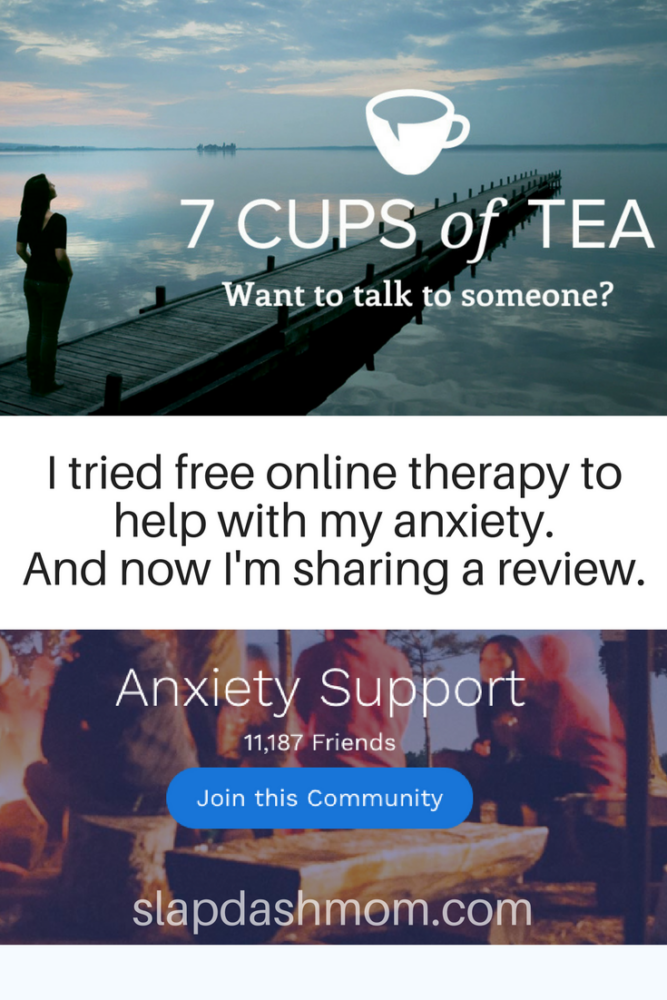 Download my Cookbook!
Love low point recipes? Grab my free cookbook!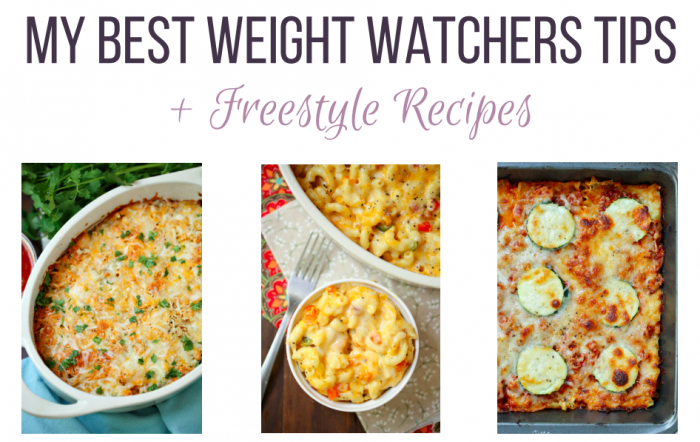 Restaurant Guides
Chipotle Weight Watchers
Olive Garden Weight Watchers
Red Robin Weight Watchers
Taco Bell Weight Watchers
P.F. Chang's