Food Gifts for Christmas are so simple and easy, I am surprised everyone's not doing it already. I mean, if you look at Pinterest, you'd think they are – but I've never received a food gift in a jar at the holidays … at least not yet! They're practical, affordable, unique, and handmade. That's about all I could ever ask for in a gift!
I've gotten many emails over the years asking for tips for those that use food stamps. This is one of those posts that will help you out a ton! These are all gifts that will require minimal purchases such as glass jars, ornaments, etc. The items to go inside the jars can all be purchased on food stamps. If you get creative and shop at CVS or another place that gives catalinas, gift cards, ECBs, etc you can actually purchase your jars with those, after shopping with food stamps – so you'll have little to no out of pocket costs at all! Super frugal? Save your pickle jars and you won't even have to buy any! ;)
NOTE: This is a HUGE POST! To find a specific word or type of recipe, hit CTRL+F and type it in the search box. For example, if you're looking for gluten free, type in "gluten" — and all of the gluten-free recipes will be highlighted. Looking for chocolate? Do the same. Using one word instead of a long phrase will yield the best results.
Creative Food Gifts
— Hot Cocoa Mix Ornaments – You can usually get ornaments like these for $.50 a piece – less if you're using coupons, or shopping at Goodwill. There are tons of gifts you can give, using supplies you have on hand, but the hot cocoa mix is something you can buy with SNAP/food stamps and is super cheap. Can't afford the ornaments? Dump the hot cocoa mix into little sandwich baggies – they're literally pennies a piece. Tie with a twist tie, a piece of string, or even some twine.
— Christmas Light Sugar Cookies Box – This gift is a bit more extensive, and would be great for an entire family rather than just an individual. You can purchase the cookie dough, sprinkles, etc all using SNAP – and again, the ornaments will only cost a few bucks. The box, well, you can use an old Amazon box or any shipping box. If it's ugly, cover it in duct tape, paper… anything you have on hand!
— Bake cookies and put them in a Pringles canister! Cover the canister in duct tape, craft paper… anything really. Make sure when you're baking the cookies, you make them small enough to fit and stack inside the can.
Easy to Make Treats
Gifts in a Jar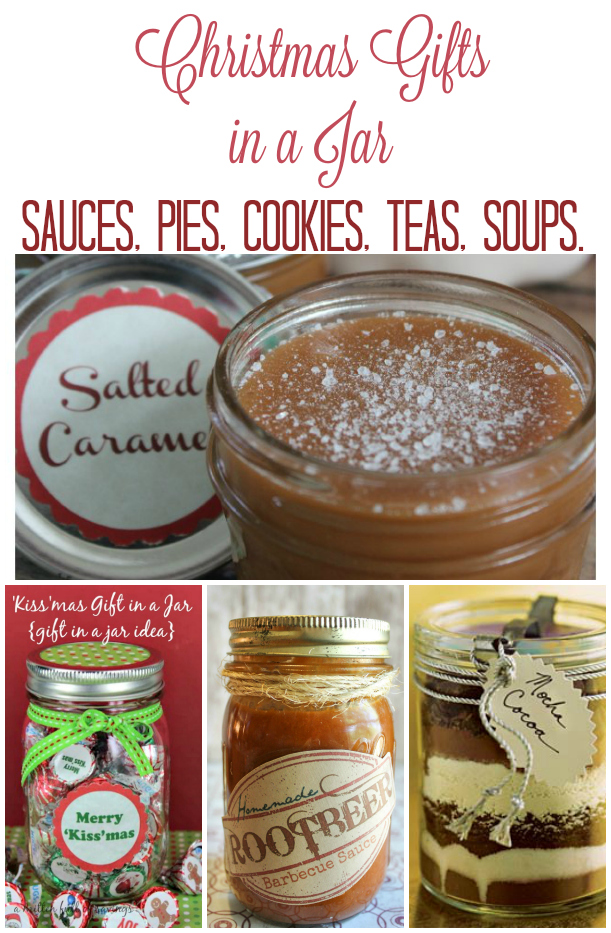 Butters, Jams, Syrups, Sauces
Cookies in a Jar, Desserts, Bread Mixes, Etc
Soups, Food Mixes, Etc
Teas, Coffees, and Other Drinks
Recipe Roundups on Slap Dash Mom
If you're into recipe roundups, I have a ton! :) Hundreds of recipes all in one spot.
Add your ideas to the comments!!