Easy Ways to Come Up With Great Content for Your Blog
Easy Ways to Come Up With Great Content for Your Blog
I'm going to share my secrets, tips, and tricks to help you come up with great content for your blog. Don't make it complicated, don't make it stressful – just read this post, and then put the tips into action. If you overthink it, you'll spin your wheels forever and your blog will sit empty.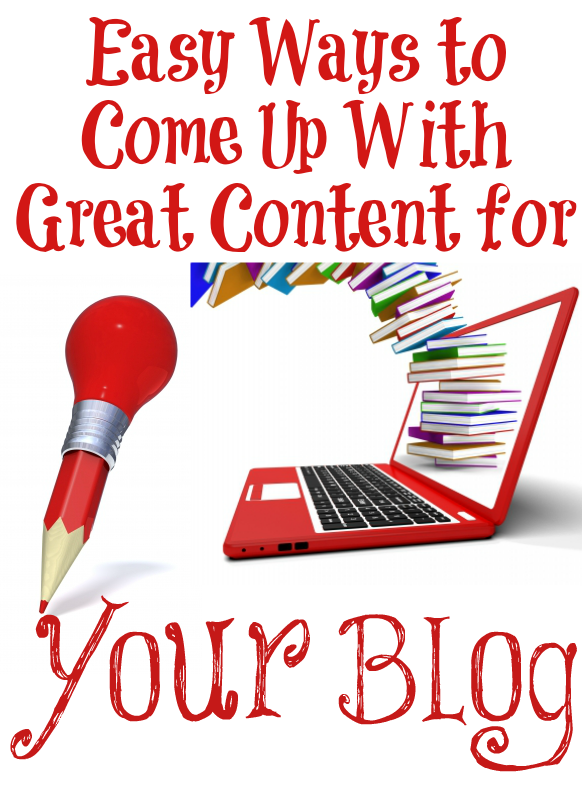 Come up with new ideas – all the time.
Duh, Sadie. I came here trying to figure out how to come up with great content for my blog. So, pay up!
I am one of those people that is never out of ideas – and people love/hate me for it. Trust me, it's a blessing and a curse at the same time! But part of the reason I have so many ideas is because I'm a reader. I read magazines, books, newspapers – everything! Some of my best ideas have come from billboards, or even things I hear on the radio. One of my most popular rants ever came from a random sponsored post from Kirk Cameron. Gag.
Brainstorm around holidays and other important dates.
Not only do people search for recipes, crafts, organization tips, and gift-giving ideas, some people search for weird/odd holidays. Why not blog about them? If something interests you, go for it! For National Waffle Day, post some waffle recipes (either your own, or a round-up). Just be sure to post a few weeks early, so you can get the search traffic. If you post the day of the holiday (or even the week of), you could miss out on hundreds – if not thousands – of pageviews.
Lots of people like to "give back" during the holiday season (Thanksgiving, Christmas). Talk about your favorite charity, and why it's near and dear to your heart – or, make a list of great charities to give to and organize it by "cause". I love to donate money for clean water and education in other countries. If there was a list of legit charities that did this type of work, I'd be happy to donate to all of them! Help your readers, so they can help others.
Guest post – and get guest posters.
Sometimes it's difficult to come up with ideas for guest posts. Sometimes, you just feel like being selfish and keeping the awesome would-be-guest-post for yourself. Honestly, though, giving amazing content away to a bigger blog is a great idea. You want to make sure it's worth your time, effort, etc so I wouldn't recommend guest posting for a blog that only gets a few thousand pageviews a month… but if you can guest blog for one that gets 100,000+ a month, you could definitely start to get recognition for your blog that way. Be sure to leave your link at the bottom of the post (or in the post!), so people can find your blog.
Finding guest posters is usually easy, but finding good guest posters might not be. Join or create a blogging tribe, and consider trading guest posts amongst yourselves. Sometimes you will get pitches via email for guest posters. Those are usually spam, so proceed with caution.
Go local!
If you live in a big city – or even if you don't – there are always new gems to be discovered. Be a tourist in your own city, and write a post about it. When you go on vacation, blog about it, too! I wrote a Free Stuff to Do in Phoenix post, and it's been featured in two local online magazines already! The post was honestly just a "bookmark" of sorts for myself, so I could keep track of free things to do in my area since I just moved here.
Local followings are usually loyal. If you commit to doing at least one local post per week, you could grow your local following substantially.
Teach someone something.
We all love to learn. Posts like these do really well:
— 43 Ways to Promote Your Blog Offline
— 13 Ways to Increase Facebook Interaction
— Where to Find Free Images for Your Blog
Obviously come up with your own numbers and posts, but coming up with a helpful idea and expanding on it is one of the best ways to put great content out onto the web. Solve a problem and you will make people very happy. Happy people share your stuff!
Read some more.
How to Find a Profitable Blog Topic Idea
Blogging For Newbies: With Easy Step-by-Step Tutorials
The Zefram Blogging System: Your Guide to Warp Speed Blogging and a Never-Ending Galaxy of Ideas
1,000 Creative Writing Prompts: Ideas for Blogs, Scripts, Stories and More
Blog Transformation Secrets – The Blog Revamp Guide
No More Blank Screen: Blogging Ideas for Fiction Authors
Blogging Content – 60 Great Ideas For Your Next Blog Post
100 Ways to Find Ideas for Your Blog Posts
Create a blog posting schedule.
Whether you use an Editorial Calendar, Notepad/Word, or an old fashioned pen and paper like I do, planning out your blog posting schedule is the first step to a successful blogging career!
How do you come up with ideas for blog content?
Image credit: "The Power Of Idea" by thaikrit, "Stack Books Flying On Laptop" by Stuart Miles