This post may contain affiliate links. Please read my Disclaimer and Privacy policy for more information.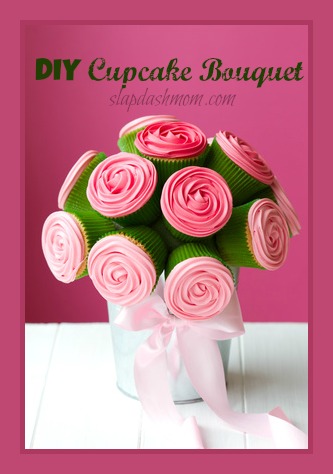 Putting together a beautiful cupcake rose bouquet is easier than you might think! These are great gifts to give for Mother's Day, Grandparent's Day, and of course – Valentine's Day! You can customize your bouquet in any colors, too (more about that below!).
You will need:
Cupcakes (obviously)
1M or smaller decorating tip
Coupler (optional)
Decorating bag
Plastic sticks or bamboo skewers
Cardboard
Hot glue
Green styrofoam ball
Vase
Ribbon (optional)
Directions:
Bake cupcakes, frost them, and then freeze them. I recommend Starbuck's Mocha Cupcakes, Sprinkle Me With Love Cupcakes, or Dark Chocolate Mocha Cupcakes (can you tell I like mocha?!). Using a box mix instead is okay, too.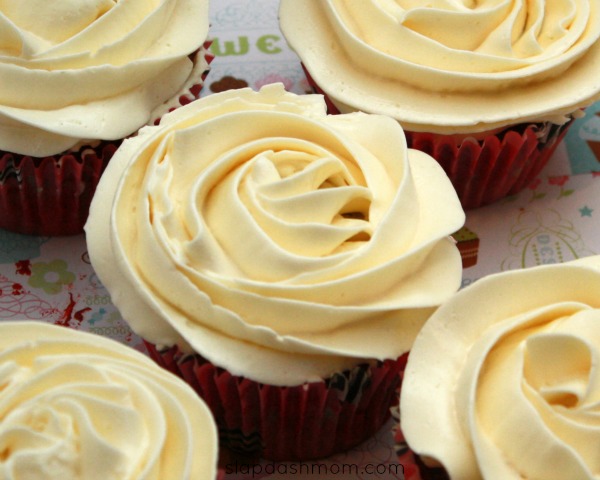 To frost the cupcakes, simply use a 1M star tip from Wilton (or a comparable brand) and a large coupler. In the image above, I'm using a 1M. In the image at the top of the page, a slightly smaller tip is used. If you're doing mini cupcakes, obviously you'd use a smaller size tip and coupler.
If you're unfamiliar with frosting cupcakes, check out this short Youtube video showing you exactly how to make roses:
Place styrofoam ball inside vase, trimming if necessary. It should peek out of the top of the vase, so the cupcakes don't look like they are just sitting on top of it. Secure with hot glue if it's loose.
Cut cardboard into circles just large enough to fit on the bottom of the cupcakes. Push skewer through the cardboard. Place hot glue circle around the skewer and then place cupcake on top. Hold in place for a few seconds.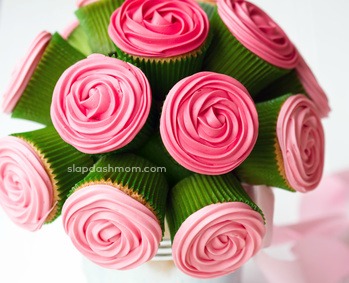 Press the skewers into the styrofoam ball, and secure with hot glue if necessary. Decorate the vase by dying a ribbon around it, if you'd like. :)
Note: It is best to keep this in the refrigerator if possible, or use a very stiff icing so there is no chance of it dripping off the cupcakes.
Bouquet Theme Ideas
Rock Star Princess: Hot Pink Frosting + Black Cupcake Liners
Boys: Blue Icing + Red Cupcake Liners
Zebra: Black and White Icing + Zebra Cupcake Liners
Floral: Light Pink Icing + Flowered Cupcake Liners
The sky's the limit! Which colors will you use on your cupcake rose bouquet?