60+ Book Report Alternatives
This post may contain affiliate links. Please read my Disclaimer and Privacy policy for more information.
Not everyone loves book reports as much as I do, so I created this list of book report alternatives to help homeschooling moms and classroom teachers alike come up with their own ideas for alternatives to the written book report. If you have other ideas please share them with me in the comments!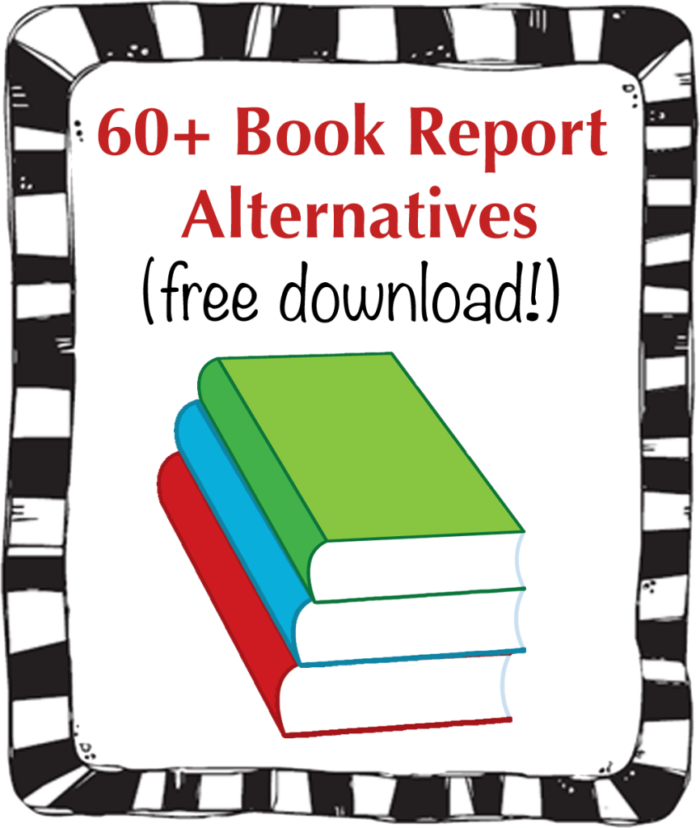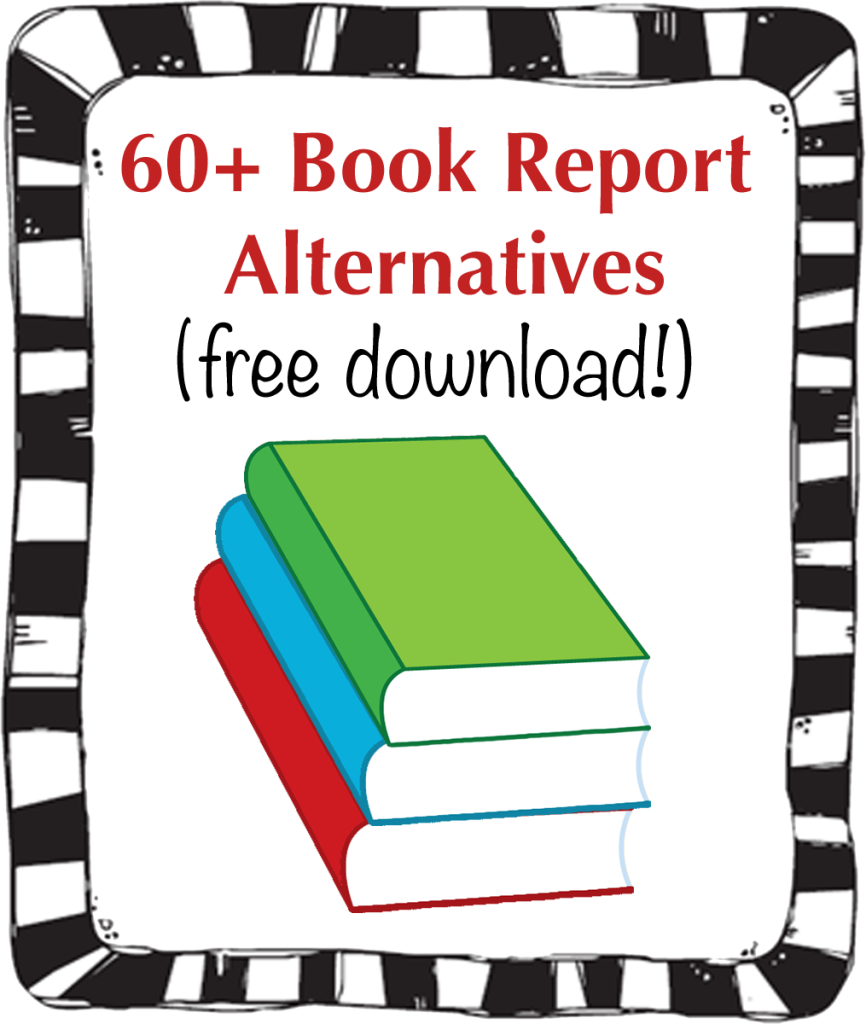 Book Report Alternatives
1. Choose a character from the book and create sentences for each letter of the alphabet. For example, A is for the APPLE Snow White ate. B is for the BEAUTY she shared with everyone.
2. Write a poem that explains the book and what you loved about it.
3. Create a diary as if you were one of the characters from the story.
4. Make a time line of the events in your book. Draw pictures for major events.
5. Write an alternate ending – one that makes sense for the story line, but did not take place.
6. Design a quiz for the book you read, and an answer sheet as well.
7. Make a crossword puzzle or word search using character names, events, and other words from the book.
8. Write a letter to one of the characters from the book, and write a reply as if you were the character.
9. Pretend you are a talk show host and interview your favorite character. Either write the interview down (your questions and your character's answers), or do it "podcast" style like mentioned below.
10. Prepare a travel brochure to convince tourists to visit your character's home town.
11. Write a news article about an event from the book.
12. Keep a list of new words you learned by reading your book. Use them each in a sentence.
13. Write an acrostic poem about the book using the letters in the title of the book.
14. Create a job listing for a character in the book. Then, create a resume for that character.
15. Read a book that has been made into a movie, then watch the movie. Draw a diagram doing compare/contrast.
16. Write a letter to the author of the book letting them know what you liked, as well as how you would have changed their story.
17. Compare and contrast two characters from the book.
18. Do some research on the area your book took place. Write 10 quick facts about it.
19. Tell (out loud or on paper) the story from a different point of view. For example, instead of telling it from Snow White's POV, tell it from the Dwarves' or the evil stepmother's.
20. Use a Venn diagram to tell how you are alike (and different) from your favorite character in the book.
21. Plan a party based on the book: invitations, food, games, decorations, and even music choices.
21. Imagine you're going to join your favorite character in the book. What will you pack? How will you get there? How long will you stay?
22. Write an obituary of your favorite character. Be sure to include who they left behind, as well as what they accomplished in their life.
23. Invite your favorite character from the book to dinner. What will you cook? How will you dress?
24. Create a new character, and add him or her to the story. What role will they play? How will they change the outcome?
25. Write the pros and cons of the book. What did you like and dislike? What would you change and why?
26. Write about a new adventure for the characters in the book. For example, instead of going into the woods, where does Snow White go? How does this change the entire story?
27. Make a diorama (think science fair project/tri-fold) describing the book and its time line.
28. Make up an alternative title for this book. Explain why you chose the new title and why the old one didn't fit as well.
29. Create a dictionary using difficult words (and their definitions) from the book.
30. Make a list of the top 5 television shows and top 5 singers your favorite character would love. Explain.
31. Figure out which astrology sign your favorite characters from the book would be. Explain why you think they fit these signs.
32. Invite your favorite character to your talk show. What will you talk about?
33. Create a word collage using words from the book, character names, and even the title of your story.
34. Plan a dream vacation for your favorite character from the book. Where would they go? Why? Write an itinerary for the days they'll be on vacation.
35. Create an award for the main characters of the book. What are the awards for?
36. Draw a picture of what you think your favorite character's bedroom looks like. Do the same for your least favorite character.
Hands-On Alternatives to Book Reports
37. Create a life-sized model of your favorite character from the book. Use real fabric to create cut-out clothes for them.
38. Do a science experiment based on a character from the book. What did the character like to learn about? Make the experiment interesting to them.
39. Make a sculpture of one of the characters from the book.
40. Create a shoe box diagram about your book.
41. Make a banner out of cloth or a long roll of paper telling about your favorite parts from the book.
42. Nominate one of the characters for President. Design campaign billboards, and a catchphrase/slogan.
43. Design a model town like the one from the book. If they don't talk about the town, design the house or other setting.
44. Put on a puppet show! Create puppets (even if they're out of brown bags) of the characters from the book, and write and act out a play with them.
45. Create a scrapbook about the book.
46. Do a soap carving of a character (or animal) from the book. Parent supervision required!
47. Gather items described in the book and put them in a shadow box.
48. Design costumes that your book's characters would have worn. You can do this on paper or with fabric!
49. Put together a visual book report collage using magazine photos/cut-outs.
50. Dress up and do a presentation about your book in full costume.
51. Design a bookmark about (and for!) your book.
52. Do a brown bag book report and collect items that tell about the book. For example, an apple (or a drawing or cut-out of one) for Snow White.
53. Make a mobile using a hanger or popsicle sticks, and magazine cut-outs or your own drawings, giving details about the book.
Book Report Alternatives Using Technology
54. Create a short video clip or podcast about the book (also known as a "bookcast"). Bookcast a review of the book you just read, being as creative as possible for your audience.
55. Create a commercial about your book.
56. Design a Power Point presentation telling all about the book.
57. Write an online review of the book, using a site like wetpaint.com. You can read reviews from other students, and share your book reviews as well. If you have a classroom or homeschool group, you can create a classroom book review wiki as well. Then, all of the students can add their own book reviews.
58. Create a movie poster advertising the book. You can create one online using a website like glogster.edu, or create one with actual poster board and markers. Be sure to include the title, author, key characters, etc.
59. Design a comic version of the book, using a program like PicMonkey online – or by using pen(cil) and paper.
Pssst… while you're here, be sure to check out all of my PicMonkey tutorials, plus learn 17 Things You Didn't Know You Could do With PicMonkey!
60. Pretend you are a TV reporter, and give a "live news report of a scene from the book.
61. Use bookwink.com (no longer valid) to create a "video book talk" letting other students know all about your book. Watch other videos to find new books to read!
62. Use YouTube to create a summary of the book – no spoilers!
Download this list in a FREE PRINTABLE by clicking below.
[purchase_link id="16183″ style="button" color="red" text="DOWNLOAD NOW"]