Best Subscription Boxes for Single Moms
I'm kind of obsessed with subscription boxes, so you'll see quite a few of these posts in the coming months. The best subscription boxes for single moms are first up. While you're here, you might want to check out the best subscription boxes for teens, too.
Best Subscription Boxes for Single Moms
Rules
To make it on the best subscription boxes for single moms list, the boxes must be:
— Under $40 a month – because bills.
— Not just "mom" related – because we are women, not just moms!
— Uplifting/motivational – because without it, I'd be committed.
— High rating – because nobody likes getting screwed.
— Family friendly – because kids are nosy (no Pleasure Parlor for me LOL)
TIP: Be sure to shop through Swagbucks (by clicking here first) so you get 5% cash back!
Pssst… Check out subscription boxes for new moms, from my friend, Stacie!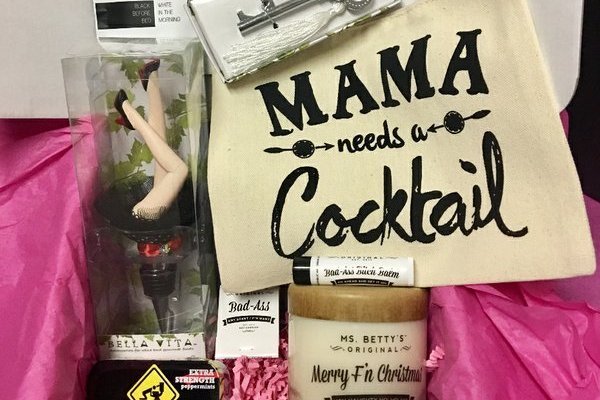 Bad Ass Moms Box
I like the Bad Ass Moms Box because it's different than most of the other "mommy" boxes I found. You can only handle so many "#1 Mom" mugs, you know? Bad Ass Moms Box is a monthly subscription box for bad ass, edgy moms. Get an awesome box filled with bad ass products delivered right to your door every month! This makes an amazing gift for any sassy mom who needs to be spoiled. Every month is a different theme! Variety of products include jewelry, beauty products, lifestyle and home products, all uniquely branded. 3 to 5 products per box. Free Shipping on 6 or 12 month subscriptions.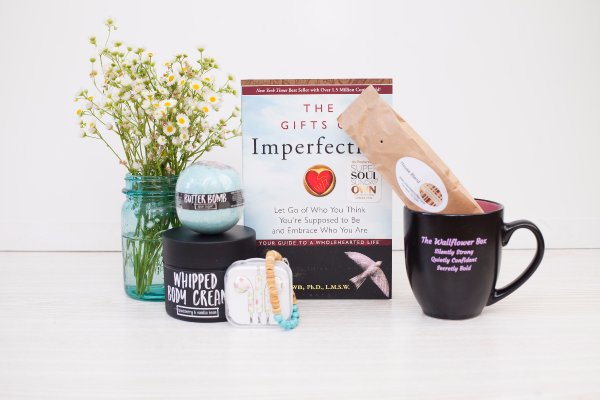 Wallflower Subscription Box
Whipped body cream, gourmet marshmallows, and books for introverts? Sign. Me. Up. The Wallflower Subscription Box is everything you've dreamed of as a single mom. No group activities, no organic granola clusters, just amazingly high-quality products delivered to your doorstep every month!
The Wallflower Box is a self-care package designed to promote the strengths of introverts, empaths, and other sensitive souls ("Wallflowers"). Each box is expertly curated by a professional counselor and introvert with love, attention, and thoughtfulness. All items are handpicked with a healthy, relaxing lifestyle in mind!
Each box contains 6 to 8 products. Products include bath bombs, soy candles, apparel, inspiring and informative books, essential oils, whipped body butters, delicious snacks, and more! All bath and body items are natural, organic, or vegan, and never tested on animals.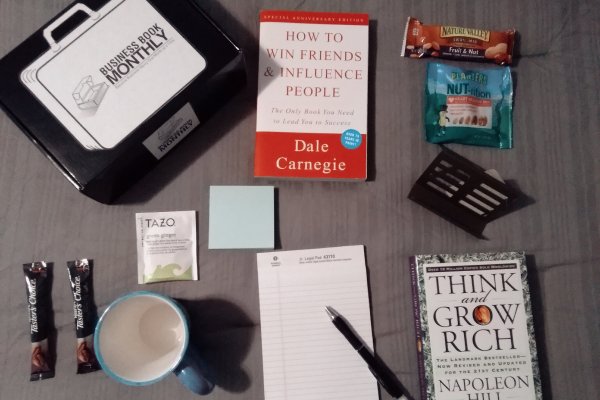 Business Book Monthly Box
Business Book Monthly is not just for moms, but being the business woman I am, I couldn't pass up the chance to add it to my list!
Each month, you'll get a book geared towards business, marketing, investing, etc along with some snacks and office supplies. The books pictured are some of my favorites, so I know this is going to be a great box for me.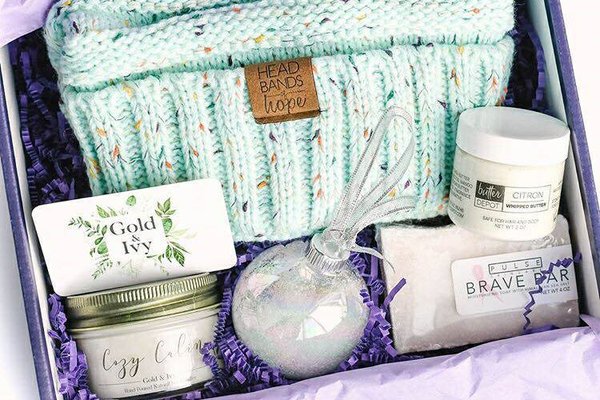 Peacefully Empowered Subscription Box
Peacefully Empowered (aka Mamlove) is your typical feel good subscription box for moms, but these high-quality items are curated by a therapist. And who couldn't use a little therapy in their lives? I know I could!
When you sign up for Peacefully Empowered, each month you will receive a mama self care box with 4-6 wellness and lifestyle products, a therapeutic mama activity or experiment, and a mama skills video vlog with Licensed Marriage and Family Therapist, Hillary Giller. You'll also get access to private Facebook group community where you can connect with other moms.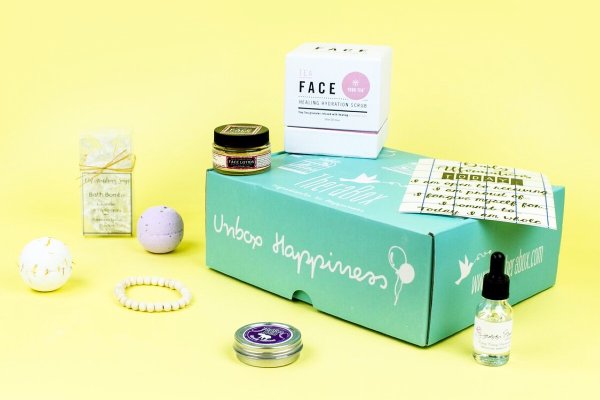 TheraBox
TheraBox is another subscription box curated by therapists. Created to reduce stress and inspire joy, TheraBox is next on my list of subscription boxes to try.
Each box includes research inspired therapeutic activities to wire your brain for more joy plus 5 to 7 self-care wellness goodies to reduce stress & enhance your life! TheraBox aims to inspire more love & happiness in every box through mindfully curated products to feed your mind, body, and soul. Filled with all things mindful, thoughtful, and beautiful to help you de-stress and live an inspired life!
Included each month: 1 happiness boosting activity inspired by research to rewire your brain for more joy and less stress! Additional 5 to 7 consciously crafted, natural, organic, or artisan self-care wellness goodies to promote relaxation and wellbeing! Curated by practicing therapists, this is the ultimate care package for yourself and loved ones. Ships worldwide.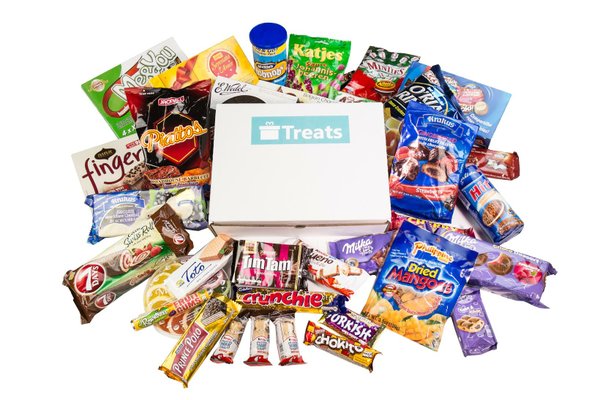 Treats Subscription Box
I have always been a HUGE fan of Treats! We have been loyal subscribers for probably two years now. The kids and I get so excited over a new box each month. Even though this is a "subscription boxes for moms list", I involve the kids in this one because it's fun! We each try a bite of the treats and hilarity ensues – the treats are either amazing or terrible, there's no in between for us. I have fallen in love with so many snacks from the Treats box that I can't pick a favorite.
With a new country theme every month, you'll never get bored (and repeats are rare). Plans start from $13.95 a month. I recommend the PREMIUM plan, because you'll want all the treats you can get once you see this awesome box!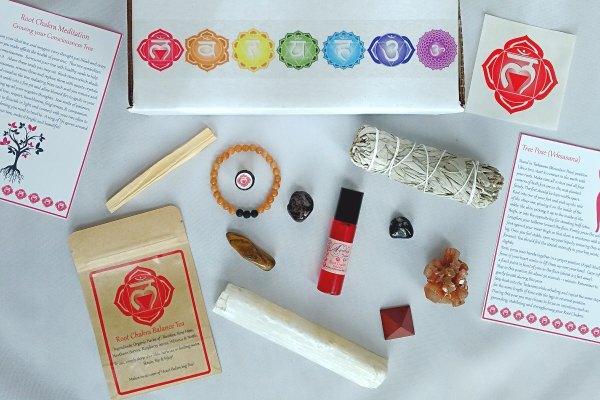 Chakra Box
If you're anything like me and you love crystals, sage, etc, you will LOVE the Chakra Box. In fact, I might ask for a Chakra Box subscription for my birthday. My Mom is a great gift giver. ;)
Chakra Box is designed to assist in Chakra Balancing – enhancing one in Body, Mind & Spirit. For seven months you will receive a luxe box filled with Gemstones, Crystals, Jewelry, Herbal Tea, Aromatherapy and other Spiritual items correlating to each Chakra to assist you in your quest for well being. Each box will exceed a $77 retail value!
Boxes include: Chakra Balancing Aromatherapy, Diffuser Jewelry, Organic Herbal Teas, Crystals and Gemstones, and Spiritual items and tools.
Mystic Boxx is another subscription box option, similar to the Chakra Box but with crystals delivered every month.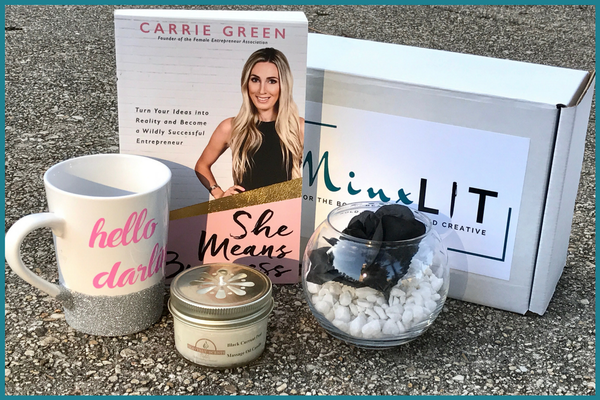 Minx Lit
Minx Lit doesn't give much away with the name, but it's worth trying out anyway! Minx Lit sends monthly surprises and resources for the Creative Girl Boss.
Minx Lit is a monthly lifestyle subscription box developed with the Female Creative in mind. Each cycle, you will receive 5-6 products and resources curated to provide a multi-purpose experience for the Creative who is ready to take on the world. We are a cross between a Literary, Stationery, Self-Care, and Office Accessories box.
Each box has: 1 Handpicked Literary Resource, 1 Stationery item, 1 Candle, 1 Self-Care Item/Activity, and 1-2 Additional Items ( to include t-shirts, decor, accessories, prints, totes, and much more).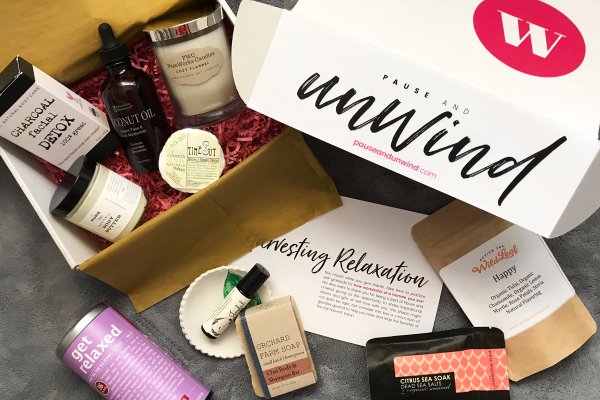 Pause and Unwind
Every single mom needs to pause and unwind from time to time. Treat yourself with Pause and Unwind, a subscription box that helps you escape the stress of every day life! You'll be pampered with a much-needed reminder to pause and unwind. Each month, you'll get beautifully presented and specially curated items, such as high-quality spa/beauty products, indulgent goodies, and much more.
Packed with girl power and inspiration each and every month, Pause and Unwind features only amazing women-owned businesses and women-founded brands and share their stories in each box you receives. You'll be supporting the many wonderful small businesses & talented artisans that we partner with to create her unwinding experience. Each box is hand-packed and thoughtfully-curated to provide her with a delightful experience each month.
Included in every box: Theme Letter, Monthly Calendar, Relaxation Tips for Each Item, Plus Founder Stories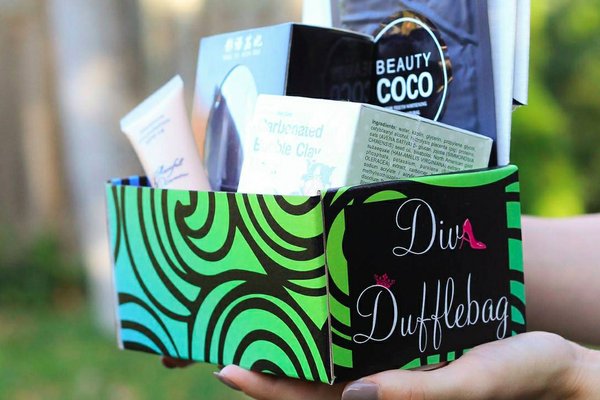 Diva Dufflebag
A lifestyle subscription for women who deserve a treat, the Diva Dufflebag includes wine, shoes, clothing, jewelry, and cosmetics! Wine not? You deserve it!
Each month, you'll receive 4-5 luxuries shipped to your doorstep. Shipping is FREE, which is rare for subscription boxes so take advantage of it! Never get bored of the same products, you'll get new high quality gifts each month. Products are cruelty-free!