Which Blog Conference is the Best?
To answer the question "Which blog conference is the best?", you have to think about what you expect to get out of the conference.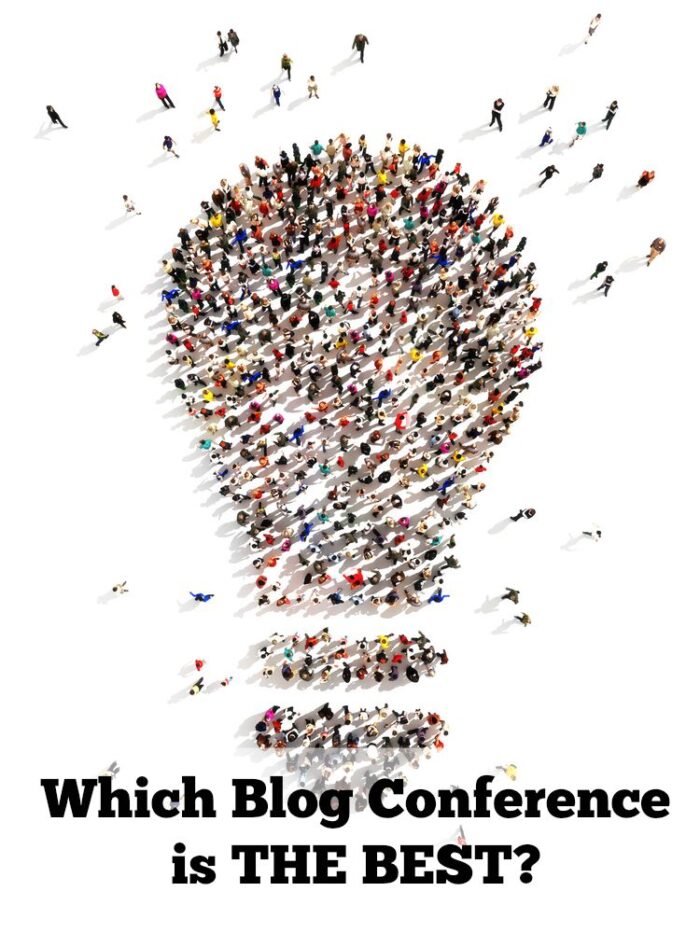 For me, I expect to:
– learn something – preferably something that will translate to an increase in income ASAP!
– meet people that love blogging as much as I do.
– meet other bloggers that realize we are all in this together, and don't want to compete with me.
– make friends and meet potential collaborators – bloggers with similar visions.
– get my money's worth! Teach me something that will make me some money, yo.
I haven't attended many blog conferences. I've attended a handful, and will say I've had great experiences and not-so-great experiences. If you walk away from a conference feeling regretful for spending the money on the ticket, that's obviously not a good thing. I've had this experience several times. Yet, year after year I still try to find new conferences to attend. I'm holding onto hope that I'll find an amazing conference that is worth every penny.
BlogHer
I've attended BlogHer three times, and will be attending in 2016 but not because the conference is amazeballs, because it's not. If you're in it for the "swag" and sponsors that treat you like you're a dime a dozen (because at BlogHer you kind of are), then jump in! If you're in it for a learning experience with profitable takeaways, it might not be the one for you.
I'm not saying BlogHer is horrible by any means, but it is extremely over-hyped. Read my full post on what I learned from BlogHer for more details. ;) The entire conference seems to be "elitist" and I don't like that at all. I think whether you're a brand new blogger, or you're making six figures, at a conference you are equal.
It seemed to me that even some of the speakers were a little elitist, and had the "my way or the highway" mentality. Some even taught the exact opposite of what I've been taught previously.
Even though I was invited to events, when I showed up I didn't always feel like I was welcome. I really dislike that BlogHer tries to cut out ALL non-BlogHer events for attendees. If I paid for my ticket, let me do what I want with my schedule, bro.
BlogHer will always hold a special place in my heart because that's where I met my bloggy soulmate. I'll be attending because "all the cool kids do it" – aka I get to see my internet friends! – and it's fun to travel. But, I'll just be buying an Expo Pass. Overall, BlogHer is over-priced and not one you should break the bank to get to, but it's a fun experience so springing for an Expo Pass isn't a horrible idea – even if you just experience it one time.
Blended
I first attended Blended in 2014. It's a local conference, it was affordable, and I have known the ladies in charge of Blended for several years. I really enjoyed that the conference was only like an hour away, and I loved meeting lots of local bloggers. However, the vibe I was looking for just wasn't there. Everyone was really separated, and maybe it was just me, but nobody was overly friendly (other than the people I already knew).
There were several knowledgeable bloggers that shared their photography tips, and there was a heavy focus on food blogging, so if that is something you're into I think you'd benefit from attending. I think the conference is still new and growing, and will get better every year, so it's worth giving it a shot. Because it's local, I'll attend if/when it is in my budget.
Blended is a great conference if you're local, and can buy an Early Bird ticket. The ladies who run the show are very easy to talk to, and happy to answer questions.
Blogging Concentrated
I didn't technically attend Blogging Concentrated. Dan and Rachel did a 1 day add-on to Blended, and I paid an extra fee to see them. They are great speakers – much like Billy Mayes or other infomercial folks. So great, in fact, that I signed up for their online program, BC Prime. Unfortunately, BC Prime left much to be desired and after watching Dan in groups, I realized that what he teaches (niche sites and selling) isn't really for me. That's not to say it's not a great conference – like I said, I haven't been to their actual conference before, but I would definitely recommend joining their group, checking out BC Prime, etc to see if it's something that fits with your game plan before shelling out the money for the conference.
Bloggy Boot Camp
I've attended Bloggy Boot Camp three times as well, and will attend any time they're within driving distance. The difference is I absolutely LOVED every time I attended BBC. The experience was great, there were plenty of actionable takeaways, and they didn't ban off-site anything. ;) Actually, they made it awesome enough to where we didn't even want to attend anything off-site.
Tiffany and Fran are two ladies that literally have electric personalities. When you see them, you can't help but to run up to them and fan girl. I've met them both several times, I've done lots of sponsored posts for them through Massive Sway, and I still fan girl – every. single. time. They're amazing, and everything I strive to be.
I like the diversity of the speakers, and the overall vibe is super supportive. Sponsors aren't just about handing us "swag" and moving to the next blogger. They want to build actual relationships. The one thing I would like to see is their content updated. The main speakers tend to talk about the same stuff, which is fun but not something I want to hear a fourth time.
To sum it up…
Overall, Bloggy Boot Camp is the only conference that has given me everything I expected and more – with Blended following behind. BlogHer is fun, but not for the regular conference/learning reasons… literally just for fun. Blogging Concentrated is for a certain niche, just not mine.
Have you been to any blog conferences? Which one(s) did you like the best? What did you dislike? Let me know in the comments!