Weight Watchers Friendly Crock Pot Recipes
Fall will be here before you know it (though these 110+ temps aren't too convincing), so grab a few of these Weight Watchers Crock Pot recipes for your cookbook.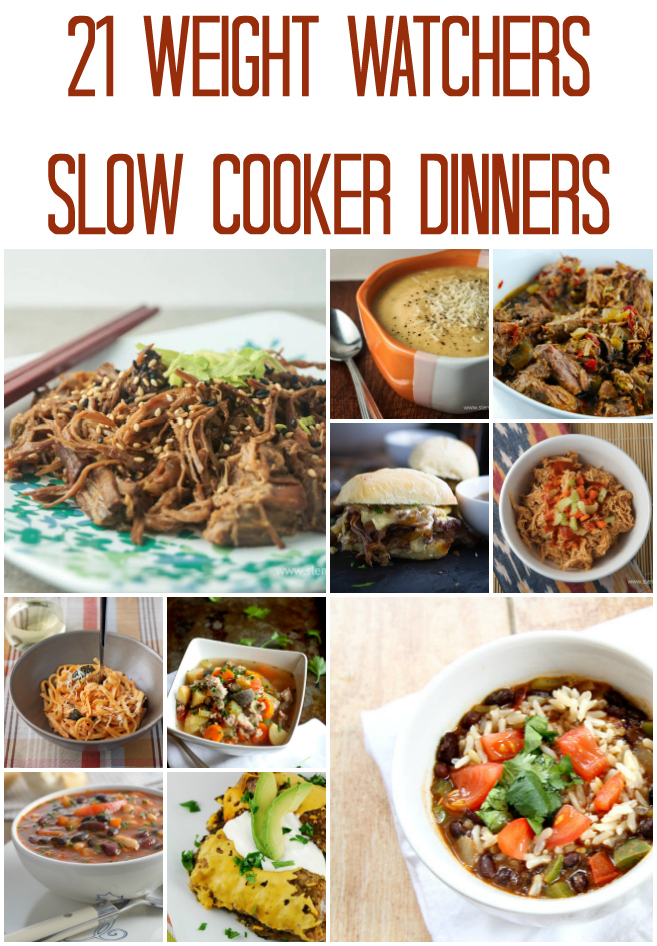 It's gonna get chilly – and even cold somewhere … just not here in Arizona. ;)
If you're in a hurry and forgot to put the Crock Pot on, put the chicken (or turkey, or whatever) in a pressure cooker and then cook the sauces and such on the stove. I love how easy and flavorful slow cooker recipes are, but ya gotta do what ya gotta do!
It doesn't matter which slow cooker you use for your Weight Watchers recipes. They all work about the same! However, I love the ones that have a timer. You know, in case you're gone for longer than 6-8 hours or in case a recipe only calls for 4 hours and you wanna take a short nap.
Weight Watchers Crock Pot Recipes
1. Slow Cooker Buffalo Chicken (4 PointsPlus)
2. Chipotle Copycat Crock Pot Barbacoa (7 PointsPlus)
3. Slow Cooker 3 Bean Chili (6 PointsPlus)
4. Crock Pot Southwestern Black Bean Soup (7 PointsPlus)
5. Slow Cooker Kickin' Chicken Pasta (9 PointsPlus)
6. CrockPot Jerk Turkey (4 PointsPlus)
7. Slow Cooker Cheesy Cauliflower Soup (4 PointsPlus)
8. Crock Pot Cheesy Risotto (5 PointsPlus)
9. Crock Pot Turkey Potato Soup (5 PointsPlus)
10. Slow Cooker Butter Chicken (7 PointsPlus)
11. Slow Cooker Cheesy Spaghetti (9 PointsPlus)
12. Slow Cooker Chicken Marbella (5 PointsPlus)
13. Slow Cook Tuscan Sausage + Bean Soup (6 PointsPlus)
14. Crock Pot Pasta Fagioli (5 PointsPlus)
15. Cheeseburger Mac Attack (5 PointsPlus)
16. Crock Pot Santa Fe Chicken (4 PointsPlus)
17. Slow Cooker Salsa Chicken (4 PointsPlus)
18. Crockpot Homemade Sloppy Joes (4 Points)
19. Slow Cooker French Dip (10 PointsPlus)
20. Crock Pot Black Bean Enchiladas (5 PointsPlus)
21. Slow Cooker Sesame Beef (5 PointsPlus)
My friend Carol has even more Weight Watchers Crock Pot Recipes! Go check them out.
Love Weight Watchers? Download my FREE Cookbook!