Top Online Homeschooling Options For Elementary Grades
This post may contain affiliate links. Please read my Disclaimer and Privacy policy for more information.
When we started homeschooling, I was on the search for the best online homeschooling options for Grace. I knew she would need to be challenged! I also knew I didn't have a lot of spare time to create a whole curriculum on my own. As you've followed her progress, you know it has been up and down with a lot of learning. In the process, I found a lot of information out there about online homeschooling. While it hasn't all been a perfect fit for us, I thought you could benefit from my research!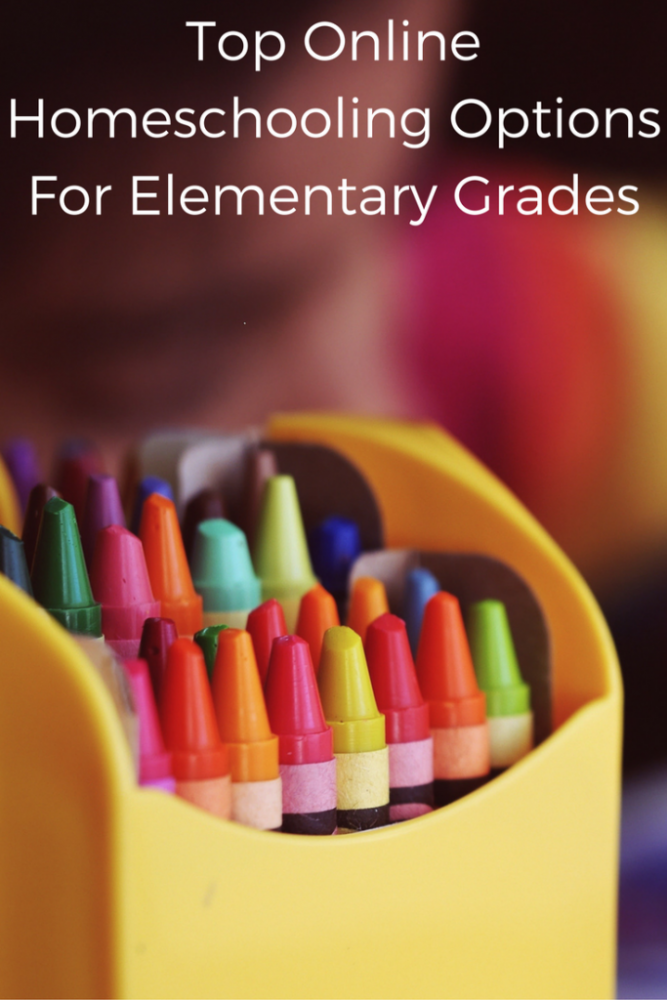 Update: We did a lot of online homeschooling before we finally decided it wasn't for us. Grace now has an aversion to all things online – well, at least the homeschooling portion – so we are back to workbooks and printables. I've always made sure I go with the flow so Grace has as much fun as possible while learning ALL THE THINGS! :)
Top Online Homeschooling Options For Elementary Grades
K12: This is one of the most popular online homeschooling options available.It is available as a public school option in every state, and aligns with current public school requirements. It is entirely free in most areas, and is easy to sign up with. However, there are some routines and scheduling issues that some don't like to follow.
K12 is great for those that don't mind a strict routine and would prefer having someone else manage all of the research and lesson plans. It isn't so great for a family that wants a more flexible routine and would prefer to adapt their curriculum a bit more to their own style.
I loved the idea, but felt it just was a bit to much and too intrusive for us. I know other bloggers have mentioned that it is ideal for their children. It's definitely a good fit for some, but worth researching and asking a lot of questions before you sign up. They can be pretty persistent. Once I realized it required at least 4 hours of online time each day, I knew it wouldn't be a good fit for us.
International Virtual Learning Academy: This is a great place to turn when you want an online education environment, but don't want to be set to a specific schedule.IVLA not only has flexible self-paced schedules, but also a wide variety of curriculum choices to suit your family preference.In fact, this is one of the most flexible options in online homeschooling options.
I like that there are so many different full curriculum to choose from. That made it a lot more attractive since you aren't stuck with just one single option. International Virtual Learning Academy isn't free, but it's somewhat affordable if you pay by the month and only have to pay for one kid.
Home Learning Institute: I love the fact that this option is so affordable! The cost is only about $50 a month. With options for full curriculum, or advanced courses and diploma programs for the older grades, it is ideal for any budget. A monthly program gives you access to over 120 courses that are approved by most state and federal education programs.
This is ideal for adapting as needed between other curriculum options, or as a stand alone curriculum. I can see this being an option later if we continue homeschooling and need extra items as Grace transitions into higher grade levels.
Time4Learning:This is another favorite of the online homeschooling options that has a complete curriculum. With a low monthly fee, your child can have access to a full curriculum that includes lesson plans, drills, online tests, and more. It even has printable progress reports and reviews. I love the concept but it fell short for us. It's not a full curriculum by any means, and for the cost, I'd rather use Moby Max or Spelling City, or even ALEKS to round everything out.
Connections Academy: Another totally free public school associated online program is Connections Academy. They are available only in select states, but do cover K-12. One of the bonuses with this online homeschooling options is that some areas will also receive not just curriculum, but a computer to work with during the school year. This makes it even more affordable for those like us that needed to homeschool and weren't fully prepared for it to happen.
One of the best parts of Connections Academy is how thorough the curriculum is for your child. Not just the basic education points are covered, but also the common elective courses as well as health education, art, and music. 
Middlebury Interactive Languages: This is one of the online homeschooling options that is just for learning a new language. It is not a full curriculum, but an excellent elective course that is easy to follow. With multiple language options, it is going to be great for building a foundation for those high school language credits needed. Another amazing options for learning a new language, at least for Spanish and French, is duolingo.
Go Math Academy:This is ideal for younger students struggling with basic math concepts. As an online fun homeschooling curriculum, this is a great option that kids will enjoy. Fun and games make it easier to learn basic concepts. ALEKS (linked above) is another option for math.)
Getting started with one of these online homeschooling options is pretty easy. Most of these programs have an extensive FAQ page on their site, and many have online chat for your questions. Homeschooling may come as a surprise, like it did with me, or it could be your dream from day one. Whatever your reasons for choosing to homeschool, this is a great place to begin for an online education option.