Top 3 Things To Do In Springfield Missouri
My mom took my three daughters to Springfield, Missouri for a weekend get-away a few weekends ago while I was at BBSummit. They had a blast and said it was "SO MUCH BETTER" than the other trips they've taken. After you've read this post, be sure to check out Top 15 Things to do in Springfield from the Crazy Tourist.
Top 3 Things To Do In Springfield Missouri
They had a very busy weekend, but I wanted to make a quick post to highlight their Top 3 things to do in Springfield. Individual posts to come soon. For more information on visiting Springfield, check out the Springfield Convention and Visitors Bureau and download their app!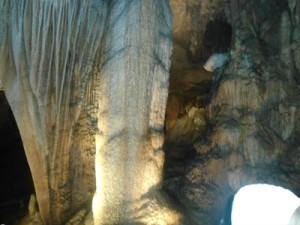 Fantastic Caverns is open from 8 AM to 8 PM and tours start every 20-30 minutes. Each tour takes about an hour – tours are all-riding and fully guided. During our Springfield trip, we learned lots of fun facts. Missouri, known as the Cave State, has over 6,500 caves! Many are very pretty and have awesome history. Fantastic Caverns is a pretty cave with a unique history that you ride through. They offer the only all-riding cave tour in North America and one of four in the world. This is a very nice excursion for travelers with disabilities, families with young children or seniors. It's great because sometimes it's just nice to sit and relax while on vacation.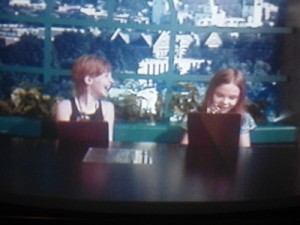 Discovery Center is open Friday-Saturday 9am- 6pm and Sunday 1-5pm. It's not only a fun/educational place to bring the family but they offer many other programs and events that you can find more information about by visiting DiscoveryCenter.org. My kids said their favorite parts were playing dress-up, acting like they were newscasters, putting on a play, and how nice the staff was. Sapphire lost her sunglasses, and though the Discovery Center was closing, one of the staff members helped her go through and retrace her steps to find them.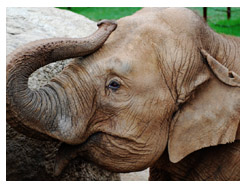 Hours are 9 a.m. to 5 p.m. daily, April-September including all summer holidays, 10 a.m. to 4 p.m. daily, October-March. The Dickerson Park Zoo is home to hundreds of animals representing 160 species. My girls were honored to attend a Birthday Zoobilee at the Dickerson Park Zoo a few weeks ago, to celebrate the 1st birthday of the Zoo's baby giraffe! We visited the St. Louis Zoo shortly after, and the girls said that Springfield's Zoo beats ours – hands down! I guess next time I head out West, I will have to stop in Springfield to see if that holds true!
Ready to go back?
The kids have already asked when we are going back to Springfield. Since it's only a few hour drive from St. Louis, we may take this trip every Summer and end up making it a family tradition. My grandma used to take me places when I was younger, and I hope my mom can do the same with my girls. If you live in or near St. Louis and haven't visited Springfield lately, I encourage you to do so! It's much cheaper than some of the other area attractions, and has a little bit of something for everyone.
A HUGE thank you to the Springfield Convention and Visitors Bureau for helping us out with our visit. You can contact them via phone at 800-678-8767, or download their FREE mobile app! Also be sure to check out their Special Offers Page.