This post may contain affiliate links. Please read my Disclaimer and Privacy policy for more information.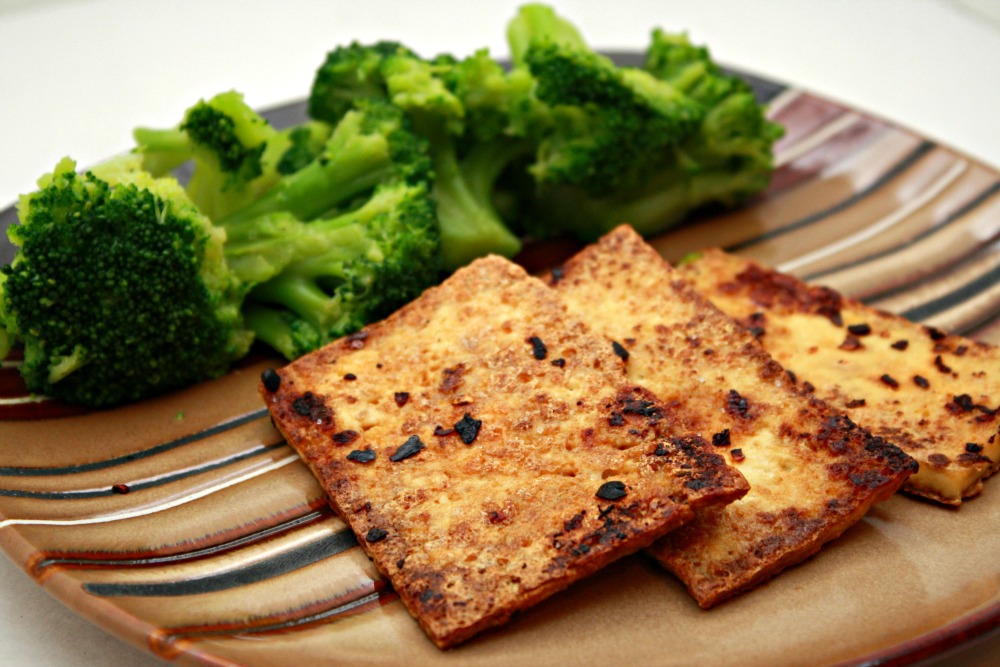 This dinner is so simple that I kind of feel guilty calling it a recipe. You can use whatever seasonings you want, I rarely switch it up so I'm going to use my cajun mix. It's creole seasoning, with garlic powder and onion powder. Feel free to mix it up and make it with seasonings that your family likes. If you've never tried tofu before, this is a great way to start.
Tofu can be fairly difficult to cook, but the secret is to make sure it's properly drained and cooked thoroughly (unless you like mushy tofu, which I don't). Before you turn your nose up at another crazy vegetarian recipe by Slap Dash Mom, do me a favor and try this one.
You will need:
extra firm tofu
fresh green beans
portobello mushrooms
shredded carrots (optional, I like it better without them)
sauce – soy, teriyaki, whtever
.
Drain the tofu, then wrap it in a few layers of paper towels. Set something on top of it (like a frying pan or big can of pasta sauce) to squeeeeze all of the water out. Let it sit for about 10 minutes, and repeat this process. Then slice the tofu up into thin steaks. If you make the steaks thick, they're going to be really difficult to cook. Season the tofu on one side, and then when you put it in the pan (spray pan with cooking spray first) you can season the other side. Or you could even bread it.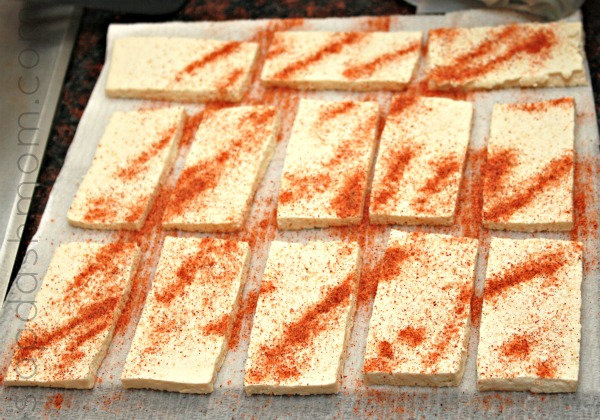 Normally, tofu is cooked in oil. I was trying to figure out a healthier way to cook it, because it's not very healthy once it's slathered in oil, right? So I attempted it without any oil at all, and it worked! Just spray the pan, and then if it seems like it's burning then you can add a little water. Little is key here.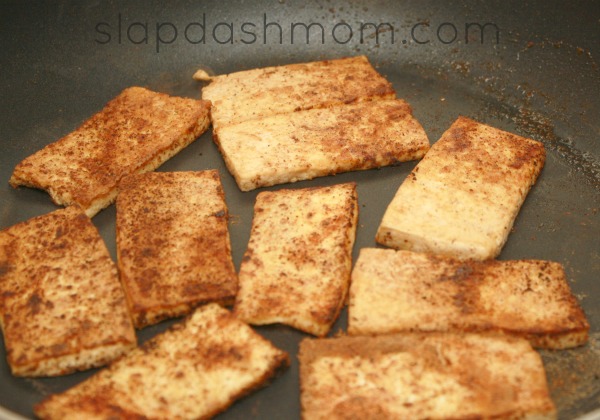 The tofu will take a while to cook, probably about 20 minutes depending on the settings on your stove and the type of pan you have. I covered my tofu while it cooked to speed the process up. Try to flip the tofu over only once – it seems to cook better this way.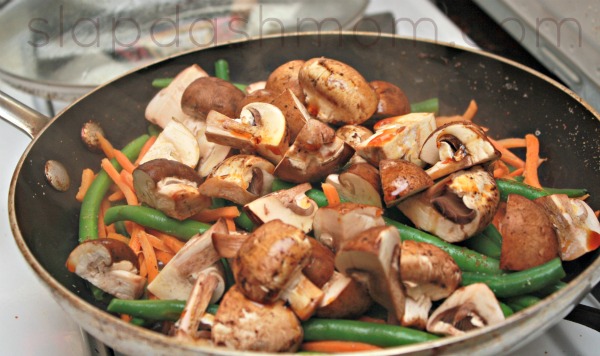 Green Bean Stir Fry
.
While the tofu is cooking, make your vegetable stir fry. Start by adding about 1/4 cup water to a frying pan or wok. Add the green beans (we used a pound for five of us and went through them rather quickly), and the shredded carrots if you're using them. Season the veggies and stir them around a bit. Cover and let cook for about 5 minutes, then add the mushrooms and sauce (soy, teriyaki, whatever you choose). Don't add a lot, just enough for a little flavor. Cook for another 5-10 minutes, depending on what type of texture you like for your veggies. Drain the excess water and sauce, and serve with your tofu steaks.
But, will the kids eat it?
.
My kids absolutely loved this meal! The tofu was cooked to where it was very well done, and it had a great consistency. My middle daughter is weird about textures, so I have to make sure it's almost burnt or she won't eat it. She also doesn't tend to like green foods, but she ate these green beans up and asked for seconds. She also asked for seconds on the tofu! :) My youngest daughter eats everything, and she gobbled it right up.
Tofu steaks are also really great when served with mashed potatoes and corn. Try this recipe out and let me know what you think!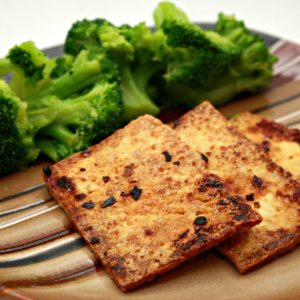 Tofu Steak and Green Bean Stir Fry
This tofu steak and green bean stir fry is so good, you'll forget it's healthy!
Print
Pin
Rate
Ingredients
1 to 2

Pkg. Extra Firm Tofu

1

Lb.

Fresh Green Beans

1

Pkg. Sliced Portobello Mushrooms

Optional-Shredded Carrots or other Vegetables you love

Sauce – Soy

Teriyaki, Etc.
Instructions
Drain the tofu. Wrap in paper towels. Set a frying pan or similar heavy object on tofu and let sit for approximate 10 minutes to release water. Check and repeat if needed.

Once tofu is as free of water as possible, slice into thin steaks.

Season the tofu and set seasoned-side-down in pan sprayed with cooking oil.

Season other side of tofu.

Cook over low to medium heat for approximately 20 minutes, flipping ONCE. (Covering the pan can reduce cooking time)

While the tofu is cooking, make your vegetable stir fry - add 1/4 cup water to a frying pan or wok. Add the green beans and other vegetables of choice (except Portobello Mushrooms), season, and stir them around. Cover and let cook for about 5 minutes. Add the mushrooms and sauce of choice. Cook for another 5-10 minutes, until vegetables are cooked to your liking. Drain the excess water and sauce.

Serve steaks and stir fry up and enjoy!
Share on Facebook
Nutritional information is provided as a reference, using an online calculator. We recommend verifying the information independently.