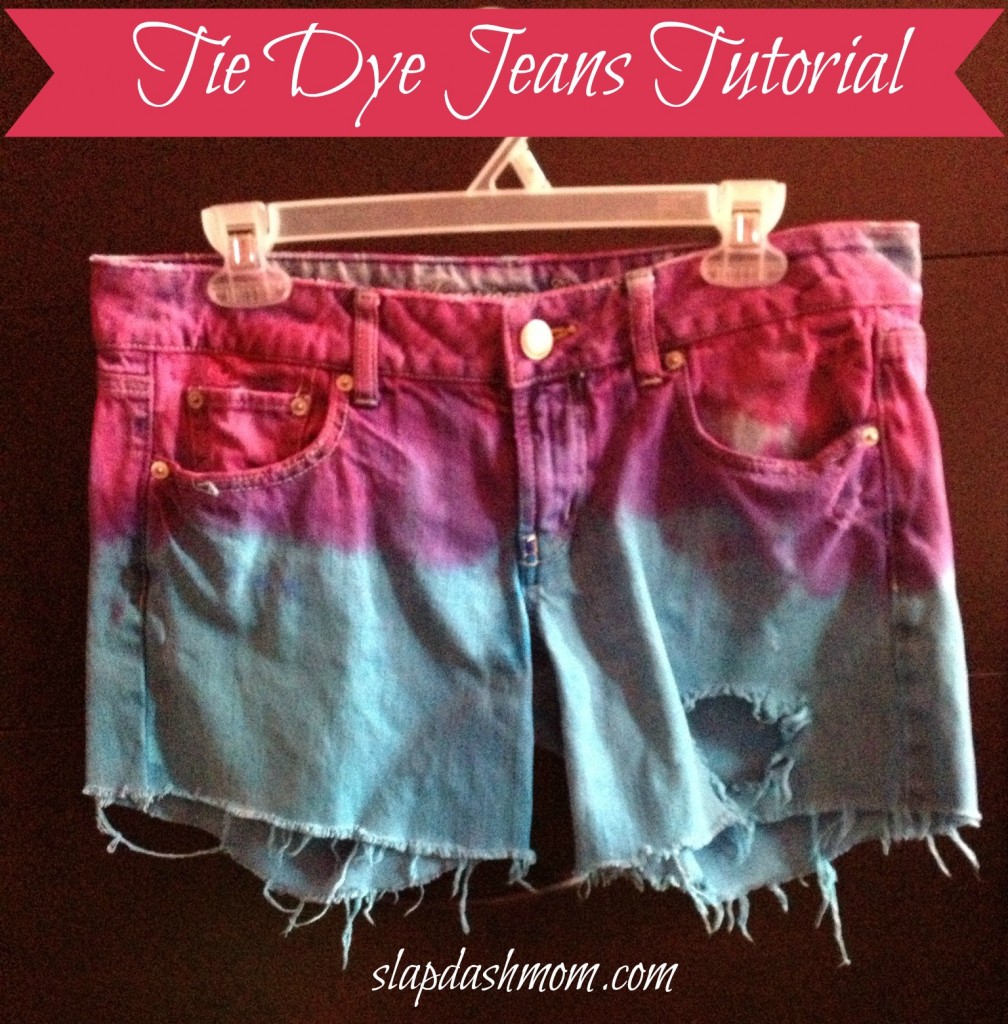 Tie Dye Jeans are so much fun to make! Do you have an old pair of jeans that you've gotten tired of wearing or that you've grown too tall for? Turn them into a pair of shorts – and not just plain shorts – spruce them up with this tie-dye project!
Tie Dye Jeans Tutorial
Money Spent: $5
Time Spent: an hour
Supplies needed:
–a pair of old jeans or shorts
–scissors, if you're cutting them into shorts
–tie-dye kit
Directions:
First, if you're making your jeans into shorts, cut them up! Using your scissors, I would suggest fabric scissors; they cut MUCH better than just regular scissors! Now, cut them to your desired length of shorts.
Next, You will need to prepare your tie-dye kit, I bought mine at Wal-Mart and it came with 3 colors as well as an instruction manual on how to do achieve different types of tie-dyes. So, in your kit there will be a little bottle with each color in it, it will just be powder. You need to add water to it and shake it up to mix everything together. If you need more clarification, there are also instructions in the kit itself.
Now, it's time to start the actual tie-dying. I chose only to use the pink and blue that came in my kit but it also came with yellow. I was going for a "cotton candy" look, so that fit. I started with the pink. Make sure you wear gloves, then squirt the first color onto the top half of the shorts, front and back – and just kind of spread it out however you want the pattern to be.
Take the second color and start on the bottom half of your shorts. In the middle, try to blend the colors together a bit so it's more of a gradient coloring. You should get a purplish color in the middle if you're using pink and blue. :)
Woot! You're finished! Well, you have to let them dry, but the actual process is complete. :) Drying can take up to a few hours, but I just simply left mine to sit overnight and they were dry in the morning when I woke up!
There you have it! You're all done, now you have completely transformed a boring pair of jeans into a pair of shorts that you can have fun with. You know how much I LOVE crazy clothing patterns. I am going to do some jeans for fall, can't wait to see what I come up with. I hope you all enjoy making these, I know I did!