The Many Health Benefits of Various Types of Nuts
On the move? Trying to lose weight? Always feeling hungry? Looking for a healthy snack? If you answered "yes" to any of these questions, you'll love this post. :) Nuts are rich in protein, as well as other vitamins and minerals, and though they're known for being high in fat, you'll find that the good outweighs the bad in this case.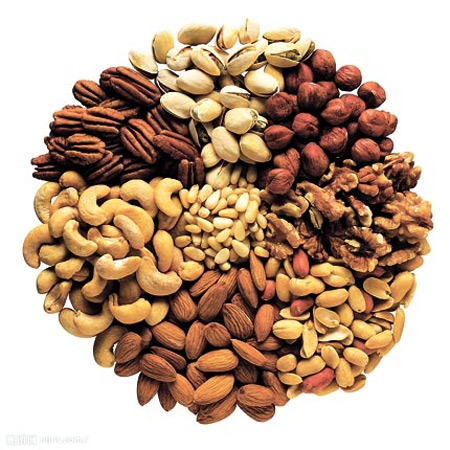 The Many Health Benefits of Various Types of Nuts
For a healthy snack, or even as an addition to a side dish, try out these nuts:
Walnuts
14 walnut halves = 190 calories
healthy for brain and heart thanks to Omega-3 fatty acids
twice as many antioxidants than most other nuts
contain protein, vitamins and minerals, and fiber
Try adding walnuts to plain yogurt with a drizzle of honey for a quick and healthy pick-me-up.
Cashews
18 cashews = 160 calories
packed with magnesium, helps strengthen bones and immunity
lower fat than most other nuts
rich in the mineral copper, for skin and hair health.
reduces risks of gallstones
Try adding to stir-fry recipes. The flavor is amazing!
Almonds
22 almonds = 160 calories
contains vitamin E, for glowing skins
good for brain development
helps regulate blood pressure

Try lightly browning slivered almonds and tossing with green beans as a healthy side with dinner.
Pistachios
49 pistachios = 160 calories
promotes eye help, rich in antioxidants including lutein
good source of vitamin B6, fiber, and thiamin

Try adding chopped pistachios to your salad.
Brazil Nuts
7 Brazil nuts = 190 calories
has selenium, a hard to find mineral that helps boost your immune system
includes protein, fiber, selenium, magnesium, phosphorous, vitamin E and thiamine
complete protein source – can replace meat

Try chopping up finely and add to pancake batter.

Some information gathered from Parenting magazine.