Sumo Plugin – Do I Need it For My Blog?
I am not writing this post to say "go sign up with Sumo!", rather to help you decide if the Sumo Plugin is right for your blog.
Heads up: I had some problems with the Sumo Affiliate Program and previously wrote about them. Because Sumo agreed to a positive resolution, I have removed the portions of the article that reference the affiliate program. Not as a "sell out", more like a peace treaty. After two conversations with Sumo's CEO, Noah Kagan, I can say that I am pleased with the final outcome of our agreement. I am not happy about how it got dragged out or the fact that we were both so upset during our phone calls, but at the end of the day we are both human (rather we run a six figure blog or an eight figure company) and the only thing I can do is forgive and move on. TL;DR: YES, I got the bonuses I earned!
With that being said, affiliate links for Sumo are NOT used in this post. You can find their products at sumo.com.
If you've followed me for any amount of time, you know I have always had great things to say about Sumo's tools because they are top-notch. To be honest, though, some bloggers might not need their paid tools… so let's talk about why you should (or should not) sign up for Sumo's paid plan.
What is the Sumo Plugin?
The Sumo plugin is a plugin to help automate your blog's traffic growth. We all know traffic translates into the easiest passive income (with ads), so it's always the #1 thing I recommend working on.
If you've been blogging for any amount of time, chances are you've heard of Appsumo, or the SumoMe plugin. SumoMe is a WordPress plugin that offers quite a few tools to help you grow your email list. There are free features, and paid features.
Are you a new blogger? Is your email list less than 1,000? Do you have less than 5,000 UMVs? The Sumo FREE plan is for you.
The Sumo plugin has free tools that include:
— Welcome Mats (see one in action over on The Heated Beet or The Search for Imperfection)
— SumoMe Smart Bar
— Google Analytics
— and more!
One downside to the free plan is the prominent Sumo branding.
I've taught my blogging students – from the get go – to treat their blogs like a business. Having Sumo branding all over YOUR blog is not the best business plan. Have you written out your business plan and blog goals for the next 12 weeks (at the very least)? Have you created long term goals with your blog? Are you ready to treat it like a business? You will appreciate Sumo's paid tools with no branding.
Paid features of SUMO Plan
There are many paid features of the Sumo plugin that I love. $48 a month is a bit steep, considering you can get a heat map for free and there is surely a cheaper push notification plugin or tool. However, many find it super convenient to have all the tools you need in one spot. As bloggers, we are already being pulled in 100 different directions. So if paying a little under $50 a month is going to save us time, it's also going to save us money… because time IS money. With that being said, I do not use Sumo for Slap Dash Mom.
Click trigger pop ups, push notification subscriptions, content upgrades, and Cart Casino are only available with the paid plan. I do my content upgrades with MailerLite (for free), so if that is what you're after, paid Sumo might not be the right plan for your blog.
Is Sumo Worth the Price?
In this review asking "is sumo worth the price?", you can see why the paid version of Sumo is best. Even if my new blogger sign ups don't have 1,000 subscribers, like I mentioned above, there are MANY benefits to the paid program (including email integration, which saves tons of time). However, in the review from Blog Pros, they say Sumo is NOT worth the price.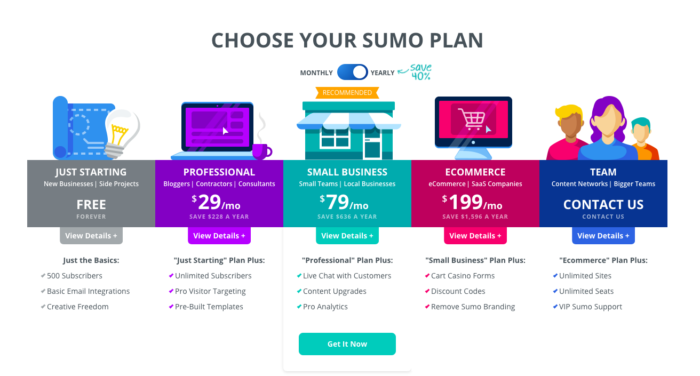 If I was a new blogger just starting out, I would still invest in Sumo's paid tools. To save money, I'd do the annual plan, and attend a webinar to get a coupon (some give up to 20% off). I'm not sure if the annual plan and the coupon stack, but you save 40% for paying annually.