How to Start a Successful Vlog
This post may contain affiliate links. Please read my Disclaimer and Privacy policy for more information.
So, confession time. I don't know everything about vlogging in general, but I do know a lot about making money online.  I watch videos on Youtube, I read about tips and tricks, but I still don't like getting in front of the camera. However, my 13 year old daughter Jenelle absolutely loves the camera. So when she asked to start her own Youtube channel, I of course said sure – it fits perfectly with this sponsored Name.Kitchen campaign! Being the entrepreneur she is, she started sending me links to vloggers that she loved, and asking if we could do this video or that video. Being the entrepreneur that I am, I set her up a website, a Youtube channel, and a fan page before the day was through. :) And thus started our journey on how to start a successful vlog.

How to Start a Successful Vlog
Making money with a vlog isn't something that happens overnight, so Nell knew she had to put the work in – starting with choosing a cool name.
We looked through
Name.Kitchen's list of not-com names
before deciding on a website name. Name.Kitchen, powered by Donuts Inc, takes a 360-degree approach to coming up with your own brand name – it's a blend of business, human interest, and pop culture. They offer hundreds of fresh and relevant new domain names, and tell you how many have been established with each unique domain ending.
We chose Jenelle.xyz because it's cute and random. She doesn't know exactly what she wants to vlog about, besides DIY projects and makeup, so she created a brand around her name instead of a specific niche. One tip that I would give new vloggers is to choose a niche if you can, because it's much easier to find sponsors ($$) and brands to work with that way. I've never really had a niche, so it didn't surprise me that Nell chose not to have one either. We secured her name on Facebook, and obviously her domain and YouTube name as well.
It can be extremely frustrating to try and secure a .com of your choice because it seems like everything is taken! Choosing a great name for your business or project is vital – it's not a decision that should be taken lightly. Don't create a ridiculously long or hyphenated domain name, just use a more unique extension. I secured eliteva.ninja for my Virtual Assistant business, and I love the branding opportunities when it comes to extensions like that.
These 'not-com' options have memorability, meaning, and creativity. Choices like .PIZZA, .FLORIST and .COFFEE convey a message that .com simply does not. Do you want to me memorable, or just another face in the crowd? Success depends on many things – and I think uniqueness is one of them.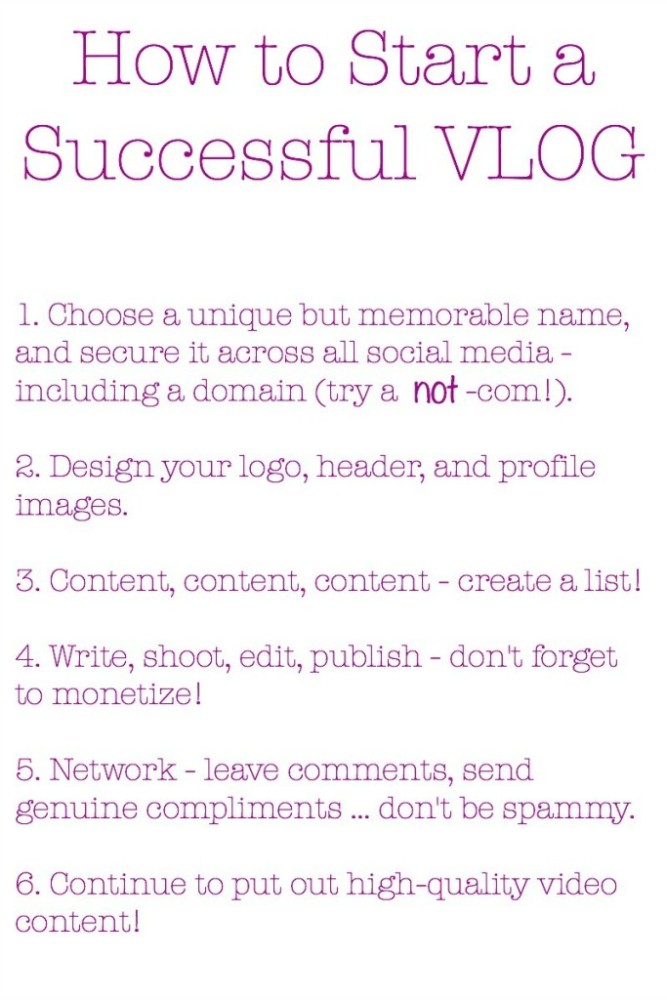 Step 1: Claim your name. Before you can do anything else, you'll need to make sure your name is available. If you get too far into the planning process, only to find out that the name you fell in love with is already taken, you're going to have to start over. So, I like to start the creative juices flowing by choosing a name from the get-go. After you've checked to make sure your name is available as a domain, check social media channels like Twitter, Pinterest, and Facebook – oh and of course, YouTube.
Step 2: Design your logo and headers. Each social media platform – and each theme for your website – will have a different size for a header. Head over to PicMonkey to choose from sample headers (like for Facebook), and then if you need a logo design, ask a friend or use Fiverr.
Step 3: Start a list for content ideas. You know what you want to vlog about at this point, so it's time to make a list. I told Nell she needed 25 ideas before we could even start writing or shooting. She came up with several, and I helped her add a few more to the list based on things I knew would do well – and I knew she would enjoy.  After you come up with 25 ideas, narrow that list down to 10, and then to 5. The first 5 are the ones you'll work on right away.
Step 4: Write, shoot, and edit. If you like to shoot your videos without a script, you can start shooting now. If you need a script, I recommend some index cards with talking points rather than an actual script that you'll read. It's best to let things flow naturally as much as possible. Your followers want to see you – they want to hear your personality. They subscribe to you!
You can always edit out the bloopers (and save those for another video! People love bloopers.). Once you've shot your first video, edit it in a program such as iMovie or Windows Movie Maker. Start publishing videos as soon as you have them complete. Make SURE when you publish your videos, you enable monetization! This is the only way you'll make money on YouTube.
After you get your first 5 or 10 up, you can slow down and just do 1 or 2 a week. When you publish back to back, the chance of getting views on each is slimmer, so it's something you only want to do at the beginning when you need to get the content up.
Step 5: Network, network, network! Becoming a successful vlogger depends greatly on what the "public" thinks of you. You've already created a unique brand for yourself using a notcom, so stay true to yourself and comment on other vloggers' videos with sincere compliments. Even if you don't have a ton of videos up at first, you'll get noticed this way. There are so many negative comments on YouTube, vloggers really notice positive ones.
Networking might seem like it takes a lot of time, but trust me when I say it's worth it – especially for a budding entrepreneur like yourself. When I first started blogging, networking is what got me noticed. When some of my other blogger friends thought it was a waste of time, I still networked religiously. My blog soar to the top with pageviews, comments, and social media follows. Theirs stayed behind until they hopped on the networking bandwagon!
Step 6: Keep adding quality content. If you look at the big vloggers like Jenna Marbles, Ava, Chris Crocker … they all have one thing in common: they consistently put out amazing content. All of the tween/teen vloggers Nell and I have been watching put a new video out every week! That's a lot of work when you think about it – so that's why it's good to have a running list of content ideas at all times, so you can just crank that content out and not worry about coming up with new ideas constantly.
We are still adding content to her *new* video channel, and it will go live some time in August 2015. While Nell will be focusing on vlogging, she'll also be posting on her website regularly. It's important to diversify your income streams (ads and sponsors on blog; ads on vlog) to get the most bang for your buck. You can link to your vlogs from your blog, and you can link to your blog from your vlogs. It's awesome to cross-promote on different channels and see yourself earn new followers daily.
Ready to get cooking with Name Kitchen? Be sure to claim your name!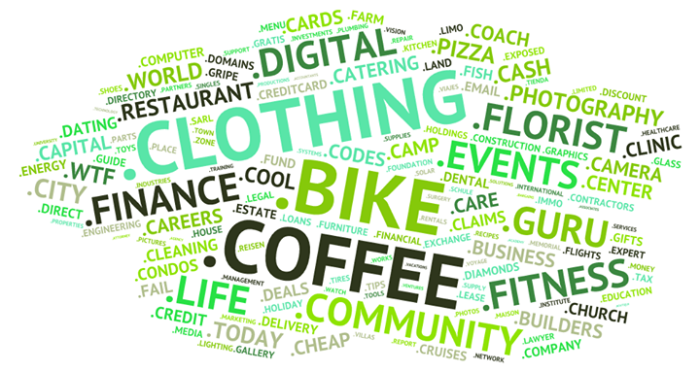 This is a sponsored post written by me on behalf of Name.Kitchen.