Slap Dash Style | Aztec Gamer
This post may contain affiliate links. Please read my Disclaimer and Privacy policy for more information.
Slap dash means random, and it fits perfectly because everything about me – right down to my clothing choices – is completely random. I've found myself loving clothes more and more now that I've lost a little weight. Watch out, world!
Today's outfit is inspired by my upcoming move to Arizona, and my love for Nintendo!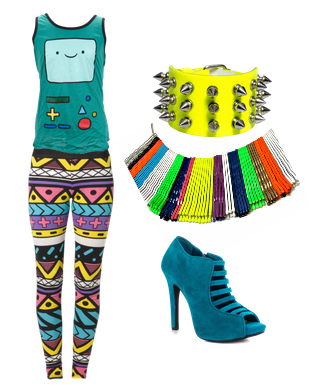 The shirt is bad ass, the leggings are so me, and the bobby pin necklace is awesome! I'd never actually wear the shoes, only because I'd break my neck, but it's an imaginary style post so let's go with it.
This entire beautiful outfit is only $250. Woaaah what a steal. ;)
Read a tutorial on how to create a bobby pin necklace over at Polyvore.
What's your sense of style like? Which piece from this outfit is your fav?