Simple Circuit Workout for Weight Loss With Pictures
I was talking about this Circuit Workout for Weight Loss the other day on Facebook, and how excited I was to try out my new Fitbit. My trainer set up this test for me, basically to see where I stood as far as strength, and I guess endurance for our future workouts. We did this circuit 3 times. I went back to the gym yesterday with my friend, Robyn, and took photos of her doing most of the workout. We did this workout at the gym, but most of these exercises you could do at home without much (or any) equipment.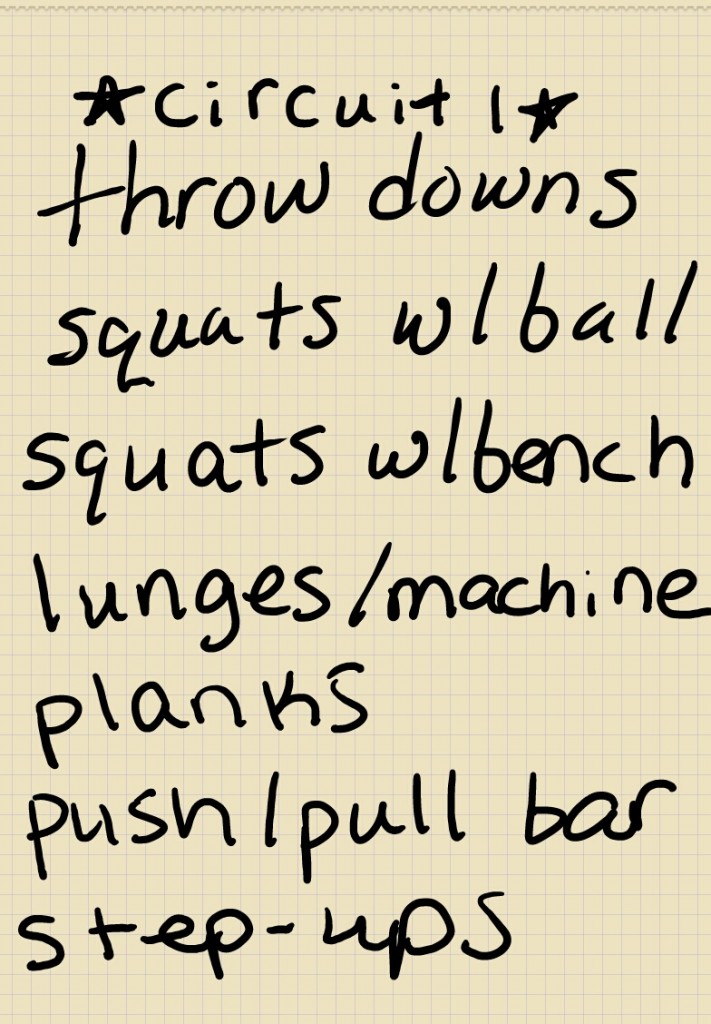 If you're looking for an easy circuit workout for beginners, try this one! To start the circuit, we did a 5-10 minute warm up on the treadmill. If you don't have a treadmill, you can jog in place, walk quickly up and down the steps, or head outside for a quick walk around the block.
Whether you're trying to Lose 50 Pounds, or just tone up, this is a great circuit workout for all fitness levels. If an exercise is too easy for you, just modify it to make it harder. These photos are LARGE so please give ample time for them to load.
Do 10 reps of each exercise listed below, unless it states otherwise. That is one circuit. Repeat 2 more times, for a total of 3.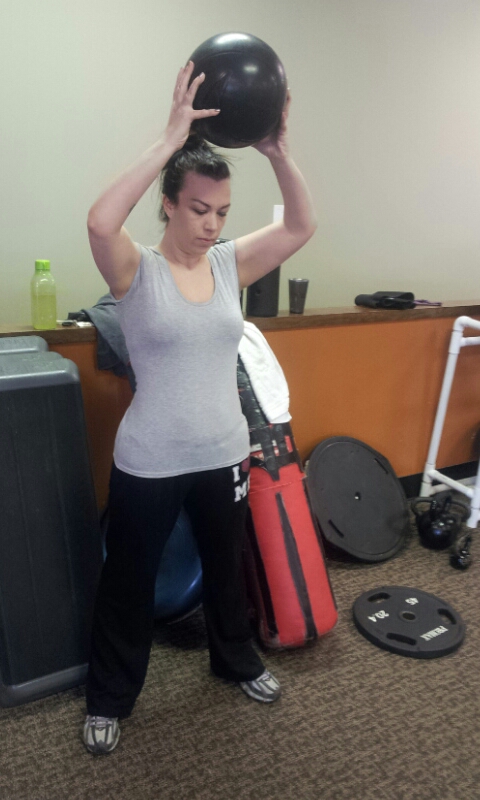 Throw downs — These are so fun, and they will help you get any built-up frustration OUT! :) Lift the ball above your head (it weighs about 10 pounds), and then throw it to the ground. The harder you throw, the easier it makes it because it bounces higher. If you don't have this type of equipment, you can do tricep extensions: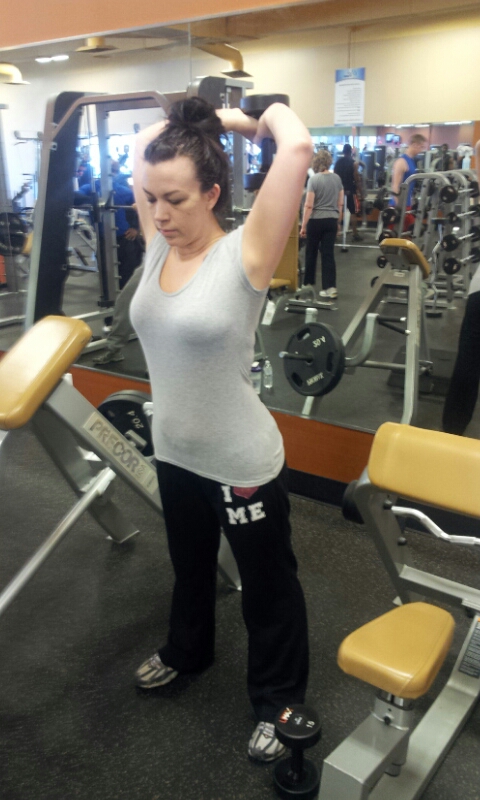 Keep your elbows in close to your ears while doing tricep extensions.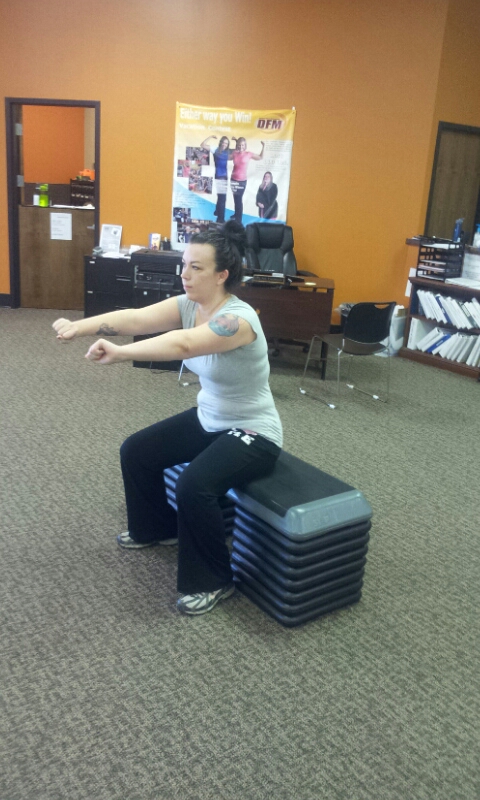 Squats with ball — Do squats while holding a medicine ball, or even a milk jug. Hold it close to your body (but only use your arms, don't push it against your body because that would make it easier) while doing squats.
Squats with bench — If you don't have a bench, use a chair, or simply do regular squats. Just make sure you're doing them correctly. Your knees should not extend over your toes. You're basically squatting into a sitting position, like you're sitting down on a chair. Push your butt back, not necessarily down.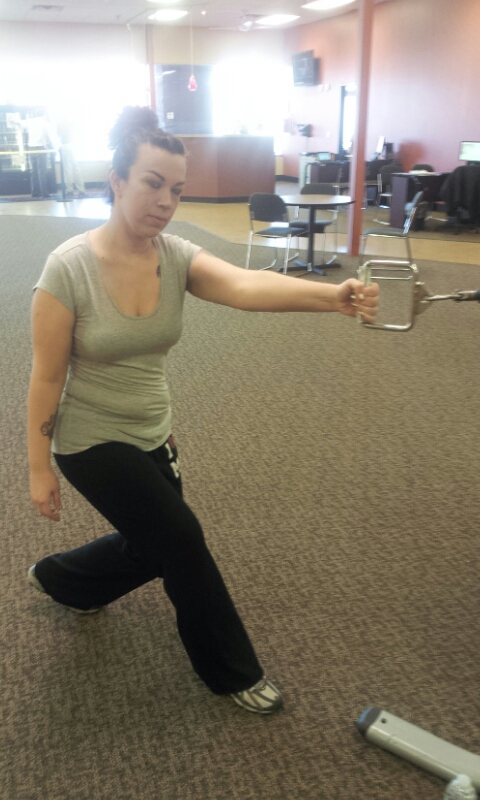 Lunges — I have to do lunges with the help of a machine because my knees are bad. I hold onto the handle and then lunge backwards. Robyn is just starting a lunge here – your lunge will look a bit different. You want to extend your back leg farther back than she has her in this photo. Do 10 on each side. If you don't have weak knees, do them without the machine.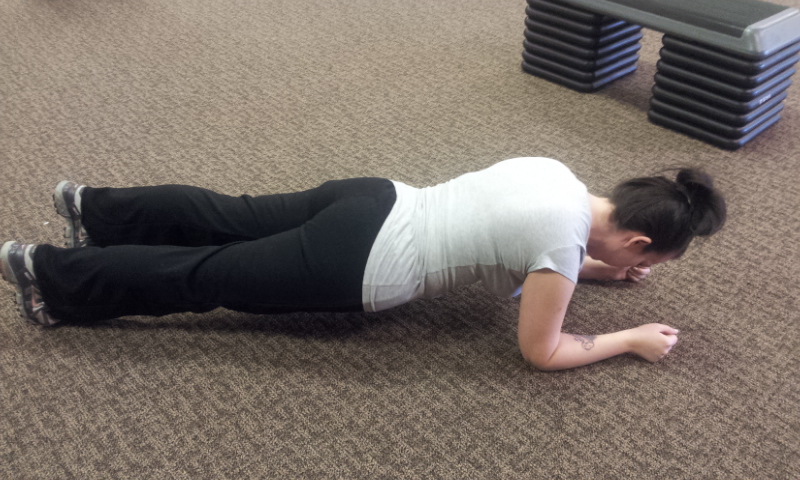 Planks — If you weren't sure how to do a plank, now you have no excuses! :) Look at the photo above: her elbows are supporting her, and her body is perfectly aligned. Don't put your butt in the air, and don't let your butt sag to the ground. Doing either of those could put more strain on your back. Do 2 minutes of planks. If that means 1 minute 2 times, awesome. If that means 10 seconds at a time until you get to 2 minutes, fine… just do them! :)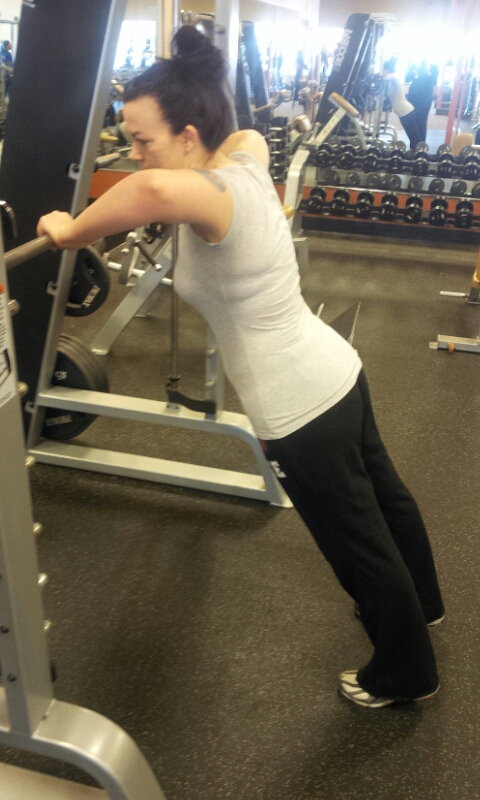 Push-ups with bar — I didn't realize it until I posted the photo, but Robyn's arms are going out instead of down. When you do your push-ups, make sure you're using correct form. You want your arms to actually push down, not out. Lower the bar to make it harder.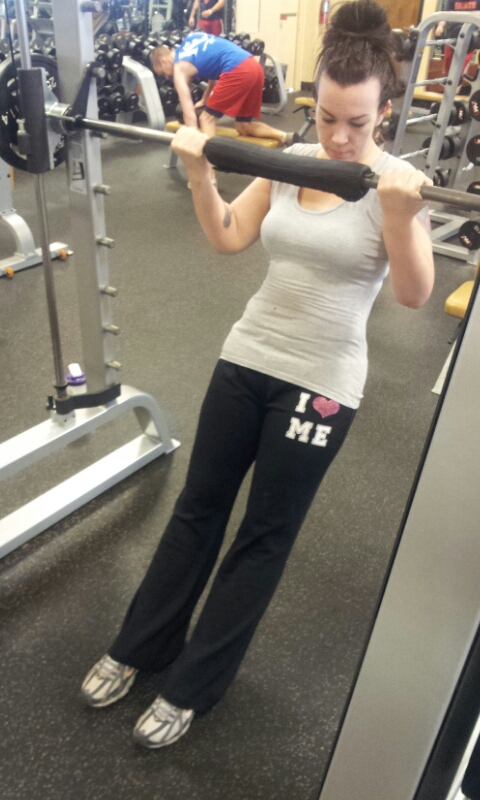 Pull-ups with bar — I'm not strong enough to do an actual pull-up yet, so we used this bar to make them easier. It was still hard for me to do 10 of them, and took me quite a while! If you can't do these the way she is doing them in the picture above, bend your knees a little and they'll be easier to do.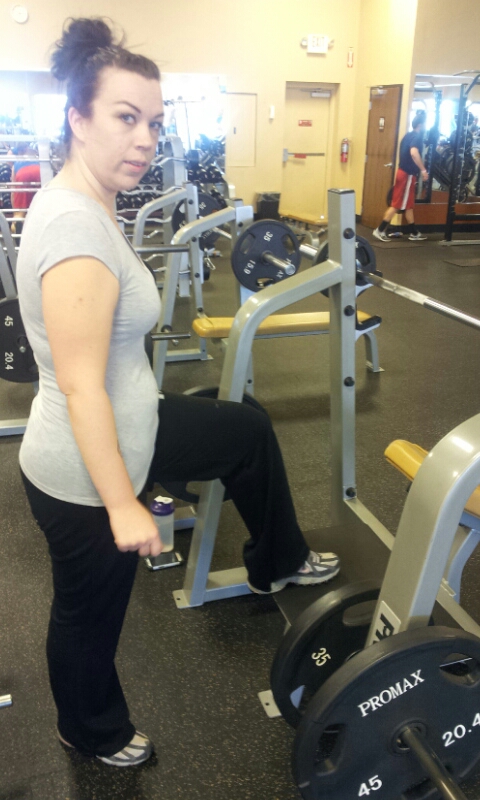 Step-ups — These are fun and you can do them on a step stool at home, or on a bench like this at the gym. You could probably even do them on regular steps, if you step up 2 steps instead of 1. Once you get used to these, you can add weights and even arm lifts (above your head when you step up). Do 10 on each leg, alternating. So, step up with your right leg, then step down, then step up with your left leg, then step down. If you're adding weights, you can lift them over your head after you step up – or you can do bicep curls, even.
Try this circuit and let me know what you think! Please pin it or share it, too!