This post may contain affiliate links. Please read my Disclaimer and Privacy policy for more information.
We've been wanting to plan a Sedona Day Trip for ages, but we can never seem to make time to take a two or three-day trip. Because the kids were on Fall break, we thought we'd head up to Sedona for the day. It's a 3 hour drive each way so it's going to be a long day if you're heading from Florence to Sedona, but chances are you live a lot closer than we do so you'll have more time to do everything!
Sedona Day Trip
Had we been leaving from Phoenix, it would've taken us about half the time, so count your blessings if you live that close! Sedona truly is a magical place and we are going to make another trip back soon.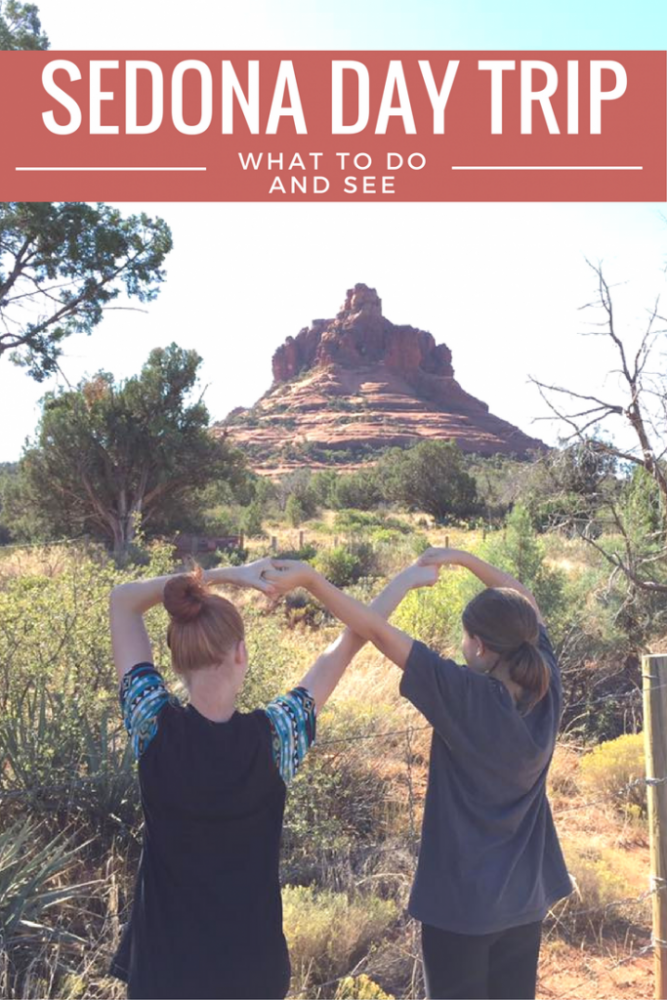 Before Your Sedona Day Trip
Make sure your car can make it. My car is a 2009 so it's not quite ancient or anything, but it's running a little rough so I knew it wouldn't be smart to drive it up to Sedona. For that reason, we connected with DriveShop and reviewed a 2016 Mitsubishi Outlander for our trip. We've been thinking about buying one, so it was nice to try before we buy.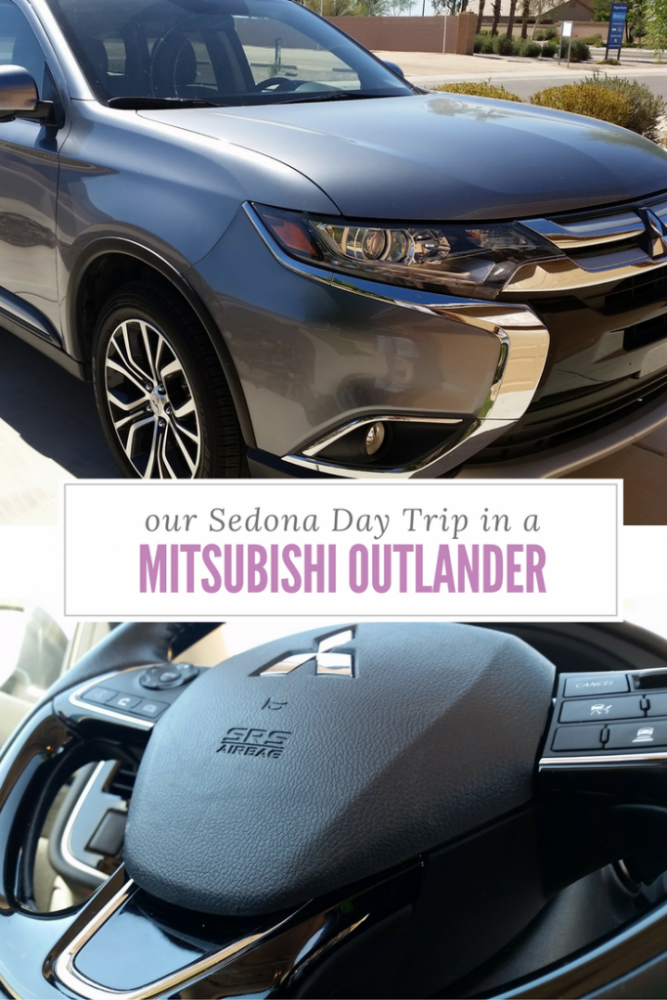 Over the course of the week, we put about 500 miles on her (yeah, she was definitely a her). There are many features that I love about the Mistubishi Outlander, but Rachel was the one I needed to convince.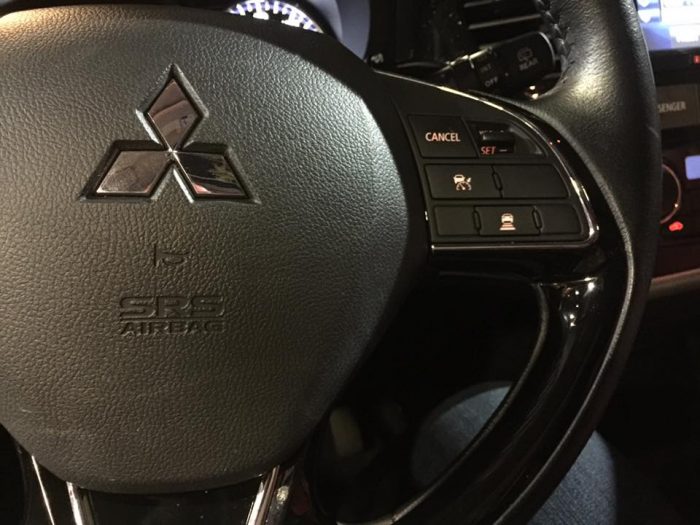 She loved the Adaptive Cruise Control, which is basically where you set Cruise Control as you would with any other vehicle, with the exception that this cruise is "adaptive". When you get too close to a car (you can set how far away you're comfortable with), it'll automatically slow down for you. This is great when you're in traffic!
Gas mileage was another thing we really wanted to see performance in. Over the course of the week, the Outlander consistently got more than 25 MPG regardless of where we were driving.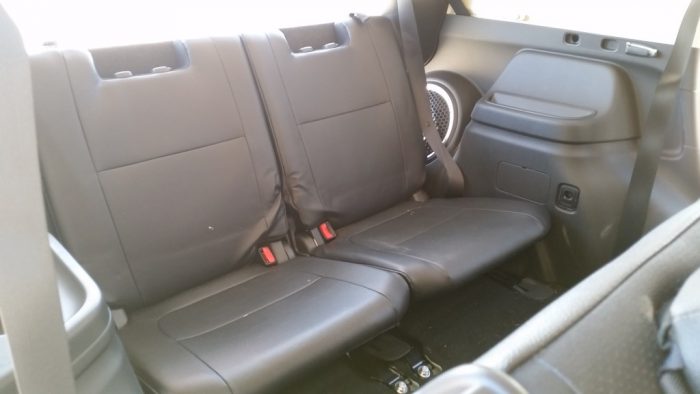 The smooth ride was nice but the question the girls wanted an answer to was "how much room does this thing have?!". They knew it had third-row seating but with Nell being almost 5'11", we weren't sure if she'd fit in the back seat. She fit comfortably, with her legs turned to the side, so I wouldn't say the third row is necessarily for giants like us but it was a comfortable trip and nobody was crammed. Getting the third row seat up and down was super simple, which I liked. I don't want to have to do all the work. Have the kids press a button or pull a seat up and be done with it.
What really won us over was the warranty:
We believe in the quality, reliability and durability of the Outlander so much that we back it with a 10-year/100,000-mile Powertrain Limited Warranty.3 We also include a 5-year/60,000-mile fully transferable New Vehicle Basic Limited Warranty, a 5-year/60,000-mile warranty on the restraint system, a 7-year/100,000-mile Anti-Corrosion/Perforation Limited Warranty and 5-years/unlimited miles Roadside Assistance.
If you're looking for a nice ride with a price tag that is way lower than most SUVs with third-row seating, go for the Outlander. Starting at just $23,495 it's about half the price of some of the others! We hope to buy one next year.
Now, back to our trip!
Map out exactly what you want to do. Our only goal, really, was to see the vortices. Oh, and to get good coffee, which we totally did. :)
If you aren't great at reading maps, stop at the visitor's center on your way in and they will direct you to each vortex.
Sedona Day Trip Itinerary
There's so much to see and do, you're going to have to pick a few and prioritize because they might take longer than you expect! For example, we were driving to one of our stops and noticed this little roadside attraction and had to stop! We thought we'd be adding maybe 15 minutes or so to our trip, but we stayed there for an hour, looking around at all of the awesome stuff. We even accidentally found another vortex!
Hiking in Sedona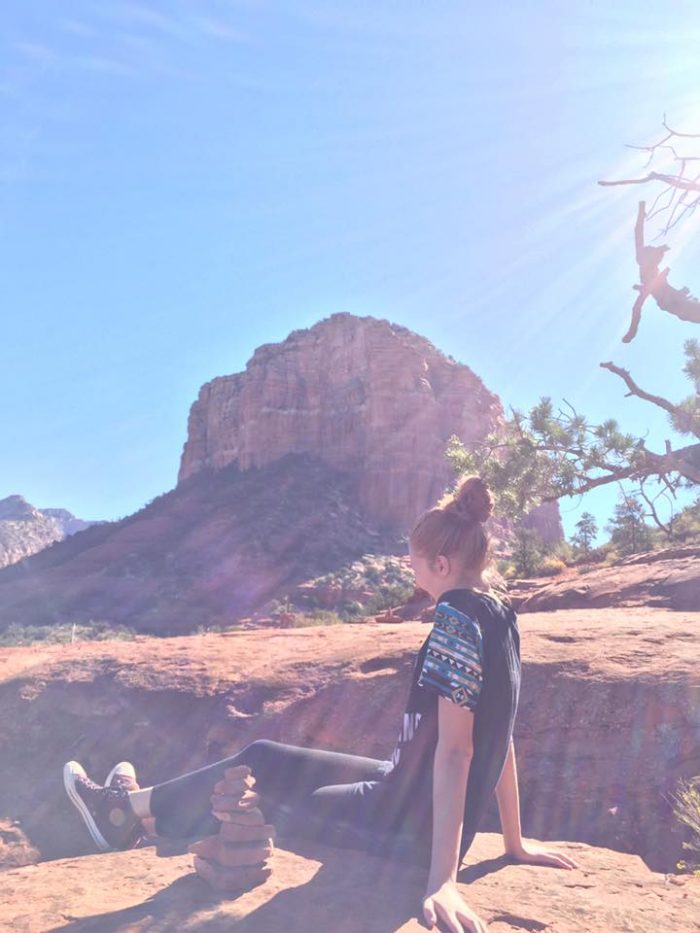 Bell Rock
We knew the vortex at Bell Rock was a must-experience, so we headed there first. We hit the road before 6AM so we were at Bell Rock by 9AM. The hike was easy (even for me), and is definitely kid-friendly. We went in the middle of the week but we still saw quite a few families hiking. You have to go quite a ways up to get to the vortex, so it's important to allow enough time. Overall, I think we spent about two hours at Bell Rock.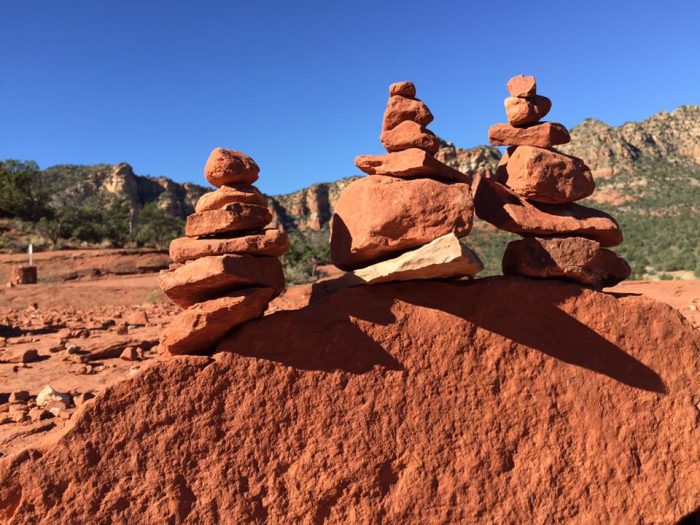 Cathedral Rock
I really liked Bell Rock, but I felt the energy at Cathedral Rock way more! It was a tougher hike, nothing strenuous but it was a little steeper and the kids had a more difficult time getting from one rock to the next. The views from the first landing can't be beat, though, so you definitely have to go!
Also, there weren't nearly as many people at this stop so if you're looking for peace and quiet I would recommend starting with Cathedral Rock.
Sedona Tours
We didn't have time for any tours, but we hope to hit these next time. When my Mom and I visited, we took an amazing tour with Earth Wisdom Jeep Tours, and definitely give them two thumbs up if you're looking for a one-of-a-kind tour. Plus, they're cheaper than the Pink Jeep tours, so there's that.
Sedona Vortex Healing ATV Tours – Like most other people, we are obsessed with the vortices in Sedona and want to feel their energy any chance we get. This Vortex Healing Tour came highly recommended so we are going to do it as soon as possible!
I was equally bummed that we didn't have time for a Sedona Trolley Tour, but when we plan our next trip we'll make sure it's (at least!) two days, so we can squeeze it in. There's nothing I love more than taking in the beautiful scenery and not having to drive.
What to Eat in Sedona
Taking to Yelp and TripAdvisor, we scoured the interwebz to find the best food we could. Amazingly enough, one of the best food places in Sedona is this tiny little tamale shop called Tamaliza. We were blown away!
There's enough indoor seating for like three people, but it blew us out of the water as far as taste and service. We got to watch the ladies prepare our tamales, and the girls absolutely LOVED them. With the exception of Grace, but she doesn't like anything so she doesn't really count. ;)
On our way out, we stopped to get coffee at Oak Creek Espresso. I had an iced mocha, well, Sapphire had an iced mocha. :/ I got my iced mocha, took a few drinks (we were driving already), and Saff said she was getting a migraine. I (somewhat reluctantly) handed the espresso over and her headache was gone instantly, so it was worth it. The few drinks I got were delish. They also have nitro cold brew, which Rach loved.
Shopping in Sedona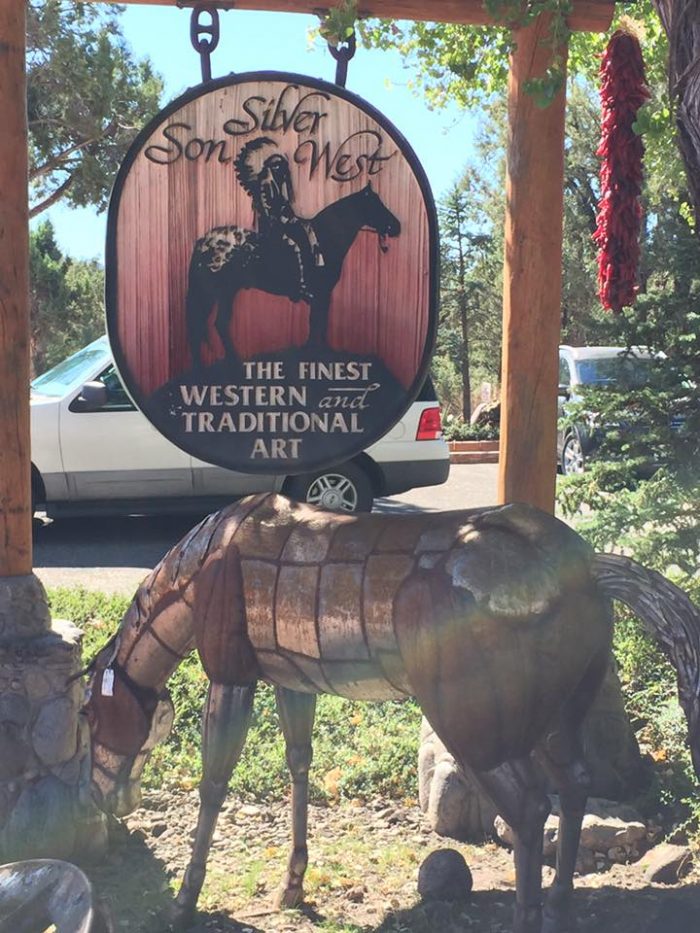 We aren't really into the whole "uptown shops" thing, so we didn't shop much in Sedona except at Silver Son West. This was the little spot we stopped at and spent more than an hour at, completely by accident. There were so many cool gadgets to look at, and then we stumbled upon another vortex!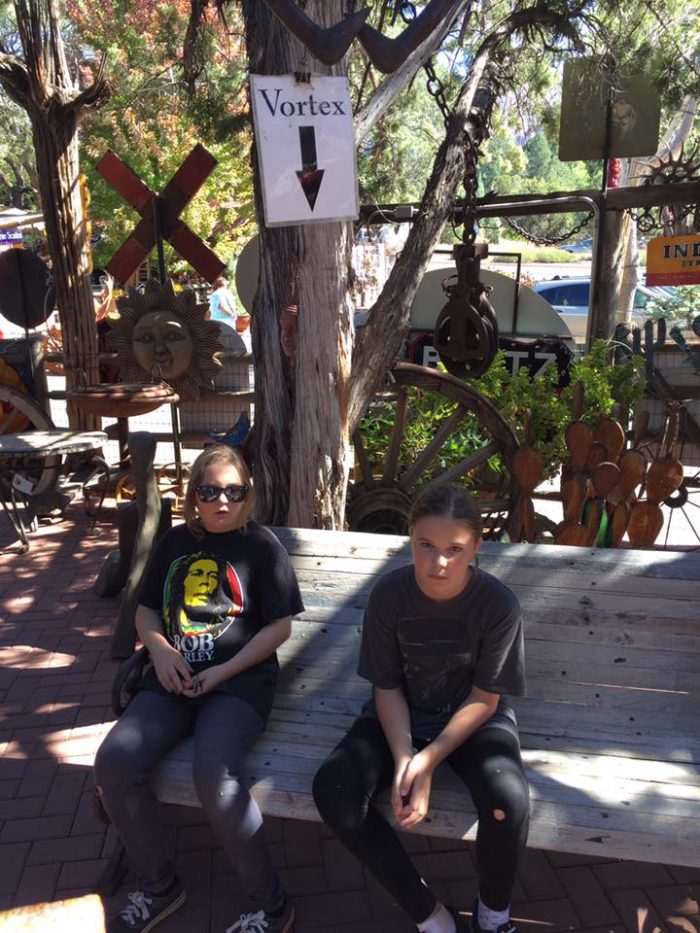 Grace is actually the one who discovered it, but she wasn't too pleased that Sapphire tried to steal her thunder when I got my phone out to take a picture.
Eventually, I'd like to do a post just on Silver Son West! I could have spent the entire day there!
Have you ever taken a Day Trip to Sedona? Let me know where we should go next time!