Mexican Hot Chocolate Cupcake Recipe
This post may contain affiliate links. Please read my Disclaimer and Privacy policy for more information.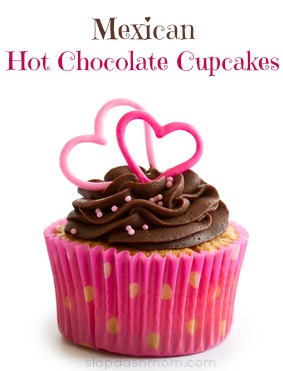 {Stock Photo}
To make these Mexican Hot Chocolate Cupcakes, use the Best White Cake Recipe from AllRecipes. Add in white chocolate pudding mix, and white chocolate chips.
To make the hearts on top, the key is to make the hearts (just like I made the decorations for my Christmas Cupcakes) with a "stem" at the bottom. I melted the almond bark, and then drew the hearts out on the cookie sheet. Leaving the stem at the bottom ensures that you see the entire heart when you place it on the cupcake!
*Don't judge me for using a stock image. ;) My photos were just not working with me today. :( 
If you don't have a steady hand, use a bite size chocolate heart mold. The next step is the frosting. That's where the magic happens! I use this Wilton Kit to ice my cupcakes.
Spicy Whipped Frosting
Author:
Ingredients
1 cup heavy cream
3 tablespoons cocoa powder
2 cups powdered sugar
2 teaspoons vanilla extract
1/2 teaspoon cinnamon
1/8 teaspoon cayenne pepper
Sprinkles or chocolate shavings, optional
Instructions
Combine heavy cream, cocoa and powdered sugar.
Mix on high for 1-2 minutes, or until soft peaks have formed.
Add in vanilla extract, cinnamon, and cayenne pepper.
Mix again, until stiff peaks have formed.