Meal Planning Tips + Win Free Groceries!
If you've read my blog for any amount of time, you know I'm not the best "housewife"! I'm trying to help Rachel out while juggling homeschooling and work… it's interesting, to say the least. In a past life, though, before I had an awesome wife to help take care of the family, I did a lot of meal planning because it saved a lot of time and money – two things I didn't have much of as a single mom. In this sponsored post, I teamed up with Albertsons to tell you about their awesome Stock Up Sale and to share some of my favorite meal planning tips.
Meal Planning 101
I find the process of menu planning enjoyable. I've always loved making lists. If you don't like meal planning, try enlisting the help of your family. Someone is bound to like list making.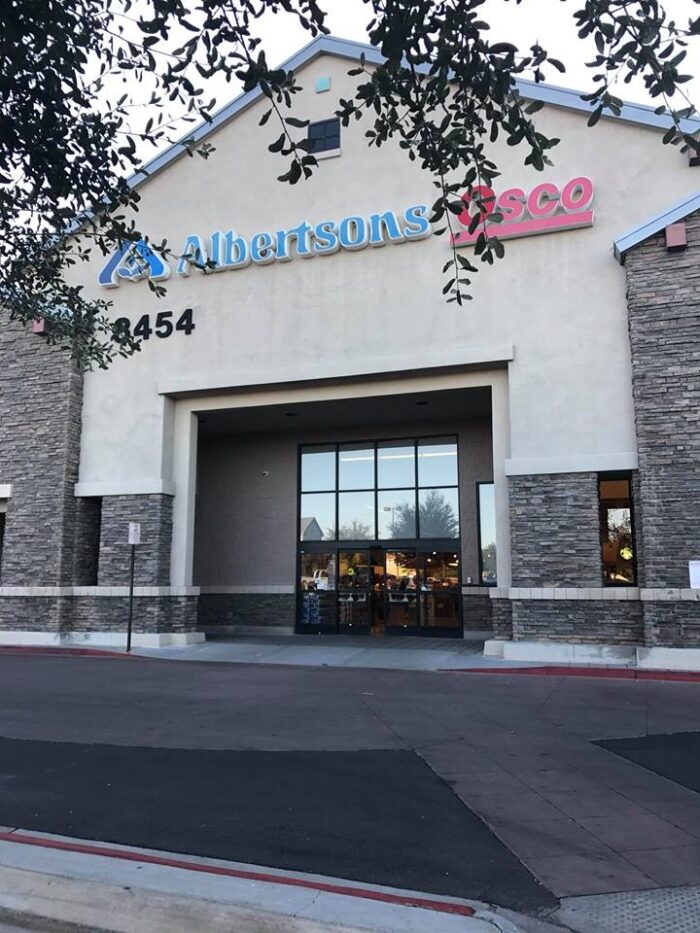 The girls and I worked on coming up with different meal ideas, piecing together a grocery list, and heading to Albertsons for their Stock Up and Save Sale yesterday. We love that our local Albertsons is a one stop shop for all of our ingredients. If you're beginning meal planning, there are a few tips I'd like to pass on to you to save you time (and money!). Feel free to leave your own meal planning tips in the comments!
Meal Planning Tips
1. Plan around your favorites. We have several "go to" items that we eat every month, including: tacos, spaghetti, salad, and BBQ chicken. I work those into the menu plan every chance I get.
2. Before you shop, download the Albertson's store app on your smartphone, so you can save even more money.
3. Ask the kids and your partner for help with the meal plan for the week. If you don't, you'll be making meals nobody has agreed on and that's just a recipe for disaster! Get it, recipe? ;)
4. If you're struggling for ideas, make theme nights. Wacky Wednesday: have the kids throw together a meal idea for this one!
5. Just do it. If you've got any type of anxiety about meal planning, just sit down with a pen and paper and start writing. If it's easier to start with a grocery list, do that. If it's easier to search Pinterest for a while to come up with meal ideas, start with that.
6. Make it fun: stock up on staples at your local Albertson's and enter the sweepstakes!
Right click and save to download the free grocery list!
Menu Planning Grocery List
After creating our menu plan around the items we had in our pantry and refrigerator, we added some more items to our list. Now, we don't usually put the brand names on our list, because we already know what we like, but here are a few of the items we stocked up on to take advantage of the Stock Up Sale and sweepstakes Albertsons.
Honey Nut Cheerios™
Progresso™
Nature Valley™ Granola Bars
Yoplait®
Annie's™ Natural Mac & Cheese
Coca-Cola MiniCans
OREOs
Ritz Crackers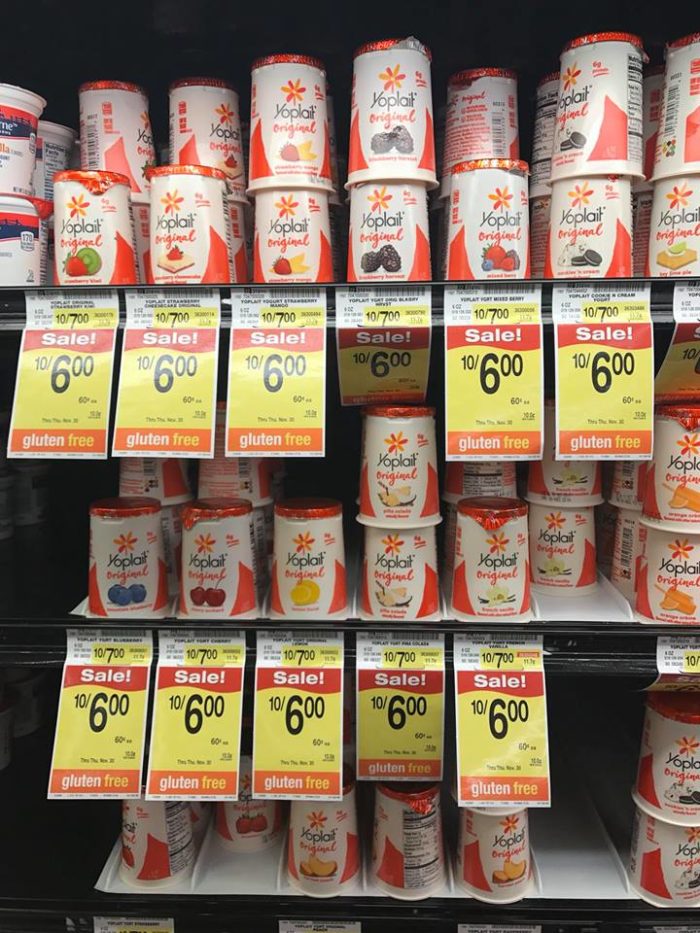 Shopping at Albertsons during the Stock Up Sale means I can get all my favorite staples from General Mills, Coca-Cola, Kraft and Nabisco at a great value! I always find all of these great products at my local Albertsons – be sure to check out these great products at your local Albertsons Companies grocery stores including Safeway, ACME Markets, Jewel-Osco, Vons, Pavilions, Randalls, Tom Thumb, Shaw's, Star Market, United Express, United and Carrs/Safeway.
What will you win? Well, I'm glad you asked! Albertsons is giving away groceries for a year to one lucky winner. Between 10/4-10/19, show them how you stock up your pantry and share a photo of how you've loaded up with your favorite items, including those below, from #StockUpSale2017.
Entry is as easy as 1-2-3:
Take a photo featuring two or more of the participating Stock Up Sale products below
Share the photo on Twitter or Instagram or at Albertsons by 10/19
Use #StockUpSale2017 in your caption and complete entry form
For official rules and details, CLICK HERE.
Here is a printable list of participating products: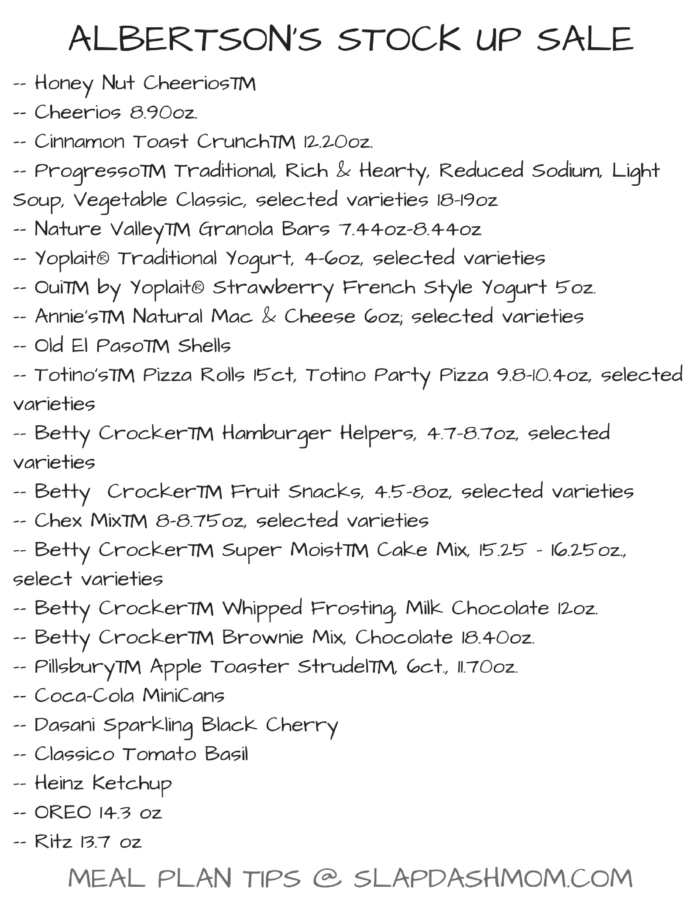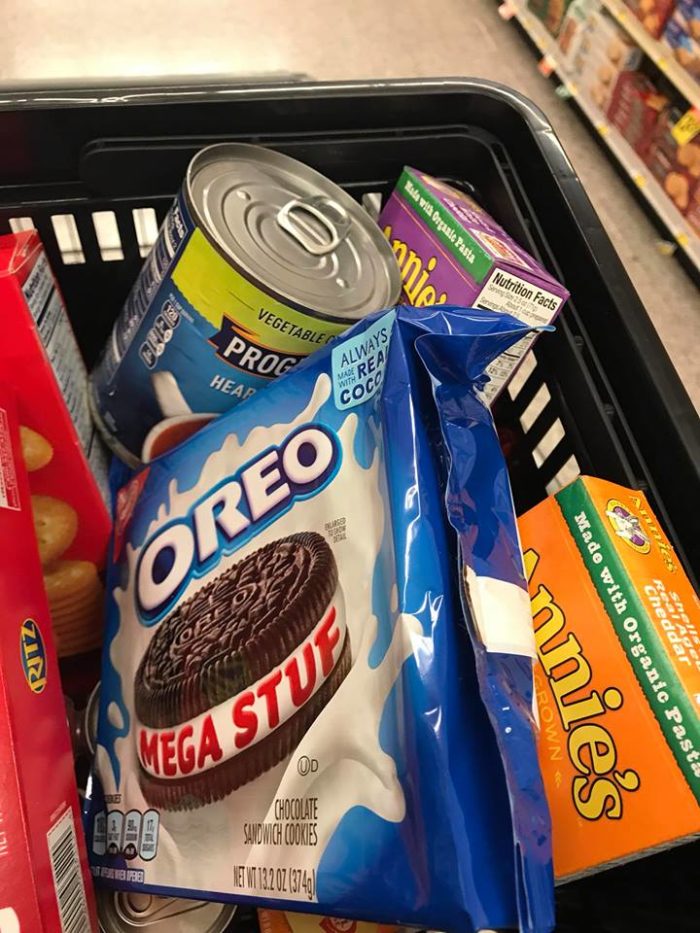 P.S. Here's a Freebie to Keep the Littles Entertained While Shopping
This is a sponsored post written by me on behalf of Albertson's.