Jillian Michaels Shred It With Weights DVD Review
This post may contain affiliate links. Please read my Disclaimer and Privacy policy for more information.
Slap Dash Fitness Ambassadors do DVD and Fitness Reviews for me. I post their opinions, and then mine at the end of the post if it's something I've tried! Leave comments telling us what YOU think of the DVD as well.
Hey, this is Hillary! For my first review, I chose Jillian Michael's "Shred It With Weights." You can get it on Amazon for less than 10 bucks.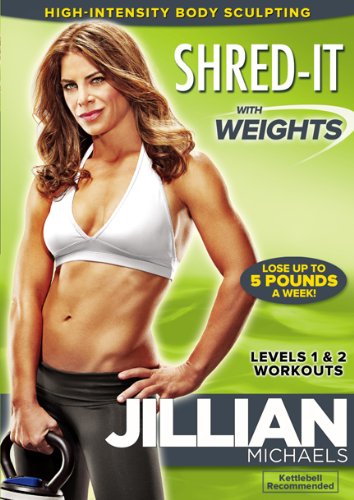 Jillian Michaels Shred It With Weights DVD Review
The DVD recommends a kettlebell but doesn't give any guidance for what size. I looked online and decided on a 10 pound kettlebell because most websites say women usually don't choose a heavy enough weight. I purchased mine from Wal-mart for about $15. Most places have them for at least twice that price, and there is a reason. The one I purchased was not ideal for the DVD because it has a strange handle shape. The traditional kettlebell handle is like a triangle without the point. That would be better for this DVD. Get the right type of kettlebell!
I started the DVD by checking out the instructional video clip for using a kettlebell located on the main menu. I quickly realized it would be easy to hurt myself and that kettlebells are not for beginners, no matter how simply the moves are explained. I would feel more comfortable having it explained by a professional in person before attempting it at home.
No worries, the DVD can be used with a hand weight. I used a 5 pound one I already owned. It was a little light, but to get the moves down it was better to start with a light weight. They have two women aside from Jillian demonstrating the moves at different levels. There are also two workouts on the DVD: beginner and advanced. I have only made it through the beginner workout and it's quite enough for me so far. I just had my second c-section 7 weeks ago so I am not going to push it. I found the workout itself to be tough enough that I felt my muscles being worked, but not so hard that I wanted to give up and eat ice cream.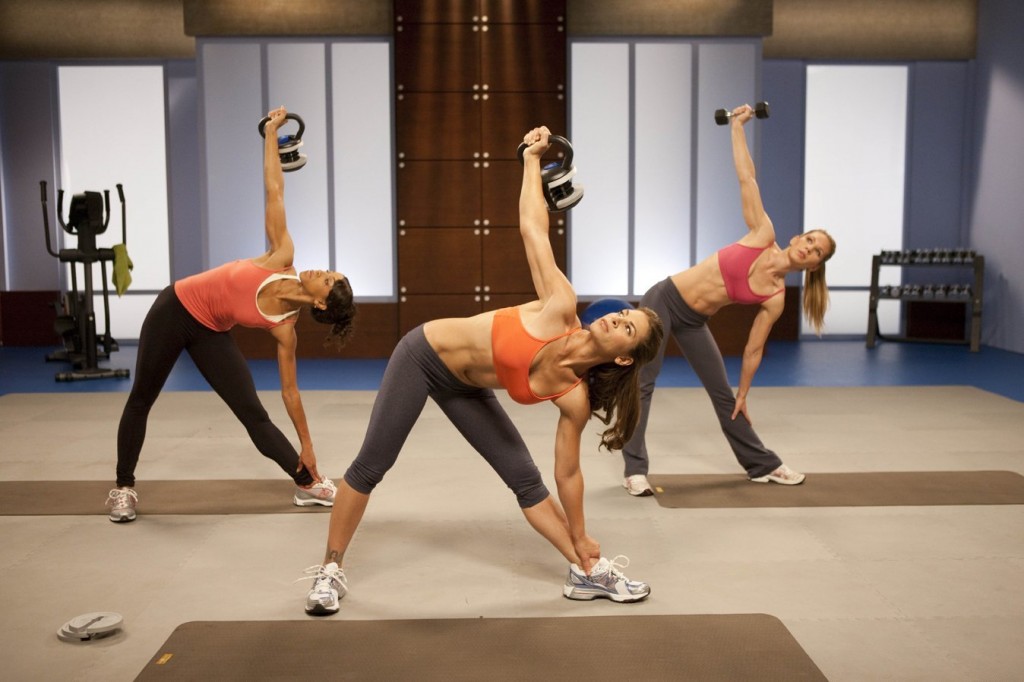 Who it's good for: any adult who likes working out with weights and isn't a big fan of super cardio workouts.
Who shouldn't use it: anyone with knee problems, a lack of coordination, or a very small workout space. You will be doing a lot of bending that is not kind on the knees.
Time needed: both beginner and advanced workouts are 30 minutes. You will need to complete each workout to do it safely since it includes a warm up and cool down.
Equipment needed: kettlebell or hand weights and a workout mat if you have a hard floor.
Insider tip: if you don't have experience with Jillian Michaels, I find her to be annoyingly smug and condescending. This is something I like, since my distaste for her makes me work harder. I personally detest super happy and perky hosts.
Note from Sadie: I love Jillian, and every workout DVD of hers that I've tried has kicked my ass – in a good way! She does have modifications for most moves, but overall they do tend to be a little harder on the knees. She doesn't do super intense cardio (from what I've seen), so it's not like you'll be dying to catch your breath but you will be sore and feel it the next day if you're not used to working out!