How to Homeschool With Legos
This post may contain affiliate links. Please read my Disclaimer and Privacy policy for more information.
Homeschooling with LEGOs is not only educational – it's fun! These links are great for all ages – just adjust them as you need to. Many are perfect for early elementary, but you can adapt them for older kids. Be sure to make your own LEGO crayons, too!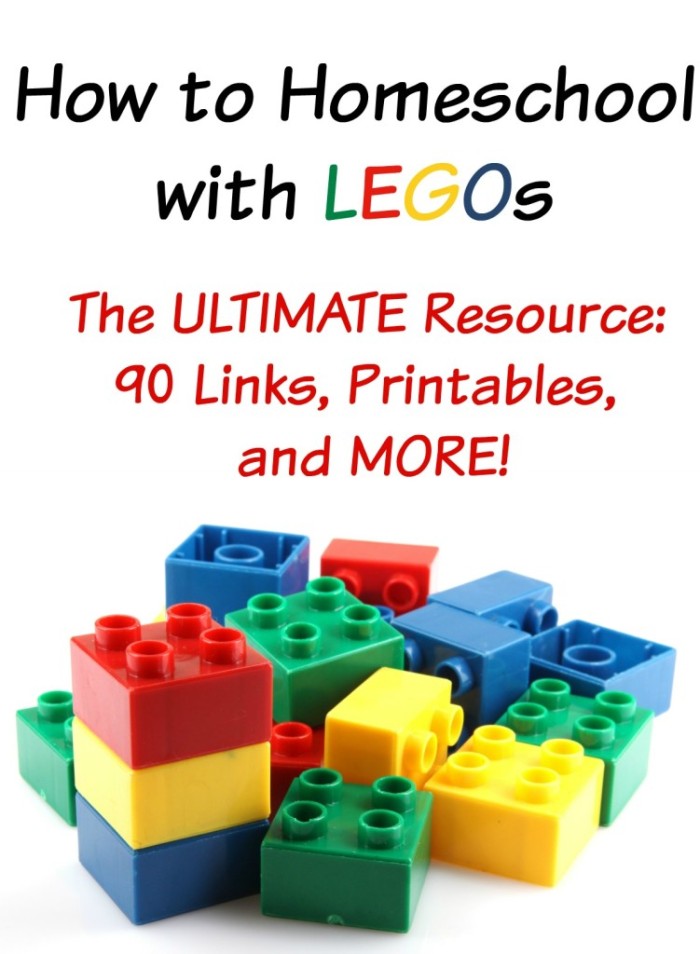 How to Homeschool With LEGOs
I spent hours waaaay too long gathering these links, so I hope you SUPER LOVE THEM. Not much else to do with a broken foot, eh? ;)
Did you know you can join the LEGO Club for FREE?
Need tiny LEGO blocks? Grab some on sale here!
LEGO Learning Resources
LEGO Learning with Walking by the Way
LEGO Learning with Frugal Fun 4 Boys
LEGO Learning with The Imagination Tree
LEGO Learning with Scholastic
LEGO Activities with Science Sparks
LEGO Learning with The Tutor House
LEGO Learning with A Mom With a Lesson Plan
LEGO Learning with Milk and Cookies
LEGO Learning Roundup from the Examiner
LEGO Resources from Homeschool Encouragement
LEGO Activity Links from Discover Explore Learn
LEGO Learning with Homegrown Learners
More LEGO Learning with Homegrown Learners
LEGOs for Learning with Joyful Pamela
LEGO Learning with One Perfect Day
31 Days of LEGOs with Educating Laytons
Lots of LEGO Lesson Plans from MIT
LEGO Learning Activities
Learning Adjectives with LEGOs
LEGO Activities With Printables
Search for FREE LEGO Printables
LEGO Minifigure Writing Prompts
Greater Than, Less Than With LEGOs
Keeping Your LEGOs Organized
LEGO Organization (With Printables)
Wrapping It Up: Have a LEGO Party!
LEGO Party Ideas and Invitations
Need More Inspiration?