How to Become a Virtual Assistant
So, you want to learn How to Become a Virtual Assistant? It's a lot easier (and harder) than you may think. You'll need some equipment, some mad skillz, and even some luck perhaps… but I'm going to help you get started!
How to Become a Virtual Assistant
Be sure to check out my Make MONEY Section while you're here. :)
If you know you're ready to become a Virtual Assistant and want help creating a road map to success, enroll in my Rockin' Virtual Assistants Course. The course has many perks, but I'd say the #1 reason to enroll is for the mentoring. Once you enroll in RVA, you're able to join my private Facebook group where I mentor each and every student on their path to success. Most students make their investment back within the week, while some have made it back within 24 hours!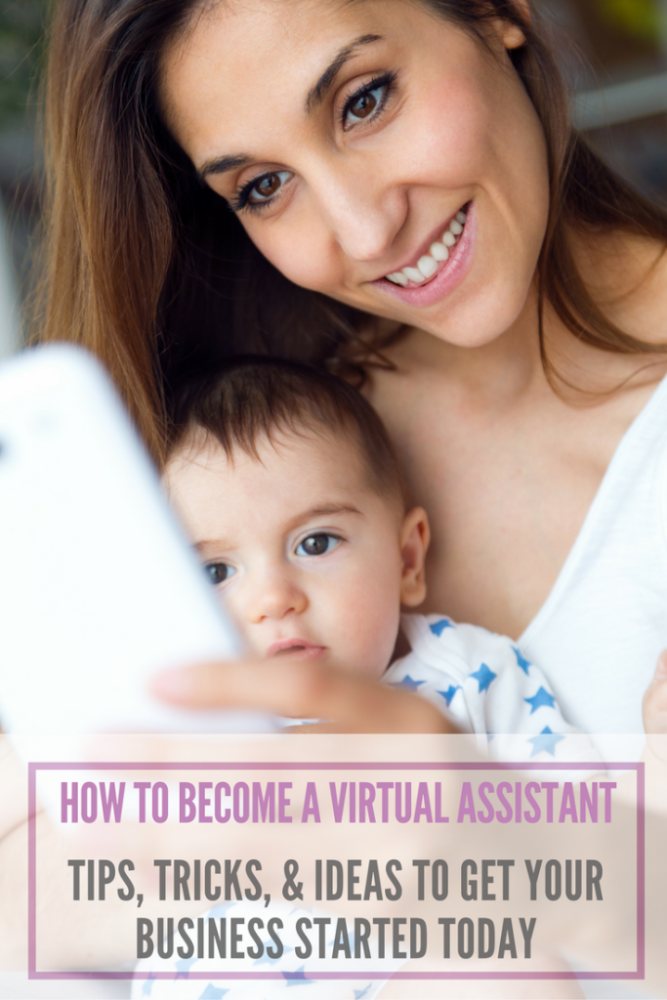 FAQ
How much can you make as a Virtual Assistant? Literally as little or as much as you want. I know this answer is super vague, but I have VA friends that make $200 a week working part time, and I have VA friends making $10,000 a month. I'm somewhere in the middle.
Equipment You Will Need
First, you'll need a reliable computer. No, you cannot be a successful Virtual Assistant from your iPhone. While your SmartPhone may help you be a great Virtual Assistant, it won't be good enough to do it all.
Next, you'll need a reliable internet provider. In addition to internet at home, you'll need a back-up plan. A few times this past winter, I was working for a client and my internet went out. Then, my electric went out! I grabbed my laptop and headed to McDonald's. It wasn't pleasant sitting at McDonald's for three hours to finish my work, but that's what I did.
Another time, my internet wasn't working, so I had to go to a coffee shop. I was home alone with the kids at the time, so I had to take them with me. I packed up some busy bags (Grace's Kindle, Saff's Innotab, and Nell's Tablet – as well as some coloring books and crayons) and ventured to the cafe to finish my projects. Thank goodness for free wi-fi!
If you're reading this post, I'm going to assume you already have both of the above, so I'm just going to hop right in to the rest.
— An exercise ball or a comfortable desk chair
— A reliable printer
— An external hard drive
— Anti-virus program
Set up a dedicated email address, as well as a Paypal address so you can accept payments. Remember to include Paypal fees in your prices, or you will be losing money.
Getting a PO Box and a business phone number (you can get one for free from Google) is also a good idea.
Decide What Types of Services You Will Offer
Ask yourself these questions:
— What are you good at? What are you not so good at?
— What do you like to do?
— Are you an expert at anything?
— How much time and energy do you have to devote to your business?
— Is this just a job for you, or are you going to create a career out of it?
Are you planning on being a freelancer? Finding work ProBlogger's Job Board? Or are you going to be your own boss and create a business while offering your services as a Virtual Assistant?
I personally took that route – I work for myself, my clients are mostly other bloggers (sometimes small businesses), and I offer things that I'm great at (like article writing). I steer clear of things I am not so good at (like staying organized!).
Books to Read
— Virtual Assistant Assistant: The Ultimate Guide to Finding, Hiring, and Working with Virtual Assistants
— The Bootstrap VA: The Go-Getter's Guide to Becoming a Virtual Assistant, Getting and Keeping Clients, and More!
— Quit Your Rotten Job…and Become a Home-Based Virtual Assistant Instead
— Become a Virtual Assistant – The Virtual Assistant Forums Guide to Success
— How to Start Your Own … Virtual Assistant Business
— The Commonsense Virtual Assistant: Becoming an Entrepreneur, Not an Employee
— Virtual Assistant – The Series: Become a Highly Successful, Sought After VA
— Make Money Online – 97 Real Companies That Pay You To Work In Your Pajamas
— Virtual Gal Friday's Virtual Assistant Start Up Guide
— The 2-Second Commute: Join the Exploding Ranks of Freelance Virtual Assistants
— How to Become a Successful Virtual Assistant
What I Do As a Virtual Assistant
The question I get asked most frequently is "What do you do exactly?". That answer varies from day to day, because I have several clients.
Client 1 is a deal blogger. I work about 20 hours a week for this client, and get paid a certain amount per hour. Each hour, I will post 4-5 deals to their blog and Facebook page. Hourly Virtual Assistant jobs are a little more difficult to find, but they are usually steady once you land them.
Client 2 is a food blogger. This client travels a lot, so sometimes she gets behind on her recipes. Once each week, I bake up a recipe, take photos, and post it to her blog. I get paid for the ingredients I use, as well as a certain amount per recipe I post. Since I offer vegetarian recipes, it's a specialized market and lots of people will pay more for them. You could try Gluten-Free, Allergy-Friendly, or Low-Calorie Recipes if you're going to offer this service.
Client 3 is a small business. This client doesn't have time to worry about social media, so I run their Facebook and Pinterest profiles. I schedule 3 posts each day to their Facebook page, and I pin about 10 things a week to their Pinterest page. If you're great at social media, this type of gig could be right up your alley.
Virtual Assistants do a variety of tasks, for a variety of clients. Don't limit yourself by what I have experience with. If you have a background in law, or real estate, or even education… use it! There's someone out there looking for a Virtual Assistant like you!
Some tasks you may be asked to help with:
— Content creation (that's what I do!)
— Design
— Writing and answering emails.
— Managing blog or Facebook comments.
— Helping with email and scheduling.
— Data entry, light accounting/number crunching.
— Various administrative tasks, such as proofreading, editing, and more.
Finding the Perfect Client
So perfect probably isn't the best word, but when searching for clients you need to know what you are looking for. Do you work better under pressure, or with plenty of time to meet deadlines? If you interact with potential clients in a group setting (such as on G+ or Facebook), you can see a little of their personalities… keep all of these pros/cons in mind while trying to find work. If you find a client you do not mesh with personality-wise, you may get discouraged and want to quit all together. Just realize that some clients will be like oil when you are water – and that's okay! Go your separate ways if you must, but always leave on good terms.
Taking It To The Next Level
If you are ready to take it to the next level and be 100% professional, you need your own website. Please, for the love of all things internet, do not set up a free website (like on blogger.com) and expect to be seen as a professional. You have to invest a little money to make money. This post walks you through how to set up a website (for cheap!).
While you can do your own design on picmonkey.com, you should keep it simple and know when to hire out tasks such as design, coding, etc. I've found that Canva is a great tool for those that don't know a ton about design. Plus, it's free.
Another way to invest in yourself is to read ebooks, join free webinars, listen to podcasts, and enroll in courses. Be sure to do your research before signing up for a course, though. I made the mistake of listening to other bloggers when they said a course was PERFECT for me. Come to find out, they just wanted to earn affiliate money… they hadn't even taken the course themselves!
I'm not saying affiliate links are always BS, but you've gotta look at the whole picture. Finding a TRUE review online can be difficult. Check out testimonials, then visit the websites of the people leaving the testimonials. I do a LOT of research before spending money, and you should, too!
Sell Yourself
Now that you're set up, it's time to sell your body! Orrr maybe your brain? :) No, I'm not saying you should sell your brain to science. I'm just saying, have faith in yourself! If you don't, who will?
If you aren't good at talking about yourself, have a friend write up a little paragraph or two outlining what types of services you offer, why you're great at what you do, etc. You can change it here and there if necessary, but it will be a good start. Put a "sales" page up and sell yourself!
Tips/Hints:
— Be flexible! You won't always find clients that work on your schedule – so be willing to flip your schedule around a bit.
— Don't sell yourself short! Never work for commission only unless you know it will work out in your favor.
— Only take on one client at a time when you first start. While I have a dozen or so clients, I don't work with all of them on a daily basis. Some are daily, some are weekly, and some are just once in a while.
— Do some market research to find out what you should/could offer, how high the demand is, etc.
Resources
— Work From Home Blog – Job Board/Leads
— ProBlogger's Job Board
— Work at Home Revolution
Wrapping It Up
If you have any questions, email me! :) If you are writing posts for other people, be sure to use amazing images! I get mine for FREE!
Want to make the big bucks? Enroll in my awesome Virtual Assistant Training Program!
Please "LIKE", TWEET, and PIN it if this article helped you!