How to Host a Successful Blog Giveaway
This post may contain affiliate links. Please read my Disclaimer and Privacy policy for more information.
I don't do many giveaways here at Slap Dash Mom, but I am constantly hired to help other bloggers make sure theirs are successful – for the sponsor(s), their readers, and their blog. These easy to follow tips will help you host a successful blog giveaway. If you have questions, just ask! :)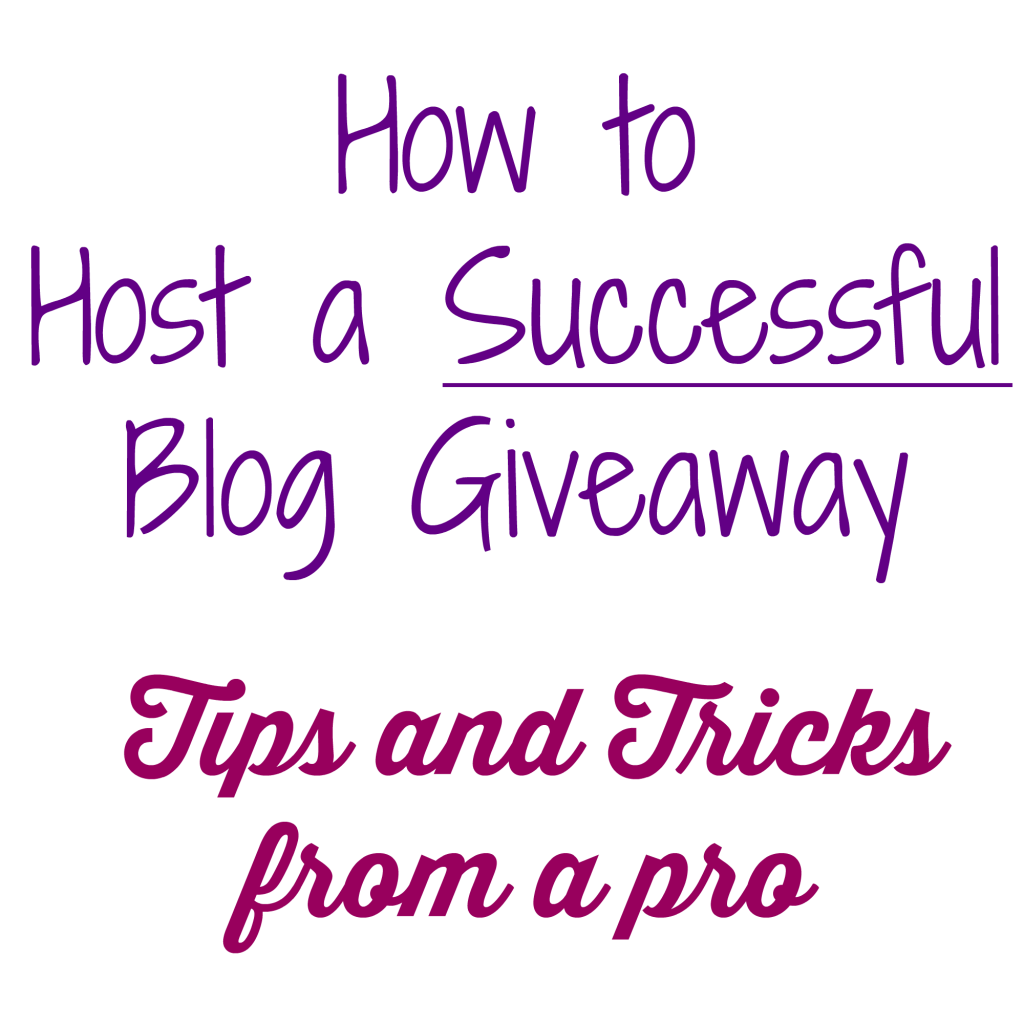 How to Host a Successful Blog Giveaway
1. Be prepared.
– Secure your sponsor(s) and set a goal. Are you doing a week of giveaways? Are you doing a themed giveaway, such as Mother's Day gifts? Figure out your purpose, then secure sponsors that align with said purpose.
– The main goal is to "WOW" the sponsor and treat your readers. Secondary goals can revolve around you and your blog. Is your goal to get more pageviews? If so, consider adding extra entries if they visit/comment on other posts on your blog. Is your goal to get more followers? If so, add your social media links in the giveaway.
– Once your prizes are secured, start working on your design. I use PicMonkey! You'll need a giveaway image big enough to be the featured image on your blog, and you'll need a smaller one in case other bloggers want to put their button in their sidebar. A good size for a sidebar button is 150×150. Your main image size will depend on your theme. I like 500×500.
2. Build anticipation.
– Two weeks before your giveaway goes live, create buzz by tweeting a teaser. Tag the sponsor(s), and let your readers know that if they "like" their pages, they'll have a head start on everyone else!
– Post a picture of the prize(s) on Facebook. Because of Facebook currently having low reach, I also recommend posting the teasers on your personal page as well as your personal blog group, if you have one.
– When you send out your newsletter the week before the giveaway goes live, give a teaser and remind them to open the next newsletter to click through to enter the giveaway!
3. Set up tracking.
– Set up tracking. Tracking is important even if you purchased the prize yourself. You need to know your numbers (how many clicks, shares, etc) so you can impress future sponsors!
– To set up tracking, I use bit.ly. It tracks how many clicks go through to the giveaway, then you can set up another bit.ly to track how many clicks go through to the sponsor's page.
4. Start the giveaway with a bang!
– Make sure your giveaway post is very clear. What's the prize? What's the value? How many winners? List the rules (18+, US Only, etc), and also let them know how they will be contacted if they win. If they're a sweeper, they're most likely using a "spam" (extra) email to enter, and might not check it regularly – so let them know exactly which date the winner will be notified, and they can check their email at that time.
– Keep it simple! It should be very easy to enter your giveaway. Don't make them jump through too many hoops! I use Rafflecopter when I do my giveaways, but many folks like Giveaway Tools as well.
– Send out your newsletter, and start sharing via social media (Twitter, Facebook, etc).
– List your giveaway in directories. I've had the best luck with online-sweepstakes.com, but there are lots of others. Try this list: Ultimate Blog Giveaway Directory
– If your friends are bloggers, or if your giveaway is relevant to your friends, share it with them! Don't be spammy, but once in a while it's okay to share. :)
– Do everything you can to make your giveaway successful! List it in threads in Facebook groups, do trades with other bloggers, etc. Track those numbers, and impress future sponsors.
5. End the giveaway – with a bang!
– Once the giveaway is over, choose a winner immediately. Email them, and tweet them. Then, announce the winner on Facebook and your other social media sites (as well as your newsletter). Let them know that they have 24 hours to respond before you choose a new winner.
– Gather up all of your tracking, and create a cute image in PicMonkey or even create a PDF file showing the stats. "XYZ Sponsor gained 488 new followers over the course of this giveaway." Include how many clicks came through to your site, and how many went through to theirs. "WOW" them with your reporting.
– Ask the winner to post on your Facebook wall with a picture of themselves when they get their prize! This shows that you follow through (unlike some bloggers), and that your readers are very happy!
6. Other tips that will help your giveaway be successful.
– Create a page on your blog that lists current giveaways. You can have them listed in your sidebar, but unless you're a giveaway blogger specifically, it can come off as kind of spammy.
– When sharing via social media, use hashtags such as #giveaway, #win, #contest, etc so sweepers can find you.
– Keep the giveaway short. While it's tempting to have the giveaway run for a month to get more entries, it's usually better to run it for a week or ten days to keep the momentum going. Things get stale quickly on the web, so keep things moving (with a new giveaway, or letting them know that your next one will be in a month).
Keep in mind…
Giveaways are fun! But there are lots of people that will visit your blog just to enter, and have no intentions of coming back. Your goal should be to get these people to stick around! Do this by keeping your best content front and center (in your sidebar, header, menu, etc). While giveaways offer great traffic and increase your numbers, don't get sucked in! I've seen so many bloggers do giveaway after giveaway just to get their numbers to look better. Those numbers don't mean crap if you don't have the interaction from loyal readers.
Anything I missed? What's your best tip for hosting a successful giveaway?