Goji Berry Smoothie Recipe
This post may contain affiliate links. Please read my Disclaimer and Privacy policy for more information.
Goji Berry Smoothie Recipe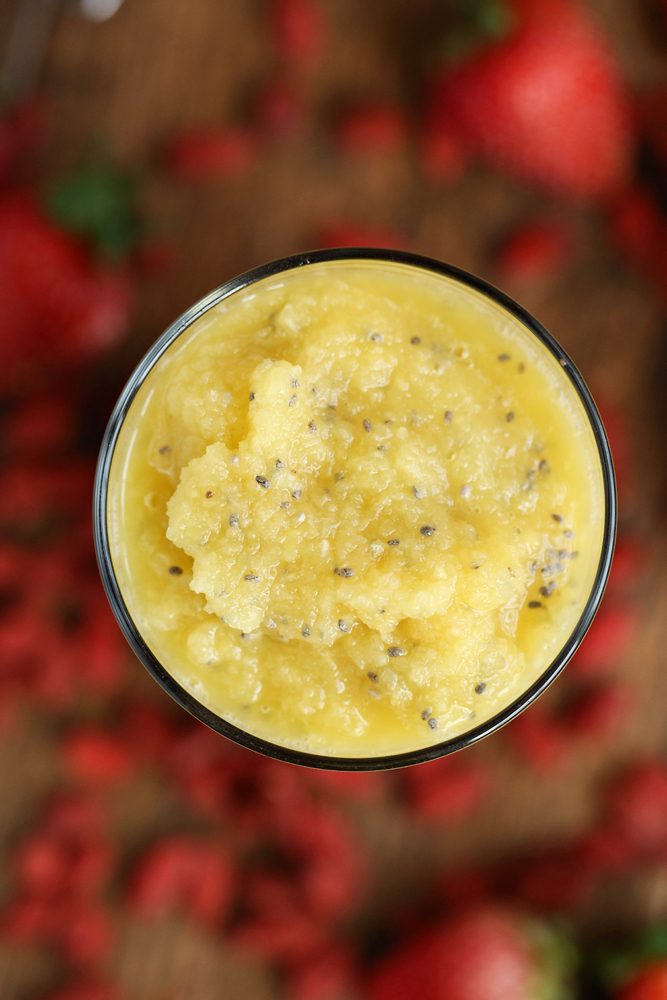 You'll love this goji berry smoothie recipe… I promise!
Benefits of Goji Berries
We love goji berries for many reasons – they taste great! Did you know that goji berries have health benefits as well?
Just like other berries, goji berries are packed full of beta-carotene which helps promote healthy skin. They also boost the immune system and protect the eyes (and taste better than carrots!).
Goji berries have been used in Chinese medicine for centuries and were even mentioned in one of the oldest books on Chinese herbs in existence. (Source)
This super fruit is known to support gastrointestinal health and relieve constipation. Some even say it improves cardiovascular health, treats diabetes, hypertension, and colds and fever. If nothing else, they're clearly healthy and delicious. Add some chia seeds and flax and you've got one of the healthiest smoothies you can come up with.
Benefits of Chia Seeds
I add chia seeds to anything I can because they don't really have a flavor. I didn't really like them when I added them to some fruit juices and teas, because they felt soggy and weird. Maybe it was my brain making that up, but I didn't like them! Now I just add them to meals and smoothies, mostly to help with digestion. Chia seeds are actually among the most nutritious foods on the entire planet. Loaded with fiber, protein, and Omega-3 fatty acids, I don't know how it all fits into such a small seed!
A 1 ounce serving of chia seeds has 11 grams of fiber and 4 grams of protein!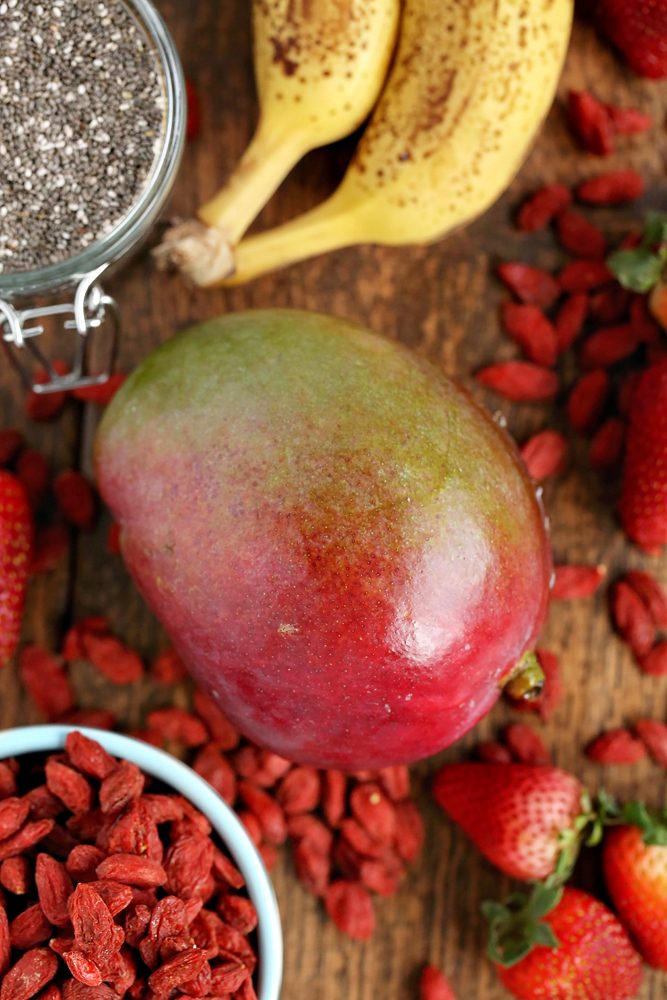 Mango/Banana Mixture:
1 mango – chopped
1 banana
1/3 cup orange juice (fresh squeezed so it's 0 PointsPlus)
sprinkling of chia seeds (less than a teaspoon) (1 PointsPlus)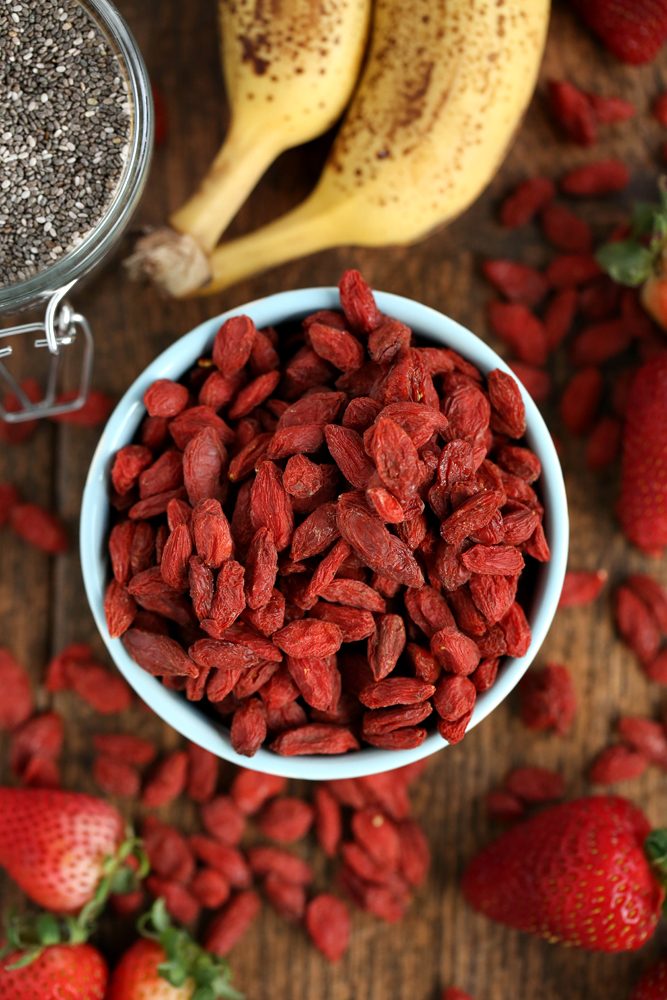 Goji/Strawberry Mixture:
1/4 cup goji berries
1/2 cup strawberries
1/3 cup almond milk (> 1 PointsPlus)
1 tsp vanilla extract
1 teaspoon flaxseed (1 PointsPlus)
Goji Berry Smoothie Recipe
Because fruits are 0 PointsPlus on the Weight Watchers system, vanilla extract is 0 PointsPlus, and almond milk is less than 1 PointsPlus for 1/3 cup, this is a low PointsPlus Smoothie Recipe. The Points are coming from flax and chia which are both SO healthy they're worth it.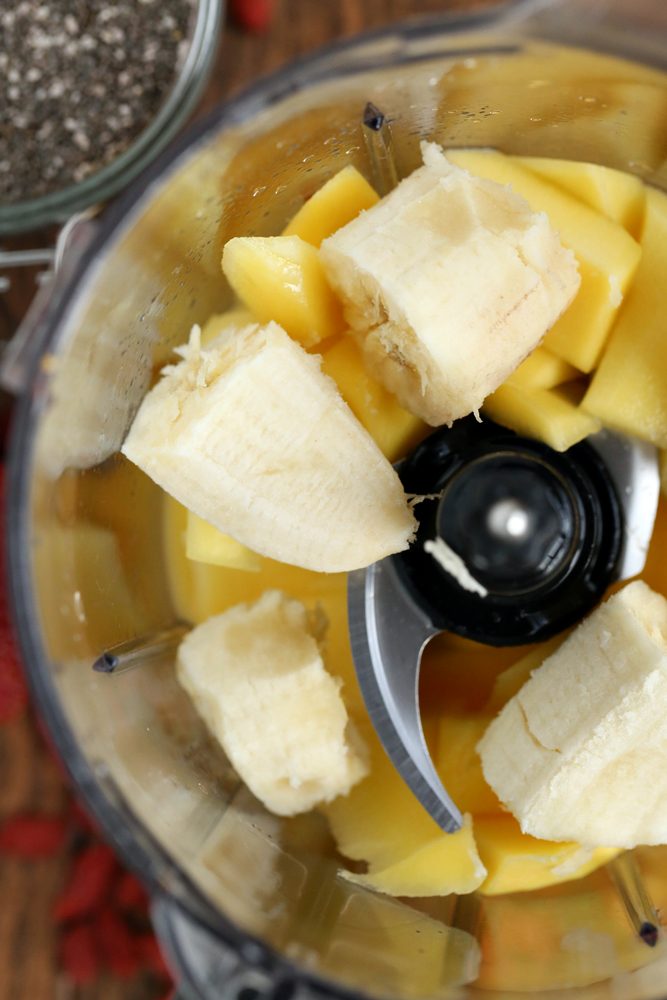 To make, mix each up separately in a blender then pour one on top of the other!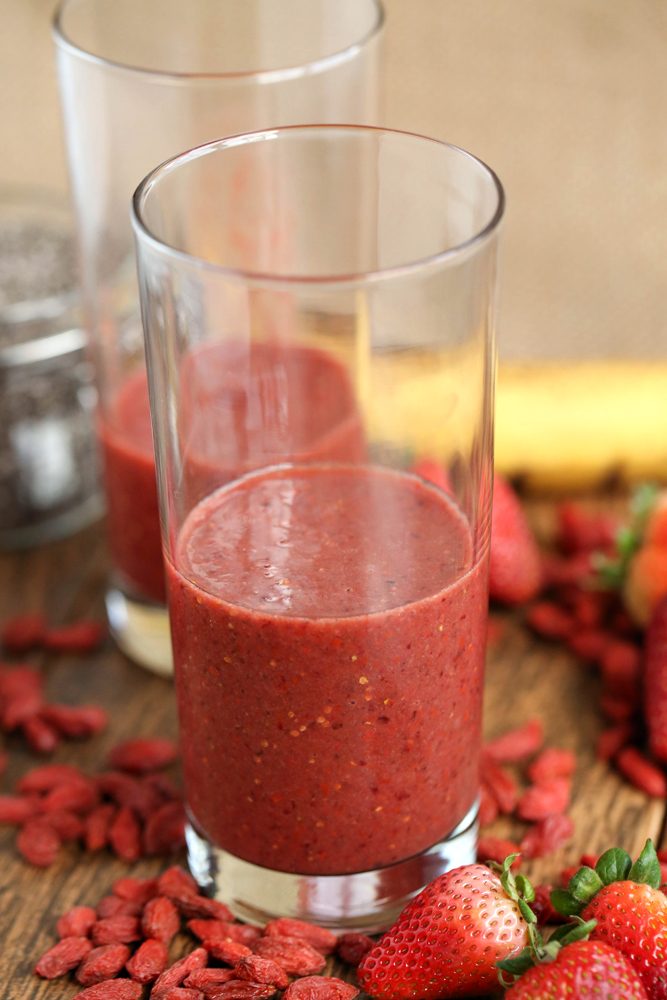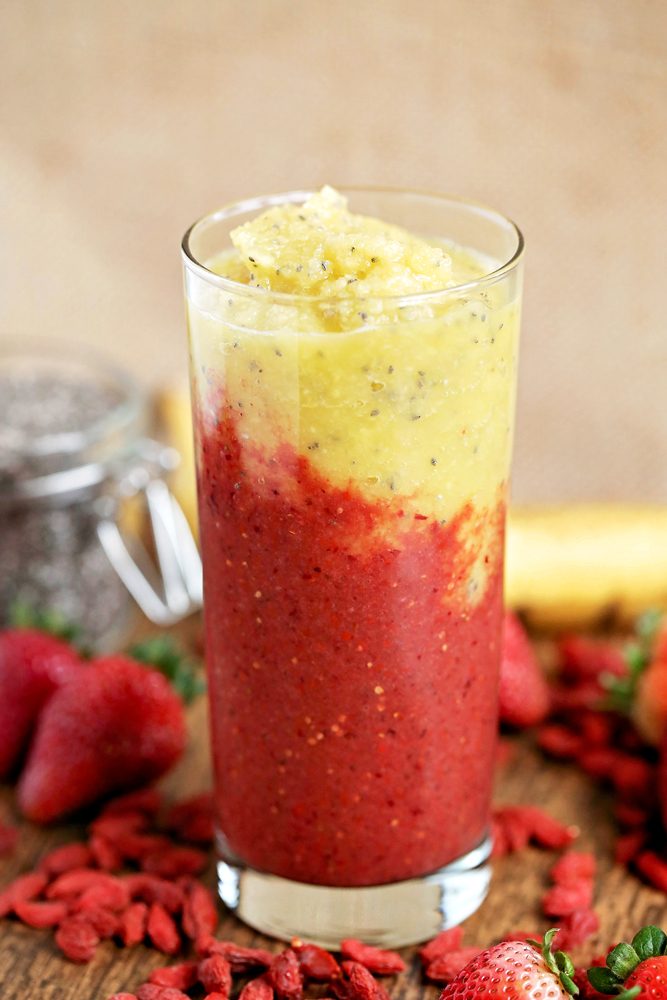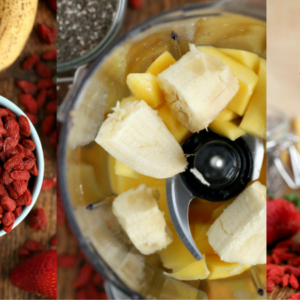 Goji Berry Smoothie
This fruity, delicious smoothie is packed with flaxseed, chia seeds, and flavor!
Print
Pin
Rate
Ingredients
1

Mango

chopped

1

Banana

1/3

C.

Orange Juice

fresh squeezed

Chia seeds to Sprinkle

less than a teaspoon

1/4

C.

Goji Berries

1/2

C.

Strawberries

1/3

C.

Almond Milk

1

Tsp.

Vanilla Extract

1

Tsp.

Flaxseed
Instructions
First blend Goji berries, strawberries, almond milk, vanilla, and flaxseed up.

Pour into glass.

Next, blend the mango, banana, orange juice, and chia seeds up.

Pour into glass on top of the Goji-strawberries blend.

Serve and Enjoy!
Share on Facebook
Nutritional information is provided as a reference, using an online calculator. We recommend verifying the information independently.