How to Get FREE Books to Review
This post may contain affiliate links. Please read my Disclaimer and Privacy policy for more information.
You're wondering how to get free books to review? Well, first you have to realize that the books aren't actually free. It's true that you won't have to pay for them, but you will need to write a review in exchange. They're also not free for the author/publisher, so keep that in mind when signing up for book reviews. I know it's fun to "REVIEW ALL THE BOOKS!" and request 20 books at a time, but there's no way you'll have time to read 20 books at once so just request a few, review those, and then request some more.
How to Get Free Books to Review
Topics:
Requirements to be a Book Reviewer
Contacting Authors and Publishers Directly
Book Review Sites
How to Keep Track of Book Reviews
Tips for Writing Great Book Reviews
What are the requirements to be a book reviewer?
First, obviously, you need to have a blog. I recommend using my post to set one up if you haven't yet: How to Start a Successful Blog.
You must:
— publish content regularly. By "regularly", most mean at least once each week. Reviews and giveaways don't count as content to some, so keep that in mind and be sure you're writing actual evergreen content that people want to share. You're more likely to be chosen to do book reviews if you have great content published steadily on your blog. If you do mostly or all reviews, just make sure they shine!
— be reliable. If you're sent a book to review, you need to review it! Each book review website has their own requirements, but it's a good rule of thumb to have a review up within 2-4 weeks. Sometimes you're reading books before they're released to the public, so your review should be ready in time for their book to go live. Talk with the publisher/author if you aren't sure of their timeline.
— have a decent grasp of the English language, and grammar. You don't have to be an English professor or professional writer, but you should be able to form a few strong paragraphs to make up a good blog post.
How many followers do I have to have?
Each review program has its own requirements, but most require at least somewhat of a following. I've seen requirements allowing as low as 30 subscribers, so that's just another reason to start that email list NOW instead of later!
How many words should a book review be?
A good book review is at least 200 words on Amazon (or another site), and 300 or more words on your blog. This opinion varies, but many programs require at least 200 words.
Contacting Authors and Publishers Directly
These publishers have either emailed me, or other bloggers, actively seeking reviews. You'll need to pitch them.
Beck Valley Books (Beck Valley Books is actually a blog – this is a sign-up sheet for book tours.)
Sample Pitch Letter Idea:
To Whom It May Concern:
I'm writing to request a copy for review of "THE BOOK TITLE" (ISBN-10: #####) by AUTHOR NAME. Along with reviewing it on Amazon, I would review it on my website: YOURWEBSITE. My readers love books like DESCRIPTION, and I think yours would be a great fit.
:: INCLUDE 3 LINKS TO YOUR BEST BOOK REVIEWS HERE, or testimonials from authors saying how much you've helped them gain exposure, etc.:::
If you have any questions, please let me know.
Review copies can be sent to:
YOUR ADDRESS
GOES HERE
BLAH, AZ 83264
Thanks,
YOUR NAME
Book Review Sites
You will find that MANY book review sites mostly offer religious books for review. Keep that in mind when applying. I tried to remember which ones are religious, and I marked them. I might've missed some – let me know in an email or tweet if you have some I can add to this list.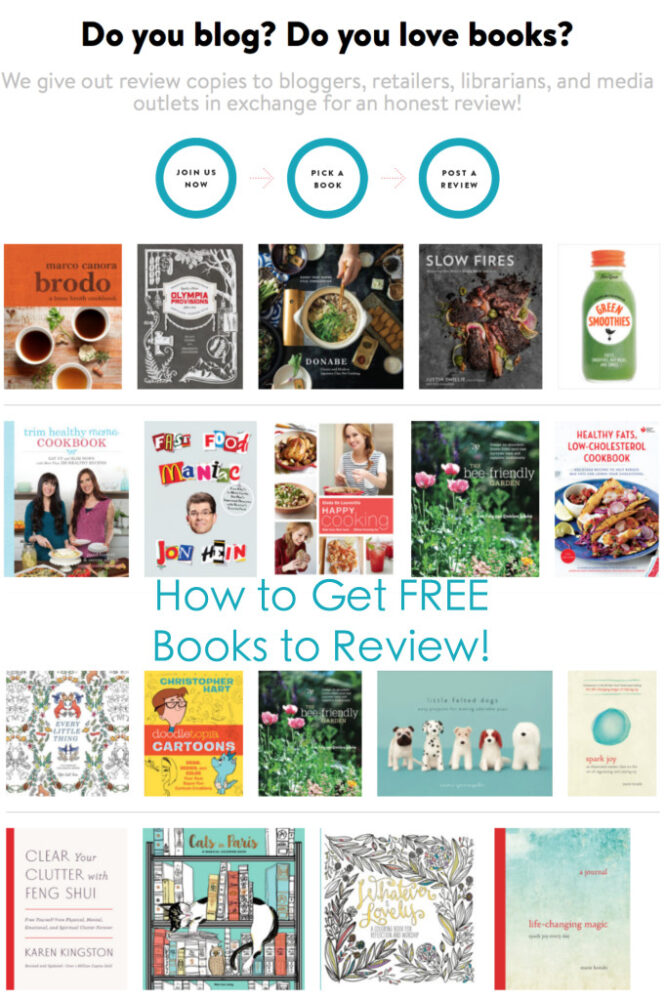 BloggingForBooks is a site I recently signed up for. I like their layout, and I love the books they have available – especially in the Photography and Cooking sections.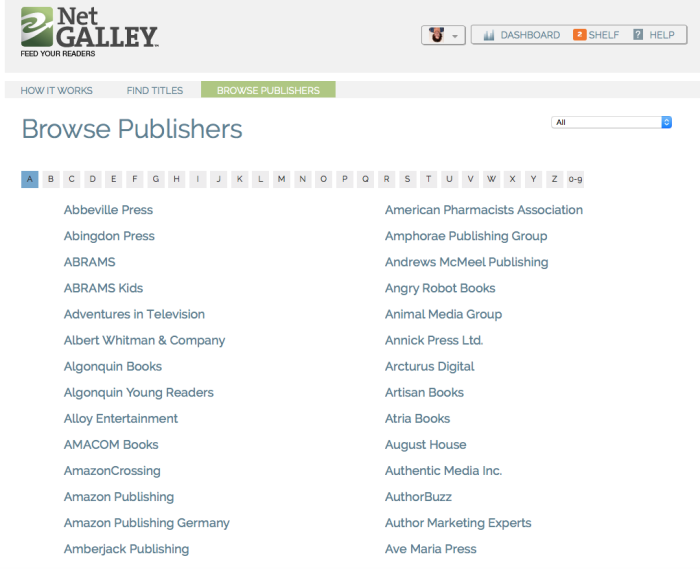 I love NetGalley for many reasons. One thing that you can easily do on their website is choose "Browse Publishers". Not only will this get you reviews on the NetGalley site, it will also give you names of publishers so you can contact them on your own. This is where I get most of my book reviews… directly from the publisher.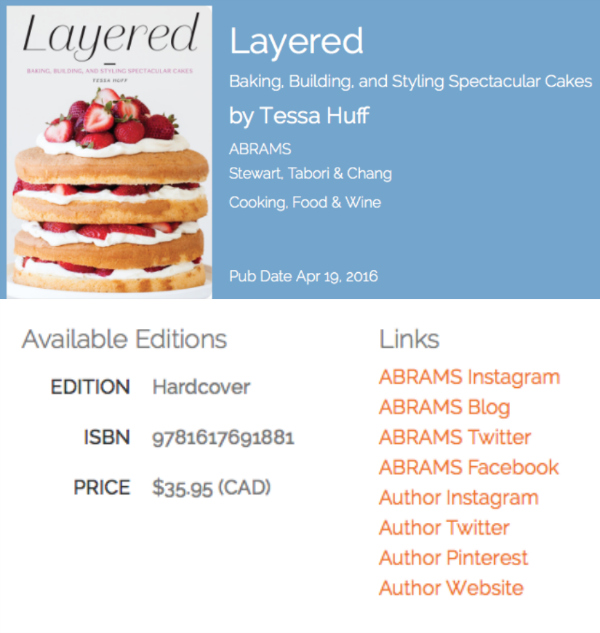 Another thing about some book review websites like NetGalley: They give you the publisher's and author's contact information for social media at the bottom of the request page. Follow the publisher, follow the author, and then "like" some of their photos or retweet something they've recently sent out. This gets them showing up in your feed, and also gets you on their radar.
BookSneeze aka LookBook – Religious; minimum 30 followers.
Tyndale Blog Network – Religious.
Bethany House – 75 word count minimum; can request 1 title each month.
MP News Room – Review within 60 days; I think this is a religious review site (based on the titles I've seen listed).
reddit Review Circle – Be sure to read the reviewer guidelines so you know what's expected of you.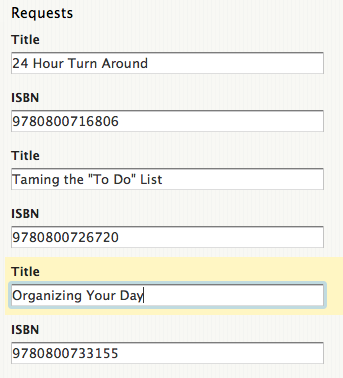 Baker Publishing Group – 1 book per month; 75 word count minimum. This website is a little different because you need to search (by title, subject, or whatever) and copy down the title and ISBN of each book you'd like to review. Their contact form allows room for up to three books, but I assume you could submit it a few times if you have several on your wish list.
Edelweiss – There are lots of books on this website. Sign up and click "review copies". Check out their help guide to get started. I think they only do digital copies, so I haven't reviewed anything through them yet.
Springer – Another digital only review site.
BookCrash – Christian bloggers only, according to their sign up page.
How to Keep Track of Book Reviews
I've created a spreadsheet for you guys! I'm not a spreadsheet queen by any means, so please understand it's pretty basic. It's to keep track of who you pitch as well as the books you have on the way to review, are reviewing, and have reviewed. This is also a great way to keep track of your book review URLs to increase traffic (by setting up a pinning schedule).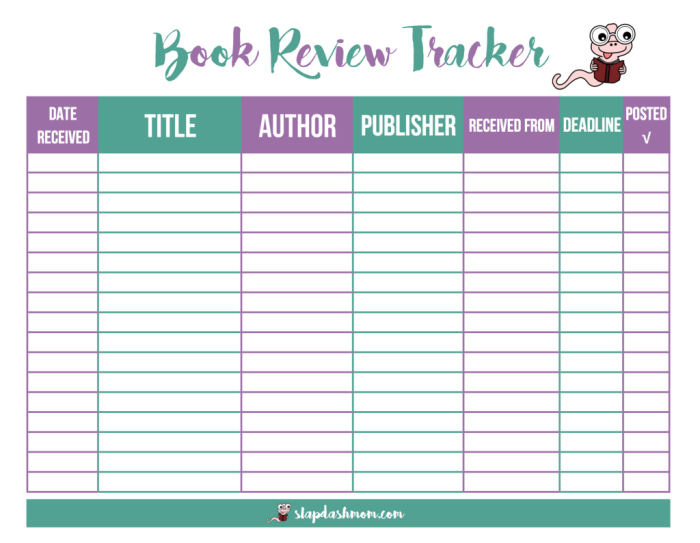 Click HERE for the printable version, click HERE for the online spreadsheet version (just make a copy of it and you can edit it).
Tips for Writing Great Book Reviews
Be sure to leave a disclaimer letting everyone know you received each book in exchange for an honest review. It doesn't matter if you're writing your review on Amazon, GoodReads, or your own blog – a disclaimer is required, not optional.
100% honesty is expected. Personally, if I absolutely hated a book, I'd email the publisher or author to let them know that it wouldn't be beneficial for me to post a review for them. Sometimes, they still want the review – any publicity is good publicity, right? So, you need to give them that option if that is something you decide you want to offer (an opt-out for "bad" reviews). Don't just NOT post the review, and don't just post a review slamming the book, either. They sent you a book for free, so show them some respect and at least try to write a pros/cons of the book instead of just saying it sucks. Your readers trust you. Don't break that trust by just writing "fluffy" "it's so awesome" book reviews.
Many review sites will literally send you hundreds of ebooks to read. I don't review ebooks, because … well… I don't read ebooks unless they're about blogging or some type of easy scan/read type. Anyway, just be careful because when you apply to review a book, you might be applying for a digital copy. If you do not want to review digital books, make sure you mark that on your book review site profiles, on your blog, etc and be extra careful when requesting books. I always request paperback or hardback – any print version.
Title your review in a format that is good for SEO – both for your benefit, and for the author's. If you're publishing book reviews on your blog, you might as well benefit from some search traffic, right? Right. So, titling your review with the book name is a great start. Using the author's name is optional – I just base that decision off how long the title is without the name. If it's too short, add the author's name. If it's too long, don't. However, some websites might require a certain title format – be sure to pay attention to that.
Hook your readers. Book reviews aren't always all that interesting, but you can at least put a little personality into it. Think about offering a teaser as the first sentence, just to make sure they want to read more.
Write your disclaimer in a creative way, instead of starting each review with "I received this book in exchange for an honest review"…
I love to have a "TLDR" version of book reviews. What does that mean? TLDR means "too long, didn't read". So giving us a TLDR version means you write the full book review, and then a short summary at the bottom that's just a few sentences long.
Other tips/tricks/ideas:
Mention if the book is part of a series. Have you read the other books? How did this one compare?
If the book is part of a set, link to your review of the others.
Link to the book using your Amazon affiliate link if possible (some sites don't allow that).
Mention the author's other books by using Amazon affiliate links, if the books are ones you might be interested in reading.
It's okay to copy and paste a "blurb" about the book, but don't make that your intro – or the meat of your post.
Don't post spoilers! I am so bad about this, which is actually why I stopped reviewing movies. It's impossible for me to write a movie review without giving spoilers. The same goes for a book review – which is why I usually review books about photography, self-help, parenting, etc. No spoilers there! Whew.
What did you like about the book? What did you dislike?
Try to keep the review balanced – including likes and dislikes.
If you disliked something, don't be rude about it. Again, respect the fact that you've been given a book for free (okay I know not "free" free, but you know what I mean).
Was the book well written, or did it need an editor to give it a once-over? I can't stand reading books with mistakes in them, so this is worth mentioning. It will save me money if you tell me there are grammar/editing errors.
Did you enjoy the author's writing style?
What kind of emotions did you experience while reading the book? Was it a page-turner… could you just not put it down? I read the Delirium Trilogy literally in 3 days, because it was such a great storyline. Definitely a page-turner.
Did the book move too slowly? The Pocket Wife is one of those books for me. I read it, I loved it, but holy cow she could've cut the page count in half. It just felt like it was dragging on with redundant scenes and details.
Did you relate to the book? Were the characters believable?
Who would the book be best suited for? Instead of just listing age ranges, talk about similar books or types of books. For example, I love reading young adult/teen books, like the Hunger Games, Maze Runner, Delirium, The Program, etc. So saying a book is good for 13-17 year olds completely excludes my 30 year old self that clearly loves to relive my teen years by reading these types of books. :)
Give it a star rating. Or don't. But if you start with star ratings, continue them throughout all of your reviews.
Share the heck out of your reviews! I don't mean spam, but I do want you to share them on your social platforms and also write reviews on Amazon (or other sites at the author's request). The purpose of a review is to help the author gain exposure and increase sales. We can't help with that if we don't share our posts.

Resources for Writing Great Book Reviews