Elderberry and Honey Syrup Anti-Flu Syrup
Elderberry is most known for its effectiveness in fighting colds and flus, and for strengthening our immune systems. Sweetening elderberry juice with honey makes it delicious for everyone. Try this elderberry and honey syrup to fight the flu this season.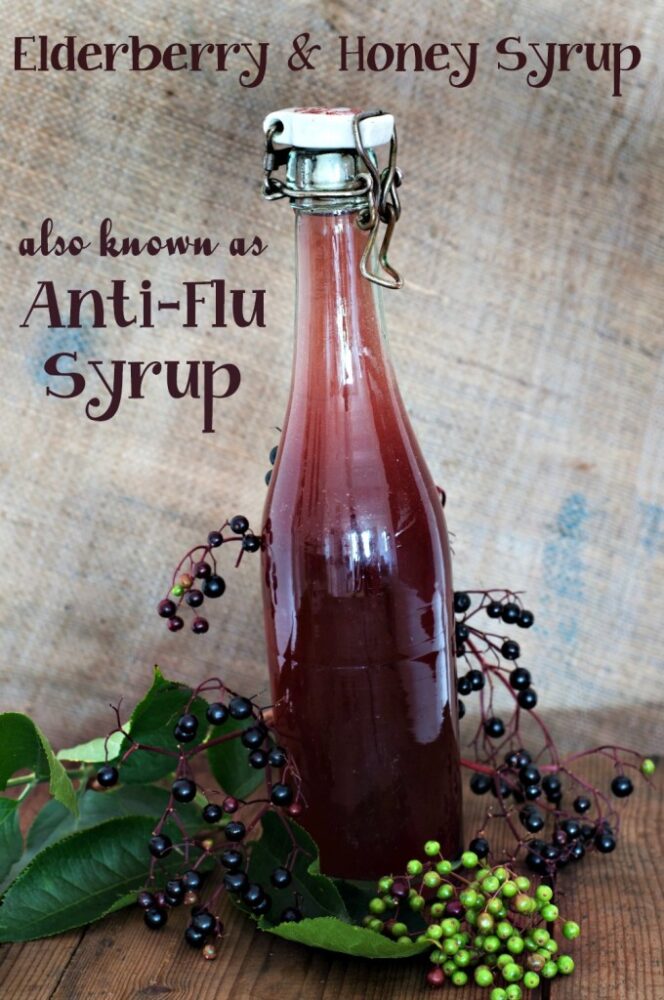 The Essential Guide to Home Herbal Remedies was sent to me to review. Because I love anything homeopathic, I wanted to share one of the recipes with you!
Elderberry and Honey Syrup Anti-Flu Syrup
Both the elderberry flowers and berries are antiviral, which helps treat colds with fevers and flu-like symptoms. They're also anti-inflammatory and help fight bronchial infections and sinusitis. Elderberry juice is rich in Vitamin C (a natural immune booster).
Use at the start of a cold or fever, 1 teaspoon every 2-3 hours, letting it slowly dissolve in your mouth. The jar will stay fresh for about 6 months in the fridge after opening.
Ingredients:
3/4 cup + 2 T freshly pressed elderberry juice
10 oz organic liquid honey
Directions:
Heat elderberry juice, stirring with a wooden spoon, in a small saucepan. Add honey and simmer over low heat, for about 10 minutes. At this point it will reduce to a somewhat thick syrup, just keep stirring.
Pour hot syrup into a canning jar and seal immediately. Let cool before stirring the jar in the fridge.
Dried elderberry flowers can also be used to make a tea: put 1 teaspoon dried elder flowers in a cup and pour 3/4 cup boiling water over them. Cover and let steep for 10 minutes.
Caution: Never use raw elderberries.