50 Easter Basket Ideas Without Candy
This post may contain affiliate links. Please read my Disclaimer and Privacy policy for more information.
I am kind of picky when it comes to what I let my kids eat. There are exceptions. Birthday parties are a huge overload of sugar and caffeine in our family, something we all look forward to every year. Even with Halloween, I only let them keep a handful of candy. The rest we donate to the local dentist's office in exchange for toothbrushes, toothpaste, and stickers (yay!).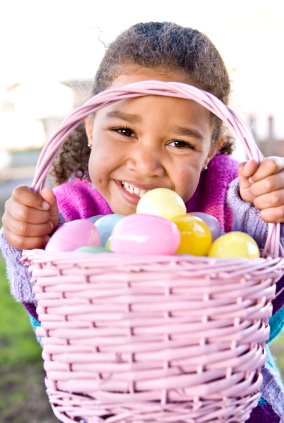 50 Easter Basket Ideas Without Candy
Things I've put in Easter baskets instead of a ton of candy:
stickers
sugar-free gum
hair bows
trail mix
money (change in an egg is fun!)
play dough (make your own!)
baby doll accessories
pens/pencils/crayons
coloring books/art supplies
makeup (lip gloss, nail polish)
bracelets, rings
coupons for getting out of chores
mini scrapbooks
flash cards
bubbles
stamps
chalk
grow-dinos (capsules that you put in water and watch grow)
erasers
sun glasses
bouncy balls
balls and jacks
mini travel games (checkers, chess, etc)
magnets
snow globe (weird? yes.)
cars (construction trucks were a hit)
mini figurines – dinos, army men, etc
trail mix, healthy snacks
food and cooking utensils for their play kitchen
mini flashlights
keychains
bead necklaces
finger paints
yo-yos
bubble bath
bath paints
yarn (my kids love to knit using these things)
fancy duck tape (Hello Kitty, zebra, etc)
sports balls – basketball, baseball, football
jump rope and other outside play toys
personalized water bottle
shoes (if they needed them at the time)
socks, undies
toothbrushes, toothpaste, floss
Many of these will not fit inside the little Easter eggs so we create little tickets and each ticket matches a prize. They come to the prize table after the egg hunt and cash in their tickets for the prizes they match up with. It's super fun, and is a great way to avoid sugary treats.
Some of the ideas above may sound boring but it's all in presentation. If you present these items to them in a bland fashion, your kids are going to look at you like "what the heck?". If you dress it all up a bit – create the prize table and put streamers and a pretty tablecloth on it – put balloons and ribbons throughout the house for the Easter egg hunt, and make sure the socks and undies you get them are awesome, they'll love it!
What do you like to add to your kid's Easter basket?
Image Source